Nike (NYSE:NKE) is one of the most recognizable brands on earth. With sales of over $20 billion in fiscal year 2011, it's easily the largest athletic retailer on the planet. After growing revenues 9% in a tough retail environment, and on an enormous base of $19 billion, we think Nike is a best-in-class company, and we are initiating coverage with a fair value of $95. We make available our DCF valuation model template here. This implies a multiple of about 18x 2012 earnings, and earnings per share growth of over 18%.
Fourth Quarter Profit Reveals Operational Strength
It's not often we get excited when a company has its gross margin fall over 300 basis points in a single quarter, but that's exactly what happened to Nike in its fiscal fourth quarter of 2011. Just as management warned, higher fuel costs and cotton expenses absolutely crushed margins, which fell to 44.3% from an impressive 47.4%.
However, Nike's brilliance in operations management allowed the company to keep SG&A flat on an absolute basis, and lower it by over 400 basis points on a percentage-of-sales basis. With cotton prices and fuel prices already coming down, we think Nike will be able to improve margins, especially in the second half of fiscal 2012, when the company will roll out surgical price increases.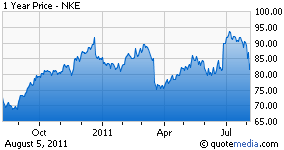 Emerging markets and China surging
While some may choose to dabble in Baidu (NASDAQ:BIDU) or RenRen (NYSE:RENN), we think Nike, as well, is one of the best ways to play growth in emerging markets and China. Growth in these geographies almost outpaced supply, as revenues grew by 21% in China and 25% in emerging markets. Nike thinks Brazil will be a billion dollar business by 2014, when the country hosts the World Cup, and we could not agree more.
As the middle classes grow throughout the world, the demand for specialty shoes –basketball shoes, soccer (should we say football cleats), and running shoes—will continue to increase. Americans tend to have one, if not multiple pairs of each for different purposes, and we expect the same to be true about consumers in other countries.
China will continue to surge, and possibly even accelerate, as they have a basketball hungry population. Estimates show that there may be up to 300 million basketball fans (about the same amount as the US has citizens). If Nike continues to be the market leader in China (and fights counterfeiters), we think the market presents an opportunity that will make the $2 billion US basketball sales that Nike does look relatively small.
Due to the foreign diversification, we like Nike much more than we like Under Armour (NYSE:UA) -- we offer our bearish take on Under Armour here. Nike continues to resonate as a brand in almost every corner of the world, while Under Armour cannot seem to scratch the surface in China or emerging markets.
NFL Deal Could Be Better Than Expected
Though it doesn't hit until the second half of fiscal 2012, we think the exclusive NFL licensing deal will be a profitable endeavour. Though estimates say it's about a $300-$500 million sector, we think Nike will leverage its marketing and operational excellence to accelerate revenue growth. We also think this will give Nike an opportunity to take even more market share in football cleats and accessories, since they will now be able to put an NFL shield on it.
Overall, we would not be surprised if Nike, even without headwear, is able to increase sales of NFL merchandise--as well as the profitability--up another notch. The NFL is easily the most popular sport in the US, and we think popularity and merchandising opportunities will continue to grow.
A Tough Market Makes It Hard to Time
Though Nike continues to fire on all cylinders and produce excellent and profitable products, we think investors should still be somewhat cautious. Our downside scenario fair value estimate is $76, and we think if this frantic sell-off continues, the $76-78 area looks like a great entry point. Even if some calm enters the market in the next few days, paying $80 for a premium company, with upside of around 30% doesn't seem like a terrible idea. Under an orderly pullback, we may add Nike to our Best Ideas portfolio, which contains the most undervalued and attractive stocks based on our methodology.
Disclosure: Under Armour UA is included in our Best Ideas portfolio (put position).