Let's agree not to bemoan the Bank of Japan or digress into demographics or debt/GDP ratios. In this article, I want to share some of my thoughts about investing in Japan and mention key takeaways from Nomura's latest survey of Japanese individual investors and the stocks said investors chose as most interesting. Overall, there is good news for non-Japanese investors with an interest in Japan: Japanese individual investors are bullish; the BoJ and Japan's trillion dollar pension fund are also buying; and the usual suspects (among companies) are most-liked.
It has long been the case that when non-Japanese investors were buying Japanese stocks, individuals in Japan were selling, and vice versa. Ditto until about 2005/06 with individuals and non-Japanese alternately buying and banks and insurance companies selling to shore up their balance sheets. These days, the Japanese say they are not only bullish but most bullish on Japanese stocks, per Nomura's (NYSE:NMR) (8604) survey. Exact reasons are not provided, but a chief one is because of the NISA program that began in 2014 (Nippon Individual Savings Accounts, tax-free capital gains and dividends annually for investments of up to JPY1 million; ~US$8,000; capped at JPY5 million over a five-year period). And yet there is still a very limited "equity culture" in Japan suggesting significant latent growth potential (e.g. less than 10% of net assets of around $15 trillion are invested in equities).
It is also no secret that the Bank of Japan is behind the market as a buyer of ETFs, for example, and Japan's interest rates remain among the lowest in the world. With combined ETF and individual stock holdings worth at least JPY7 trillion (~$60B) as of last fiscal year end (March 2014), there should be some concern about when the BoJ sells but with Tokyo 2020 on the horizon it seems selling will be timed accordingly. Furthermore, there is much anticipation about how much of an impact buying by the trillion dollar GPIF pension fund will have as it raises its weighting for domestic stocks (25% target from 12% previously) -- individuals and institutions alike hope to profit from the buying.
A key question is whether overseas investors will return after they lightened their positions in 2014 following the Abenomics surge in 2013. I'll also be interested to see how the many candlestick chartist individual Japanese investors respond. Known for being quick to take profits (and not shy to chase momentum stocks) will this bring the market closer to equilibrium or is it more what it appears: rather one-sided and primed for George Soros's "reflexivity."
Looking at this situation in simple terms, words by two other investment legends come to mind. I recall a video clip of Sir John Templeton speaking with Lou Rukeyser about supply-demand imbalances in the stock market; cases in which demand far exceeds supply are obviously bullish. The mere fact that demand for equities notably from retirement account buying and individual investors in mutual funds against an extended backdrop of corporate M&A and share repurchasing gave Templeton conviction to be bullish back in October 1987 despite the Black Monday crash. Of course, Templeton's most memorable quote, "buy at the point of maximum pessimism," applied then, too. The "maximum pessimism" point notwithstanding (although doubt and disinterest as well as general pessimism are among the most common reactions to Japan for non-Japanese investors, many who probably haven't ever set foot on her shores), a similar situation exists in Japan with demand for equities poised to exceed supply.
Secondly, consider billionaire Howard Marks of Oaktree Capital (NYSE:OAK) and author of The Most Important Thing, who said:
Many of the best bargains at any point in time are found among the things other investors can't or won't do. [...] Abstentation on the part of those who won't venture in create opportunities for all those who will.
I mention the quote by Howard Marks because of the most-watched stocks in Nomura's survey, many of them are household names in Japan (and also well known internationally) and a number of them rank in the top-50 by market cap in Japan. Some investors have done well and may continue to do so focusing on large/mega caps that are beneficiaries from near universal appeal. One matter is size, however: can these same mega caps lead a doubling of the benchmarks (such as the Nikkei 225)? Other investors focus on Japanese companies that benefit from sales overseas and that don't face limited growth from the aging and declining domestic population (though nevertheless still totaling over 125 million!). Shimano (7309) and Shoei (3003) are good examples.
In my experience, not only have most investors mostly shunned Japanese stocks over the past decade-plus, smaller cap stocks not in mobile/social IT or biotech were nearly universally neglected. The Japanese smaller cap focus has served me well -- I recently launched a newsletter, Uguisu Value letter, focused on such highly attractive mispriced securities. My biases acknowledged, let's look at Japanese individual investors' most-watched list from Nomura's January survey. I read these surveys as part of my idea generation and research (for answers to Nomura's monthly spot questions, for example about shareowner meetings and capital allocation) and sometimes it's what doesn't appear that is interesting to me.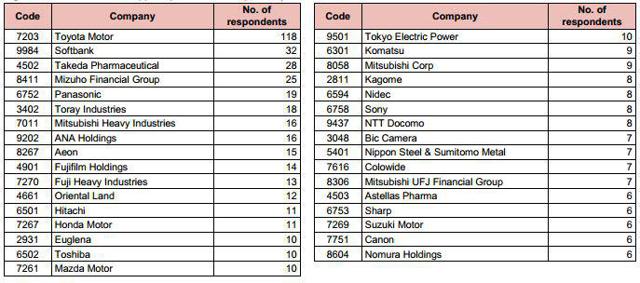 Toyota (NYSE:TM) (7203) with 118 votes, garnered as many votes as the next six received. Given its leading market cap in Japan (JPY26.2 trillion; $223B), unsurprisingly Toyota is always the largest holding in Japan index funds and almost always finds itself in Japan mutual funds. A Reuters article published on Monday, Jan. 26, in Japanese (link) highlighted both Toyota and Fuji Heavy|Subaru (OTCPK:FUJHY) (7270), 13 votes, as having high expectations of beating both their own and analysts' forecasts for the fiscal year ending this March thanks to strong sales combined with the boost from the weak yen. Mazda (OTCPK:MZDAY) (7261) is also expected to beat; and even Nissan (OTCPK:NSANY) (7201) is -- not listed above -- despite losses from the ruble with Renault. Honda (NYSE:HMC) (7267), however, may disappoint despite shared tailwinds due to its large number of recalls.
Ranking second, Softbank (OTCPK:SFTBY) (9984), has become a force in recent years (and has even caught the eye of one value investor). Once dogged for its debt load and purchase of Vodafone's Japanese mobile phone operator, today Softbank has Japan's second-largest market cap, JPY8.755 trillion ($74B) just ahead of Mitsubishi UFJ (MTU) (8306) and NTT DoCoMo (DCM) (9437), both of which rank lower on the most-watched list.
Alas, though expectedly, there are but two smaller cap stocks among the most-watched: Euglena (2931) and Colowide (7616). Euglena (microalgae and biofuel) trades at a mere 700-times earnings. Colowide (restaurant-bars) trades at a nosebleed 245x earnings as it appears a lot of faith is being put in its growth by M&A. Kagome (2811), a mini Campbell Soup of Japan, is the domestic leader in tomato juice and related product sales. Technically a small cap (sub-$2 billion market cap), Kagome rarely trades at attractive levels; nor does it record high returns on capital. One reason for this involves product development and yutaiken (vouchers for company products or gift certificates distributed to shareowners per 100 shares owned; I explained this in my book, Investing in Japan).
Jumping ahead to Japan-focused funds listed in New York ... some readers may be concerned about foreign currency risk. The iShares MSCI Japan ETF (NYSEARCA:EWJ) is unhedged. EWJ will not do as well as the WisdomTree Japan Hedged Equity ETF (NYSEARCA:DXJ) if the yen weakens against the dollar -- assuming Japanese stocks gain in 2015. My view is that yes, the yen may weaken further (e.g. within the 120-130 range), but even this somewhat modest weakening is less advantageous to Japan's often cited exporters since overall it means more expensive raw material and product imports (hence more trade deficits the government would like to curtail). Also, with overseas visitors to Japan at an all-time high and growing, with overseas investors buying Japanese stocks (and fewer Japanese buying overseas securities), and with Japanese companies repatriating overseas earnings, it seems there is enough yen demand to prevent the likes of Mauldin and Bass seeing their Japan implosion dreams come true (maybe next year or the year after that).
I know readers prefer articles that mention stocks in which the author has a portfolio position -- I do, myself. I manage a Japan-focused portfolio that is currently about 95% invested (I always try to maintain a cash position: optionality of cash is king) and heavily-concentrated in no more than a half-dozen positions, all of them micro and small caps; profitable companies with solid balance sheets and multiple value (unlocking/realizing) catalysts.
I'm happy to disclose one that has ADRs and which I've written about on SA over the years: Internet Initiative Japan (NASDAQ:IIJI) (3774). More to come about IIJ. Another stock I'll mention is Sanrio (OTCPK:SNROF) (8136), which is a former holding and was a big contributor to my portfolio. I've written about my Sanrio investment (click here) and it remains on my watchlist: I find it curious that it didn't make Nomura's (survey) most-watched list. Finally, I haven't commented on smaller-cap Japan funds trading in the U.S. because they offer limited liquidity and they are on the opposite spectrum (100s of holdings vs. my concentrated approach).
Disclosure: The author is long IIJI. The author wrote this article themselves, and it expresses their own opinions. The author is not receiving compensation for it (other than from Seeking Alpha). The author has no business relationship with any company whose stock is mentioned in this article.
Editor's Note: This article discusses one or more securities that do not trade on a major U.S. exchange. Please be aware of the risks associated with these stocks.