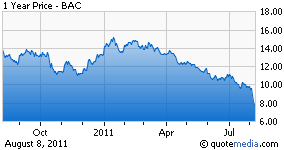 Bank of America (NYSE:BAC) made the decision to buy Countrywide and Merrill Lynch about two years ago. The Countrywide purchase opened a can of worms for Bank of America that it still can't shake off. It is clear that the former CEO Ken Lewis vastly underestimated the problems in the Countrywide portfolio and the extent of the real estate downturn. I also think Merrill Lynch could have been purchased for much less than what B-of-A paid, however, at least Merrill Lynch is a valuable asset and brand name.
B-of-A stock has been in a major downtrend along with the markets. However, B-of-A shares are now trading so far below any reasonable level that it has come to a point that they should be considering a spin off of Merrill Lynch. B-of-A is too large and clearly the market is having difficulty in valuing the stock when you see that it is trading for a fraction of the book value. Bank of America might be able to unlock the value in the stock by spinning off the Merrill Lynch division to current shareholders. It should also consider selling all or part of the Countrywide assets. A leaner B-of-A and spinoff of Merrill Lynch could send the shares up at least 50% from the currently very depressed stock price. Regardless of what happens, the stock appears to be extremely undervalued at about 5 times 2012 earnings estimates. Unless the U.S. and world economy is going into a depression, this stock could be trading for a multiple of the current share price in 2 to 3 years. Most likely, the economy continues a weak recovery and someday stronger growth does return. If that is the case, many of us will be wondering why we did not buy B-of-A shares in the "Great Recession" if they are trading over $30 in a couple of years. I recently wrote an article about how BAC shares could trade for $20 in 2012, which you can read here. A spin off of Merrill Lynch would certainly be a factor in helping to create a value of $20 per share for current shareholders. Matt Blecker made some excellent points in his recent article on BAC which I encourage you to read here.
Bank of America shares are trading way below book value. Earnings estimates are for a small loss in 2011 and a profit of $1.55 for 2012. This gives BAC shares a PE ratio of only about 5 times 2012 earnings. The dividend is 4 cents per share per year which is a yield of about .6%. I think it is smart to accumulate this stock over time so you can average in and take advantage of any continued weakness.
The data is sourced from Yahoo Finance, and Stockcharts.com. The information and data is believed to be accurate, but no guarantees or representations are made. Rougemont is not a registered investment advisor and does not provide specific investment advice. The information contained herein is for educational purposes only.
Disclosure: I am long BAC.