This weekend, in the midst of the most monumental credit downgrade in history, I found myself eating at a Texas Roadhouse Restaurant (NASDAQ:TXRH) for the first time. It was a Saturday night in the middle of nowhere, New Jersey, and the place was packed. Eating there led me to look into the stock a bit, but first, a little about it, since I have always felt that you should know the products of companies you invest in.
Texas Roadhouse is a chain steakhouse with 350 locations. It seems to transcend typical steakhouses like Outback or Longhorn (NYSE:DRI) and is more akin to that of Famous Dave's (NASDAQ:DAVE). By that I mean that the overall ambiance is more appealing (you can watch them prepare beef, make biscuits, and there are barrels of peanuts and accompanying peanut shells all over the floor) and you are served several courses. I am not exaggerating by any stretch by saying that this was the largest meal I've eaten in the last five years. Like any steakhouse, it has a full line of cuts, a number of side dishes, and a bar. The food itself was very good, albeit a bit expensive, but this will be discussed later, and the service was what you'd expect it to be.
The company was founded in 1993 and went public about seven years ago. It's taken a recent hit off of a poor earnings report and is currently priced at $15.06 with a P/E of 18.31. As you can see in the graph below, it has had a 52-week range from $12 to $18.50. Its current price targets are near that high, in the mid- to upper-$18s, making for decent investment at these cheap prices (considering the market has not fully reacted to the credit rating mess).
[Click all to enlarge]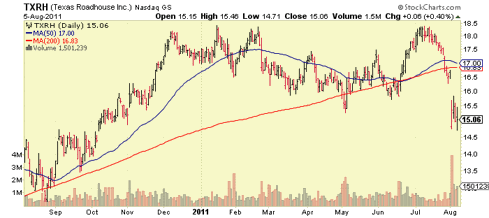 So here is why I think Texas Roadhouse makes a good buy right now. First, of its 350 restaurants, 279 are company-owned and 71 are franchised. This is a big deal and the best way of explaining why is by taking a look at Chipotle Mexican Grill (NYSE:CMG). Chipotle is very averse to franchising, so it put a lot of work into picking spots that it knows will produce results. The same can be said for Texas Roadhouse.
In its latest report, it claims to look for several factors when opening new units, including population of the area, average income within the area, proximity to shopping and entertainment centers, and the presence of a significant employment base. This makes perfect sense and sounds all well and good until actually implemented. It's tough to predict the financial prosperity of an area for the long term, especially in these times. Chipotle has succeeded in this respect by leaps and bounds; by finding these spots, you can charge slightly higher prices because the people who eat there will pay them. It seems a bit pretentious, but it's actually fiscally savvy. Texas Roadhouse has done this as well. I was very surprised that it only has three New Jersey locations, but they are all in nice areas that can support them.
In its latest earnings report, Texas Roadhouse discussed three goals it has for the remainder of the year. The most important one is to maintain or even improve margins while the price of beef has been rising. Below is a futures graph of the price of live cattle since April. As you can see, it has risen substantially, but Texas Roadhouse claims that it will be conservative with raising prices.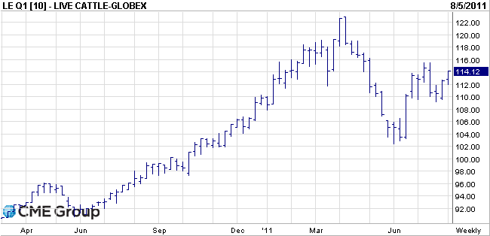 Another goal is unit growth in the previously discussed mid-sized markets. It plans to open 20 units in 2011 (five opened this quarter). More important is the increase of franchising in international markets. I am opposed to franchising for now in America, but it's much tougher to do market research overseas. In 2010, Texas Roadhouse started a joint venture with a Chinese company to franchise a few non-Texas Roadhouses there. One of these units opened this quarter and if it's successful, more are in the works. This is great news. We all know that China has been very profitable for huge companies like Yum Brands (NYSE:YUM), McDonald's (NYSE:MCD), and Coca-Cola (NYSE:KO), so gaining Chinese exposure is a great way of hedging current credit fears here.
Investors will be very happy to know that Texas Roadhouse also implemented a dividend of $0.08 two quarters ago. This comes out to a yield of 2.1% at current prices. Anything over 2% for a growth company should be applauded and I personally think that the payouts may signal less company-owned units and more franchising in the future because opening costs are significantly less that way. Financially, the company is sitting on a decent pile of cash ($77 million at the end of March) with long term debt that it can easily cover.
That brings us to the negative earnings from last week. It was reported that the company had $0.22 EPS against an expected $0.21 and profit was up 7% YoY. However, the company lowered full-year guidance from 5-10% EPS growth to 5% because of some of the factors discussed above. But this surely does not warrant a drop to the $15 range. That was a 19% drop in terrible economic times. With the way things are going, the price could easily drop further because of outside market conditions, and as this happens, this stock will look more and more enticing.
Disclosure: I have no positions in any stocks mentioned, and no plans to initiate any positions within the next 72 hours.