Recent data from ComScore makes for a good time to analyze the mobile operating system battle that I believe could define Apple (NASDAQ:
AAPL
) and Google (NASDAQ:
GOOG
) over the next five years, as the mobile realm begins to take over all of our lives. Apple fans are zealous to say the least, and will often make assertions about Apple that aren't supported by data or common sense. TechCrunch writer MG Siegler
recently asserted
that the Verizon (NYSE:
VZ
) iPhone had already reversed the ascension of the Android OS among mobile users. His ending quote was that Android is no longer surging because Apple is no longer letting it.
Let's look at some "data" and see if reality supports that conclusion.
Recent Mobile Data
ComScore recently released OS data for the three months ending June 2011. Not surprisingly, Google has climbed over the 40% mark and increased its lead over Apple to 13.5%. Research In Motion (RIMM) continues to be the overwhelming loser in this battle royale. However, more surprising is that Microsoft (NASDAQ:
MSFT
) has lost 1.7% since March 2011. With Windows Phone 7, many expected RIMM to drop to third and Windows to become a more major player in the mobile market. Looks like that might not be happening.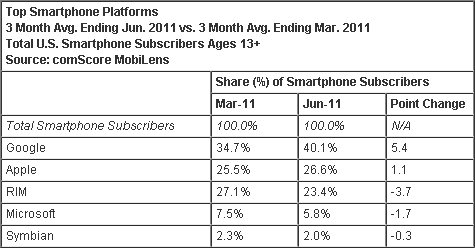 Source: comscore.com
Nielsen paints a similar picture, but oddly the Windows phone has a higher percentage of the market than the ComScore chart indicates.
Additionally, Apple is up 1% in terms of percentage share of mobile subscribers over the last few months. Android's big player, Samsung (
OTC:SSNLF
), is up a respectable 0.8%.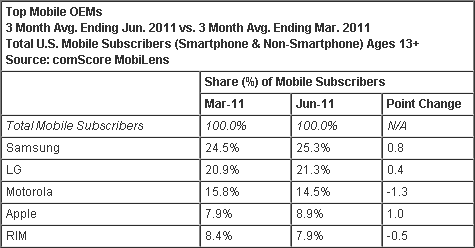 Source: comscore.com
From the ComScore numbers, we can assert that Apple iOS is not, in fact, stymying the growth of the Android OS after all. Android has actually widened the gap and the trend looks to continue. The arrival of the iPhone 5 will add some spice to that equation, but we won't see those numbers for months. There is some light in the mobile tunnel, but it seems to be dim for all those Apple fans.
Recent acquirer rate has increased for Apple among smart phone users. In the middle of 2010, Apple and Android were neck and neck in terms of recent phones being acquired. In the spring of this year, people were acquiring an Android phone over an iPhone at a rate of almost 3 to 1. More recently, the iPhone has made a push, as you can see in the data below from Nielsen.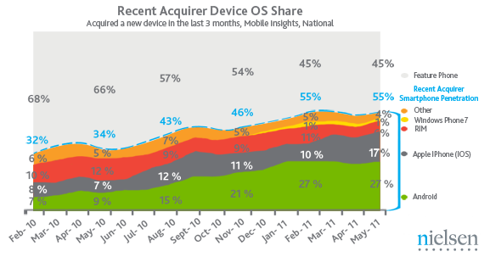 Source: nielsen.com
Apple has made some strides in terms of recent acquirers, but Android still outacquires it by 27% to 17%.
The data seems to point to Android domination in the near future. However, if you ever talk to people with iPhones, they seem to be amongst the happiest mobile users on the planet. TechCrunch recently reported that the iPhone 4's return rate is 1.7 percent, while Android phones are closer to 30-40%. This was according to an "industry source," so I'm not too sure how much weight to put on those numbers. If true, they represent what could be a long term problem for Android; the variety of offerings in terms of manufacturers could present quality issues. Apple, on the other hand, puts all its eggs in one basket with its release of iPhones one at a time.
ChangeWave Research revealed that 70 percent of Apple iOS customers are "very satisfied" with their phones, while only 50% of Android users are. If this is the case, then why is there such a disparity between the apparently higher satisfaction with Apple devices and the greater growth of Android OS market share? I would guess it has something to do with the variety and the pricing. Apple iPhones have no "budget" model, while Android comes on a variety of devices at various prices.
I am anxious to see how the release of the iPhone 5 on multiple carriers will impact these numbers. For now, it is safe to say that the momentum has not slowed for Android, and doesn't look to do so in the near future.
Disclosure: I have no positions in any stocks mentioned, and no plans to initiate any positions within the next 72 hours.