With the focus primarily on the S&P downgrade of the United States, my eyes remain fixed on Europe. This is not to understate the effect from the S&P decision, as it will certainly add to market volatility and will likely have unanticipated fallout effects that will only begin to become apparent perhaps a few weeks from now. But the real crisis for the global economy continues to brew in Europe. And the breakdown in preferred stocks late last week was a troubling development in this regard, as it is now signaling that the solvency of the global financial system may once again be headed toward the brink.
In my previous post titled "A Summertime Financial Sequel Coming Soon," I detailed how the historically high correlation between financial stocks and the broader market had broken down since March 2011. With the broader market trading up over +2% for the year with financial stocks down -8%, something had to give. Either financials would rally to catch up with the broader market, the broader market would fall toward financials, or the worst case scenario – financials break lower and the broader market plunges to catch up to the downside.
Click to enlarge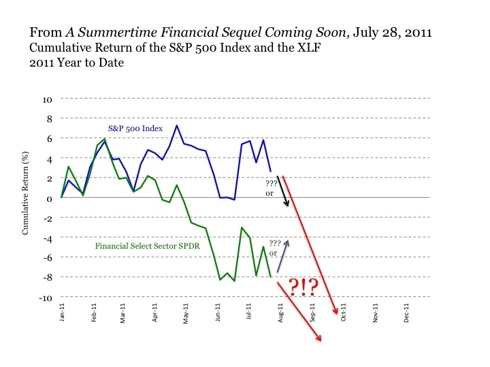 A mere six days since this original post, it seems we've landed on the worst case outcome. The broader market has broken sharply lower, and financial stocks are leading the charge. This raises an important question – is this simply a healthy stock correction that will soon present a good buying opportunity, or is this the beginning of a prolonged stock decline that will deteriorate much further before it's all said and done?
In my post entitled "Watching Markets for the Next Shoe to Drop," I discussed how preferred stocks provided an early confirmation signal that the stock market decline in 2007 was unfolding toward a full blown financial crisis. This is due to the fact that the preferred stock market is made up almost exclusively of financials at roughly 85%. Today, we were seeing the preferred stock market holding up well, which was a positive signal until just a few days ago. But this all changed late last week, as preferred stocks sold off precipitously. This recent development does not bode well for the stock market outlook.
Click to enlarge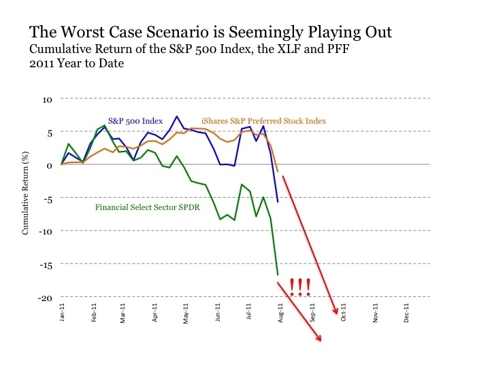 The ongoing sovereign debt crisis in Europe is a key source of stress to the financial system. If recent market weakness were confined to the debt ceiling debate and recently realized concerns about an S&P ratings downgrade of the U.S., we would likely be seeing the most pronounced financial stress in the United States. However, it has been European financials that have been absolutely unraveling, down nearly -25% since the end of April. This European financial stress also shows up directly in preferred stocks. For example, roughly 24% of the iShares S&P United States Preferred Stock Index ETF (NYSEARCA:PFF) is allocated to European financials including names such as Deutsche Bank (NYSE:DB), Barclays (NYSE:BCS), Royal Bank of Scotland (NYSE:RBS), Santander (STD) and Lloyds Banking Group (NYSE:LYG).
Click to enlarge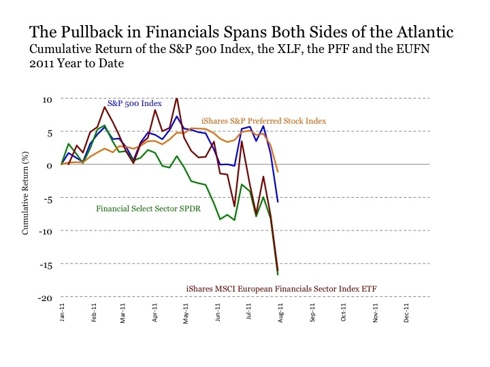 As a result, adding a preferred stock market ETF to your watchlist for the coming weeks may be worthwhile. The four leading preferred stock market ETFs are listed below. Each has a fairly similar composition at roughly 85% financials including around 25% European financials with the exception of the PGF, which is 100% financials including roughly 58% European financials.
The key is to watch how these preferred stock ETFs perform in the coming days and weeks. If they eventually stabilize and begin to return higher, this bodes well that any further stock market correction will be short lived. However, if these ETFs continue to deteriorate further, this signals that investors are concerned about the solvency of global financials. And such a trend would signal the strong potential for another full blown financial crisis breaking out down the road.
In my next post, I will break down exactly what preferred stocks from specific companies are exhibiting the most stress, which has particularly negative implications for their common stock price outlook as well as for the broader market.
This post is for information purposes only. There are risks involved with investing including loss of principal. Gerring Wealth Management (GWM) makes no explicit or implicit guarantee with respect to performance or the outcome of any investment or projections made by GWM. There is no guarantee that the goals of the strategies discussed by GWM will be met.
Disclosure: I have no positions in any stocks mentioned, and no plans to initiate any positions within the next 72 hours.
Additional disclosure: I am long ALM, FGE, DRU, XCJ, ELA, TDI, TDJ, which are all non-financial preferred stocks.