If history is any guide, unemployment will fall to the high seven percent range by the end of 2012. Then proceed down to about 5.8% by the end of 2014, as shown on the Shape of Unemployment graph. The current sixty-year average and median unemployment rates are 5.8% and 5.5%, respectively.
(Click chart to expand)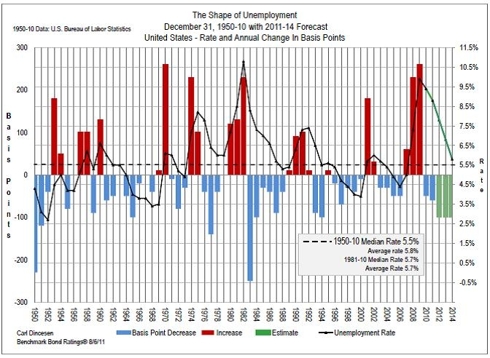 The current mountain of unemployment is comparable to what we saw in the early 1980s. The facts about unemployment now are decidedly good although you would not know it from listening to many commentators, economic experts and the press.
We are on the east side or downward slope of the mountain of joblessness. Based on the record post WWII, it is most likely to descend as forecast on the graph. The forecast assumes unemployment will fall to 8.8% by December 2011, and then decline about 300 basis points to 5.8% by the end of 2014.
Only once did an employment recovery move sideways and up - to double small peaks in 1956-60, when unemployment rose from 4.2% to 6.6%.
Between 1950 and 2010, the average rate of decrease in the annual rate of unemployment was 67 basis points. At the same time, the average rate of increase was 119 basis points. This suggests that in periods of above average unemployment, it takes about twice as long to return to an average rate.
After the three-year 490 basis point run up to 10.8% in 1982, it took five years to bring unemployment down to 5.7%. There is nothing to suggest that the American economy is poised to go off track and head in a direction it has never gone before.
Pessimism isn't appropriate, patience is.
Disclosure: No positions