U.S. homebuilding stocks are gaining positive sentiment from investors as housing data improved in recent months. SPDR S&P Homebuilders (NYSEARCA:XHB) is up close over 20% since October, as is seen in the chart below.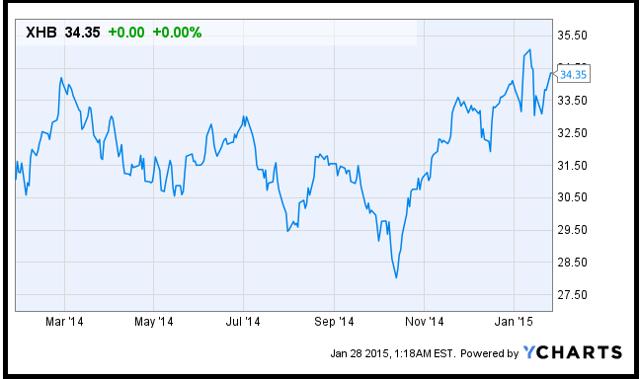 New home sales look to have formed a bottom, and gained upward momentum in recent months. In December, the U.S. new home sales figure came in at 481,000 additional homes, above the previous month's figure of a revised 431,000, as well as exceeding estimates for 450,000. Since bottoming above 200,000 homes in 2011, the new home sales figure has steadily improved, with further upside potential, as is seen in the chart below. Warmer than expected temperatures and an improving labor market are cited as reasons for stronger home buying in December.
"December was warmer than usual across the continental U.S., possibly contributing to the uptick. But mortgage rates have been heading lower, employers are adding jobs at the fastest clip since before the recession and consumers appear confident, factors which may continue to support the sector," according to the Wall Street Journal.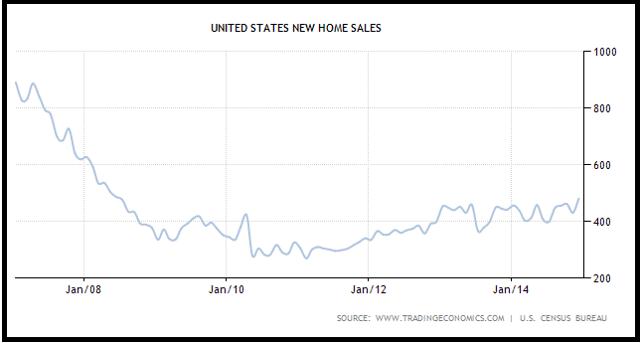 Data provided by Trading Economics
Meanwhile, the average price of U.S. homes is increasing, showing strengthening demand. In December, the figure came in at 173.36, up from the low 130 levels seen in 2012. The move in home prices over the last few years represents a more than 35% jump, indicating stronger home buying demand. Analysts believe that home prices are still suppressed, and could continue to move higher in coming months.
"With the spring home buying season, and spring training, still a month or two away, the housing recovery is barely on first base," David Blitzer, chairman of the index committee at S&P Dow Jones Indices, said to CNBC.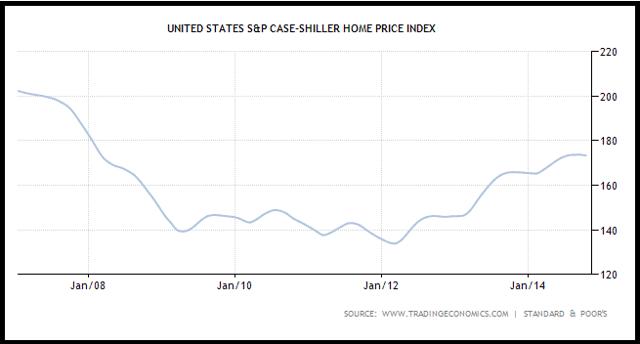 Data provided by Trading Economics
Low mortgage rates in 2014 also led to stronger home buying, and with rates expected to continue to decline in 2015, demand for housing could remain elevated. In the most recent week, the MBA 30-Year Mortgage Rate figure came in at 3.8%, down from the previous week's reading of 3.89%. In 2014, the 30-year mortgage rate fell from near 5%, to now under 4%, as is seen in the chart below. Low inflation, caused by declining oil prices, led to falling interest rates, putting more disposable income in consumers' pockets, as well keeping borrowing costs low.
With mortgage rates staying low, an improving labor market, and stronger consumer sentiment, demand for new homes could remain elevated. As home buying picks up in 2015, homebuilder stocks should benefit, leading to share price appreciation in coming months.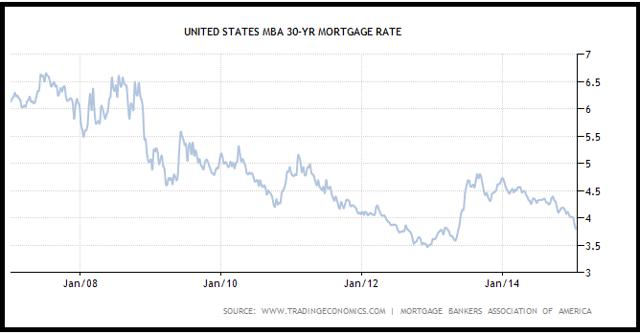 Data provided by Trading Economics
Disclosure: The author has no positions in any stocks mentioned, and no plans to initiate any positions within the next 72 hours.
The author wrote this article themselves, and it expresses their own opinions. The author is not receiving compensation for it (other than from Seeking Alpha). The author has no business relationship with any company whose stock is mentioned in this article.