The thesis in my previous article has begun to play out as Gold (NYSEARCA: GLD) continued to rally temporarily before selling off from a peak of $1300/oz in the past few days.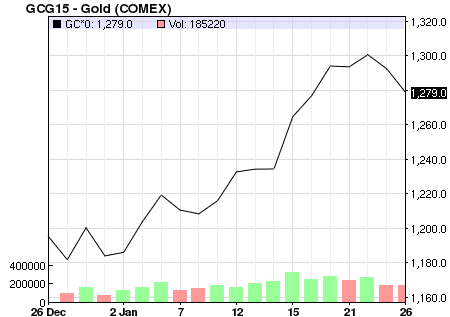 (Source: NASDAQ)
ECB QE
Last Thursday, the ECB announced the start of an asset-buying programme of EUR 60B/month from March 15, 2015 through September 2016, which would inflate its balance sheet by roughly EUR 1.1 Trillion. Our hypothesis in the previous article has been validated as European equities have rallied strongly after the announcement, and Gold began selling off a day after.
The ECB's policy calls for purchases of approximately 45B of Sovereign Debt, 5B of bonds issued by EU institutions and agencies, and 10B of asset-backed securities and covered bonds under their existing programme. Also, the size of sovereign bond purchases will be in proportion with the size of member countries (i.e. German, French bonds will comprise the bulk of the purchases). In essence, the focus is on buying bonds to drive down bond yields and increasing liquidity in the economy. We reiterate the view that this is insignificant on the short-term direction of Gold. However, given that inflation and growth rates are key drivers of Gold, whether the ECB can meet its target of 2% inflation and higher growth is key in determining Gold's future.
We remain skeptical that the ECB will meet its targets for various reasons. For QE to result in accelerated inflation and growth, certain conditions must be satisfied.
Firstly, banks need to increase lending to businesses and consumers. As we've seen in the US, QE tends to swell the cash reserves on the balance sheet of banks and financial institutions, which has led to a phenomenal increase in the amount of Excess Reserves held with the Fed. However, given that the ECB has a negative deposit rate, it effectively penalizes banks for accumulating excess reserves. Therefore, instead of lending this money out, banks and financial entities are likely to reallocate capital to other high-quality assets with reasonable yields, such as blue-chip equities, triple-A corporate bonds and Treasuries. Unless there is a significant pick-up in growth in the EU, it is unlikely banks will increase loans in any meaningful way given the lack of worthy borrowers. Hence, blue-chip equities and other high-quality assets will likely be pushed higher by QE.
Secondly, even if the ECB manages to push down yields significantly for corporate bonds (unlikely), 80% of EU companies obtain financing via traditional bank loans, and hence it would have an extremely limited impact in terms of enabling cheaper credit for companies.
Thirdly, as seen by the recent criticisms of the ECB from EU policymakers, it is clear there is a lack of unity and political will to expand QE if necessary. This casts a doubtful shadow over the longevity of this policy.
Thus, with interest rates already in negative territory, it seems that the ECB is close to exhausting all its options in monetary expansionary policies. Draghi knows QE probably will not achieve the desired effect, but it's about the only thing he can do in his current position. Moreover, EU members like Italy, Spain, Portugal and others are too indebted to match the ECB's monetary stimulus with similar fiscal expansion, leaving little hope for a strong recovery in the next few years. In short, we do not see inflation accelerating to 2%, and postulate that growth will continue to dawdle along near-zero figures. We believe low growth in the EU has already been priced in, thus providing no meaningful upside for Gold.
However, the scenario that QE fuels asset bubbles is possible. When banks and financial institutions are flush with liquidity, there is always the danger of increasingly risky behavior if the valuation of high-quality assets are pushed too far. Investors could then seek yield and returns in less credit-worthy assets, fueling asset bubbles. In that case, it is conceivable that Gold will explode higher if asset bubbles are allowed to balloon, causing financial turmoil and driving investors to seek safe-haven assets. So far it is too early to tell, and investors should watch the equity and bond markets (particularly junk bonds) for risk-taking behavior. Currently, we assume that the size of QE (EUR 1.1Trillion) seems safe, but excessive QE could definitely make the above scenario more probable.
Greek Election Results
Previously I had mentioned that fears of a possible Greek exit from the EU were exaggerated. Unsurprisingly, the Syriza Party's victory in the elections were met with indifference in the broader market, as the rest of Europe continued to rally. Simultaneously, Gold edged lower while Greek assets fell significantly, with the Greek assets ETF (NYSEARCA: GREK) moving 3.52% lower on the day. For now, the economic fallout of the election results are contained within Greece, and we expect this to continue without contagion. Though we have stated that there is little chance of a Grexit, investors should continue to observe events there, particularly with the new Prime Minister's (Alexis Tsipras) intent to renegotiate the terms of the bailout and Greece's debt payments.
Conclusion
In the absence of unexpected catalysts, Gold should continue lower whilst banks and investors allocate more capital to higher quality assets with better returns. In the long run, however, supply factors would play a significant role in Gold's price direction (this will be covered in another article). For now, it seems Gold is going down.
Disclosure: The author has no positions in any stocks mentioned, and no plans to initiate any positions within the next 72 hours.
The author wrote this article themselves, and it expresses their own opinions. The author is not receiving compensation for it (other than from Seeking Alpha). The author has no business relationship with any company whose stock is mentioned in this article.