It is my strong opinion that Autodesk (NASDAQ:ADSK) is a bad investment candidate right now. The high valuation of this software sales-dependent company is dangerous considering that AutoCAD products are no longer as dominant as they used to be. The chart below should be a loud warning that ADSK is a dangerous bet.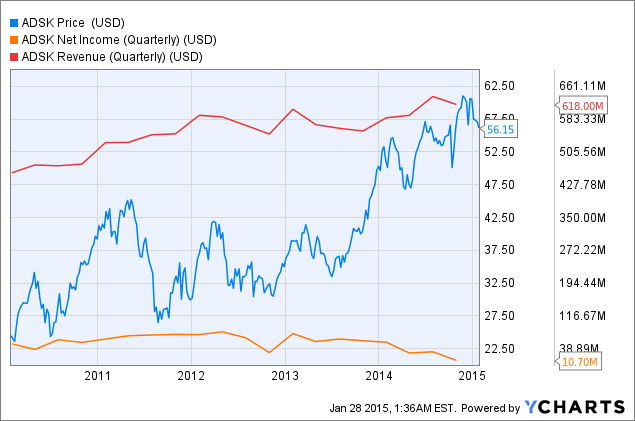 ADSK's average stock price went up consistently despite the company's declining net income performance since Q1 2013. This aberration will not last forever. A market correction might eventually happen once more investors realize that Autodesk's stock price is not in line with the company's declining profitability trend.
The charts below are based on Autodesk's Q3 earnings report.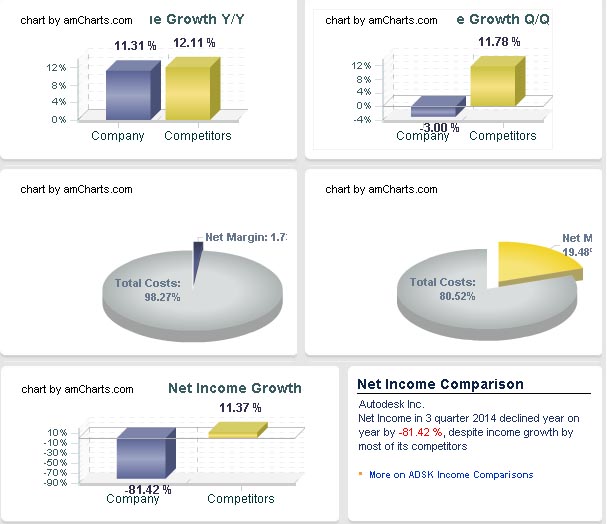 Source: CSI Market
The CAD/CAM industry is full of hungry rivals that are slowly eating into Autodesk's profit margins. While Autodesk can keep increasing its sales, other CAD/CAM software vendors are growing faster in terms of revenue and net income growth.
There are dozens of firms that are not included in Yahoo Finance's chart of competitors of Autodesk.
(click to enlarge)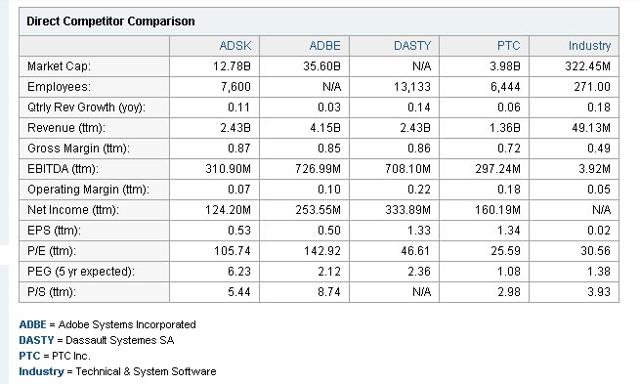 Source: Yahoo Finance
Consequently, the crowded-space nature of the CAD/CAM software industry is probably one major reason why Alpha Omega Mathematica rates ADSK as a Sell.
The company's growth prospect is heavily handicapped by the presence of cheaper alternative products. Autodesk's fundamental numbers are just terrible when compared to its sector and industry peers.
Please study the charts below.
(click to enlarge)

(click to enlarge)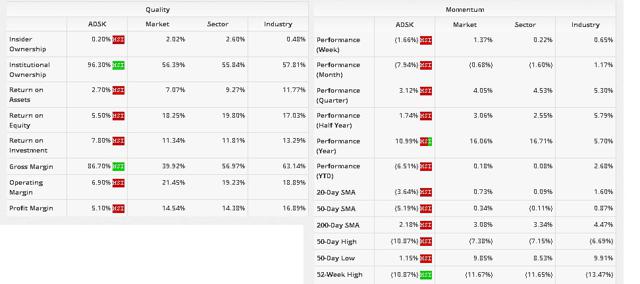 Source: getaom.com
ADSK is still trading at a very high P/E valuation in spite of its poor quality and growth performance indicators.
Other Firms Now Offer Free or Cheap AutoCAD Alternatives
I am building a house for my five younger brothers and the 74-year old architect who did the architectural/structural plan informed me that he used DraftSight Professional instead of AutoCAD.
This issue came up because I requested that he should also provide me an AutoCAD file together with the six blueprint copies he gave me. It is a big surprise because in my younger years (1998 to 2010), AutoCAD was the de facto standard among Filipino architects, engineers, drafting professionals, and product designers.
The architect's explanation is that DraftSight Professional was a lot cheaper to own than AutoCAD products. He also made it clear that DraftSight works and feels like AutoCAD LT versions. The architect paid $299 (first year of license, renewable for $99 for succeeding years) to get the professional version. He also explained that even the free version of DraftSight is already as good as AutoCAD 2015 LT when it comes to 2D architecture-related drafting.
My architect only paid for the professional version to get extra premium features that helps him accelerate his workflow. I did some research and I found out that DraftSight is indeed a free 2D CAD program from Dassault Systemes (OTCPK:DASTY). I downloaded a copy and below is a screenshot of DraftSight 2015 running on my Windows 7 desktop.
(click to enlarge)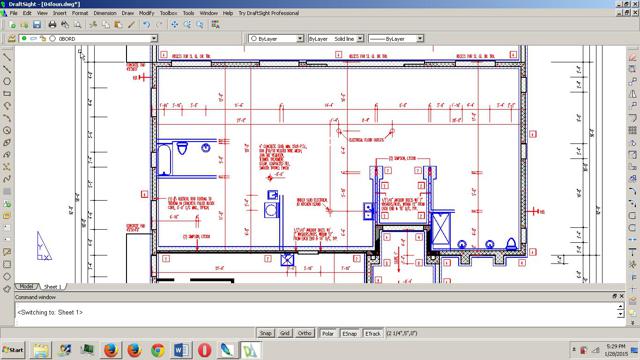 Source: Alcaraz Research
I do not have a copy of AutoCAD LT 2015 but here is a screenshot of the program's user interface from Amazon (AMZN).
(click to enlarge)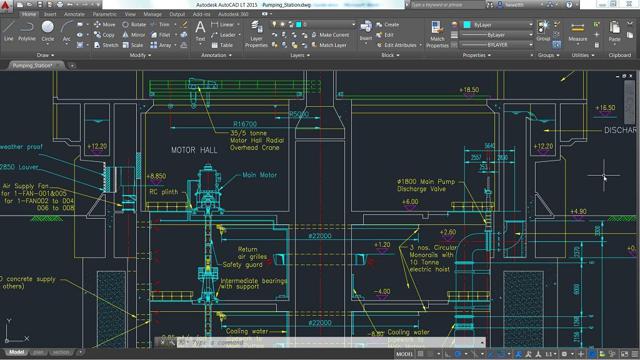 Source: Amazon.com
AutoCAD LT 2015 (which is also 2D-drafting only) costs $1,200 to buy outright, and $30 per month on a monthly subscription basis from Autodesk's online store.
The free version of DraftSight's user interface is not as pretty looking as AutoCAD LT 2015. However, they both share the same ribbon-style menu layout, the same set of drawing tools, and the same purpose.
DraftSight is comparatively good compared to Autodesk's $1,200 AutoCAD LT drafting software.
(click to enlarge)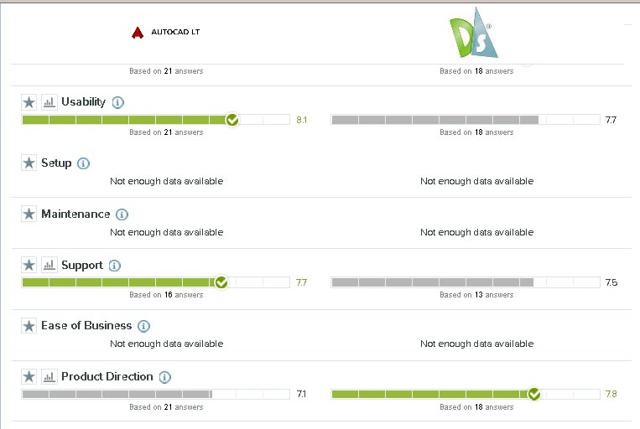 Source: g2crowd.com
Professionals involved in different industries are also adopting DraftSight for their CAD/CAM needs.
(click to enlarge)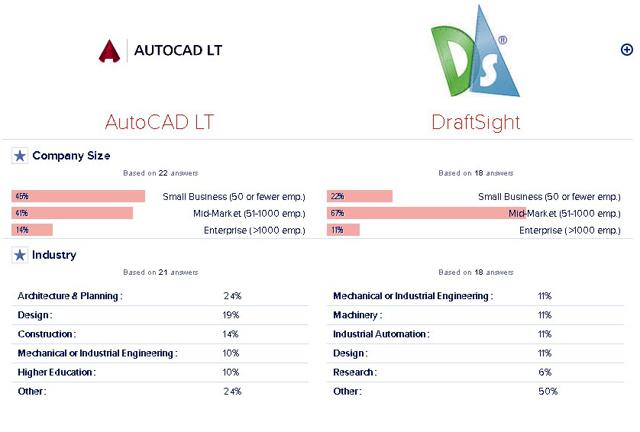 Source: g2crowd.com
Yes, the number of respondents used is few but the mere fact that professionals are actually adopting DraftSight in their office workflow is testament that AutoCAD's grip on CAD/CAM software is slowly eroding.
A more in-depth comparison between AutoCAD and DraftSight is available on SoftwareInsider. Investors should also take into account that DraftSight is just one of the many free alternatives to Autodesk's AutoCAD software.
Here is a list of some of the best no-cost CAD software available.
There are other free or cheap alternatives to AutoCAD that can easily be found via Google (GOOG) (GOOGL) search. I now have DraftSight and DoubleCAD XT installed. A comprehensive feature-for-feature comparison between the free DoubleCAD XT versus the expensive AutoCAD LT software is available. DoubleCAD seems to offer more features that helps architects speed up their workflow.
Conclusion
I opine that the proliferation of free/cheap CAD/CAM software severely limits the growth prospect of Autodesk. This is still true in spite of Autodesk's decision to emulate the example of Adobe's (ADBE) subscription-based model.
It is very difficult to attract people to pay $30 every month for AutoCAD LT 2015 when there are dozens of free professional-quality CAD programs available (like DraftSight). Free softwares that are compatible with AutoCAD files will eventually erode the leadership position of Autodesk.
DraftSight and DoubleCAD XT can open and edit AutoCAD-made DWG files. Here is my DoubleCAD XT opening a DWG file created by another architect using AutoCAD.
(click to enlarge)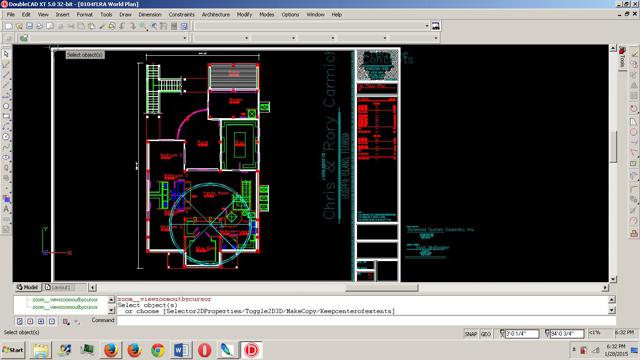 Source: Alcaraz Research
My point is that AutoCAD 2015 (2D/3D capable) still retails at a stratospheric price of $4,195. Sure professionals dependent on AutoCAD will keep buying upgrades or new versions from Autodesk. However, there is slim chance that the current user base of AutoCAD will significantly grow in the future.
TurboCAD Pro, DesignCAD, and progeCAD are much cheaper 2D/3D CAD programs that are capable of replacing AutoCAD. There is also ZWCAD, which Autodesk sued for patent infringement but lost the case in the Netherlands.
The availability of IntelliCAD technology makes it easy for other companies to create cheap AutoCAD clones and Autodesk cannot stop them. Autodesk is likely headed for trouble if it remains adamant in its old-world strategy of pricing AutoCAD products so expensively.
The monthly subscription for AutoCAD 2015 is $210 - a price still too high for most small firms. In spite of the more stringent anti-piracy laws in the Philippines, many architecture/engineering design shops still buy just one AutoCAD software for one PC as a showcase unit just in case the Optical Media Board makes inspection. The other workstations have hidden pirated copies of AutoCAD installed.
As long as Autodesk keeps pricing its products far higher than what most users will willing pay for, pirated copies of AutoCAD products will remain popular among office workers and home-based designers. The argument that Autodesk gives free copies of its products to students and educators is invalid. Free educational versions of AutoCAD cannot be used for commercial purposes.
Architecture/engineering design firms who have limited budgets (or facing stiff competition) will likely use pirated copies of AutoCAD or use free alternatives like DraftSight so they can reduce their overhead costs. A lower overhead cost allows design professionals to offer their services at a cheaper rate.
The architect who used DraftSight to layout the house for my brothers only charged me 5,000 pesos ($113.64) for both architectural and structural drawings. My 3-storey house's design, which was created in AutoCAD 2011 by another architect, cost me 12,000 pesos ($272.73).
I strongly agree with Alpha Omega Mathematica's Sell rating for ADSK.
Disclosure: The author has no positions in any stocks mentioned, and no plans to initiate any positions within the next 72 hours.
Editor's Note: This article discusses one or more securities that do not trade on a major U.S. exchange. Please be aware of the risks associated with these stocks.