The ugly budget fight and the fallout from the lack of a meaningful debt reduction plan once again took a heavy toll on the markets last week. The biotechnology HOLDRs index ($BBH) swooned down 8.1% last week, on the back of a 2.3% drop the prior week. Of the approximately 300 stocks in the biotech and general pharmaceuticals group, thirty-five stocks trading above $1 at closing on Friday, August 5, went down more than 15% during the week and one went up more than 15% during the week (see Table). The fall in the biotech index mirrored the overall weakness in the broader markets as the indices plunged 7%-8% last week on the back of a 4% dive the prior week.
As an investor, it is imperative to keep a cool head, especially in such turbulent times, and keep scouting for new opportunities while keeping an eye on both the price movements and news flow. Our daily and weekly coverage analyzing the top movers for top buy and sell ideas is aimed at enabling you in that effort. You can access the rest of our daily, weekly and quarterly mover series from our author page.
This article covers our analysis of the top movers in the biotech and general pharmaceuticals group last week. Of the thirty-six stocks that moved more than 15% up or down last week, we analyzed them to determine if they would continue in the same direction, or if they would reverse their moves going forward. The following are the best buy and sell ideas based on that analysis.
Buy Dendreon Corp. (NASDAQ:DNDN): DNDN develops targeted therapeutics to treat cancer using active immunotherapies, monoclonal antibodies and small molecules. Among investor circles, it is probably best known as the maker of Provenge for Prostate Cancer. The stock plunged 67.4% last Thursday on slower than expected growth in Provenge sales, and they were down 66% for the week. We recommended a buy on DNDN in our daily coverage of top movers last Friday when the stock traded in the $11 range, based on our assessment that despite the revenue miss and suspension of forward guidance, despite the challenge in convincing oncologists and urologists to maintain inventory and recommend a $93,000 a course drug in the current economic climate, despite the risk that insurance companies may balk at the price tag, that DNDN shares at $10 are at rock bottom prices and price in all of the above negatives. The extreme collapse of the stock last week may have been an over-reaction to some real 'bad' news from the company, and the bias in that light might be flat and up going forward as prices are likely to rebound back above $15 in the short-term.
Buy Ariad Pharmaceuticals Inc. (NASDAQ:ARIA): ARIA is engaged in the development of drugs that treat aggressive and advanced-stage cancer by regulating cell signaling with small molecules, and it is also developing small-molecule drugs that block signal transduction pathways in cells responsible for osteoporosis, and immune and inflammatory diseases. Its shares fell 27.8% last week on missing June quarter revenue and earnings. At this point, the steep drop in ARIA prices since that quarter report appears to be corrective, in terms of giving back some of the huge 400% plus gains it had generated for its investors in the twelve months preceding the $13.50 high in mid-July, and exaggerated due to the steep losses in the market averages last week. However, ARIA's potential as measured by the three drugs in development, namely Ponatinib for chronic myeloid leukemia (CML) and advanced acute myeloid leukemia, Ridaforolimus or Rida for soft tissue or bone sarcomas, and AP26113, should remain unchanged. We would buy into this swoon in stages, to take advantage of any further weakness. For our detailed discussion on the buy thesis for ARIA, please go to our earlier article on last Tuesday's biggest losers.
Mylan Inc. (NASDAQ:MYL): MYL is a leading generics and specialty pharmaceutical company with commercial operations in over 90 countries, and among the broadest and highest quality product portfolios in the generics industry. It develops generic and branded drugs primarily for the treatment of central nervous system and cardiovascular diseases. Its shares dropped 15.5% last week, and are down 8.8% YTD. There was no company-specific negative news that could have precipitated such a huge drop, but the entire generics space including Teva Pharmaceuticals Adr (NYSE:TEVA), Forest Labs Inc. (NYSE:FRX), Hospira Inc. (NYSE:HSP), Perrigo Inc. (NASDAQ:PRGO), and others experienced outsized declines last week. With the declines last week, MYL trades close to short-term support area in the $16-$18 range while the stock is trading at a forward 7-8 P/E, at the bottom of its historic range, and earnings are expected to increase at 20% compounded growth rate from $1.61 in 2010 to $2.32 in 2012. The bias from here is to the upside.
Akron Inc. (NASDAQ:AKRX): AKRX develops generic pharmaceuticals in specialty areas such as ophthalmology, hospital drugs and injectables. It was the only big gainer in the biotech group last week, up 7.4% during the week and up 22.6% YTD. It was up on reporting strong June quarter results on Tuesday before market-open. It reported that revenues came in at $32.1 million, trouncing the $26.7 million estimate, and also up 25% sequentially and 59% year-over-year. Also, it reported non-GAAP earnings at 8c, well ahead of the 5c estimate. Furthermore, AKRX is expected to be a beneficiary from the 2010 healthcare reform bill as generic drugs that currently account for 70% of all prescriptions in the U.S. are expected to rise as the healthcare reform rolls out.
Buy Amarin Corp. plc ADR (NASDAQ:AMRN): AMRN is a clinical stage Ireland-based global pharmaceutical group which develops novel drugs for the treatment of cardiovascular diseases using its proprietary advanced oral and trans-dermal drug delivery technologies. The stock gained 98% during the June quarter, it is up 76% year-to-date (YTD), and it is up a whopping 600% in the last twelve months. We recommended buying AMRN into weakness in our review of second quarter big winners, based on valuation, and stand by that. For our detailed review of the buy thesis for AMRN, please see here.
Biosante Pharmaceuticals (BPAX): BPAX develops products for female sexual health and oncology. Its lead products include Libigel for the treatment of female sexual dysfunction, and Elestrin for the treatment of moderate-to-sever vasomotor symptoms associated with menopause. BPAX fell 19.7% last week, partly in response to the market and biotech industry weakness last week, and partly as a continuation of the weakness stemming from the company's announcement on July 28 of a public offering of 16 million shares at $3 a piece that increased share count from the current 110 million. BPAX anticipates using the net proceeds from the offering of approximately $45 million for general corporate purposes, including funding the phase 3 study for Libigel.
Aeterna Zentaris Inc. (NASDAQ:AEZS): AEZS develops therapeutics in the areas of oncology and endocrinology, including a phase 3 trial targeting metastatic colorectal cancer and multiple myeloma; and a phase 2 trial targeting endometrial, ovarian, prostate and bladder cancer. Also, it currently markets Cetrotide® for in-vitro fertilization. Its shares fell 16.2% last week on no company-specific news, but rather on weakness in the overall market and the biotech sector.
Zalicus Inc. (ZLCS): ZLCS, formerly known as CombinatoRx, develops new drugs built from synergistic combinations of approved drugs and new chemical entities to treat immuno-inflammatory and metabolic diseases. Its shares fell 30.0% last week after the company reported June quarter results on Wednesday before the market-open, in which it reported $1.9 million in revenue and an 11c loss versus the estimate of $1.5 million and a 9c loss. The stock is extremely volatile and was up more than 200% until recently on the basis of sales projections for its pain drug Exalgo that was approved by the FDA last year. It seems based on the street reaction to the quarter report, that the expectation built into the recent rise in the stock was a much stronger beat than in analyst projections. Even after the drop, ZLCS trades at a rich $160 million market-cap versus current quarter revenues in the $1-$2 million range.
Valeant Pharmaceuticals (NYSE:VRX): VRX develops primarily branded drugs to treat central nervous system disorders, pain and cardiovascular disease. Its shares fell 29.3% last week after it reported Thursday morning before market-open that in the June quarter, earnings came in at 73c trouncing analyst estimates of 65c and revenues at $609.4 million also beat the estimate of $602.6 million. At $39, VRX trades at a discount to its growth rate. It trades at a 19 P/E on a TTM basis, and at a forward 10-11 P/E, while earnings are projected to increase at a compound 38% growth rate from $1.94 in 2010 to $3.71 in 2012. However, it still trades well above the bottom 3-5 P/E range on a historical basis, and shares are still up over 80% in the last twelve months, while earnings are down year-over-year on a TTM basis. We would be buyers here, but in stages to take advantage of any further weakness in the shares.
Table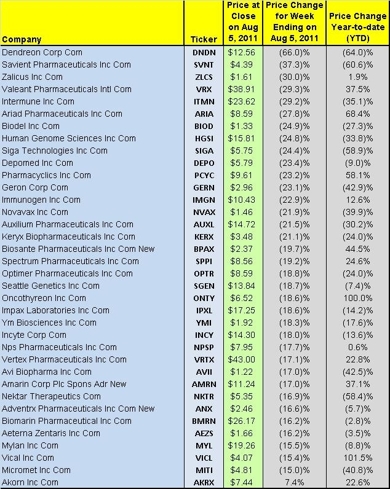 Credit: Historical fundamentals including operating metrics and stock ownership information were derived using SEC filings data, I-Metrix® by Edgar Online®, Zacks Investment Research, Thomson Reuters and Briefing.com. The information and data is believed to be accurate, but no guarantees or representations are made.
Disclaimer: Material presented here is for informational purposes only. Nothing in this article should be taken as a solicitation to purchase or sell securities. Before buying or selling any stock you should do your own research and reach your own conclusion. Further, these are our 'opinions' and we may be wrong. We may have positions in securities mentioned in this article. You should take this into consideration before acting on any advice given in this article. If this makes you uncomfortable, then do not listen to our thoughts and opinions. The contents of this article do not take into consideration your individual investment objectives so consult with your own financial adviser before making an investment decision. Investing includes certain risks including loss of principal.
Disclosure: I have no positions in any stocks mentioned, and no plans to initiate any positions within the next 72 hours.