Over the last few years S&P 500 earnings have consistently beaten quarterly estimates. Typically, about two-thirds of benchmark companies beat estimates. Yet that is only part of the story. In fact, from the initial estimates for a given quarter through that quarter's end, consensus estimates have consistently declined, often significantly. In short, analysts begin with rosy earnings outlooks for a given quarter in the two years prior to that quarter's end and repeatedly lower those expectations through the end of the quarter in question. When roughly two-thirds of companies beat the significantly lowered estimates, we invariably are told what a great quarter it was for corporate earnings.
While 4th quarter earnings season has just begun, it is, at the moment, on target to repeat this process. As of March 31, 2013, bottom-up consensus earnings estimates for 4Q14 called for the S&P 500 to earn $33.23 per share. By September 30, 2014 the estimate for 4Q14 had fallen to $32.24/share and by year-end it was $30.40/share. As of the last update on the S&P website (1/22/14) it was down to $29.51/share, or 11.19% lower than the March 2013 estimate. As of January 22nd, S&P indicated that 90 companies, or 18% of the benchmark, had reported earnings for the quarter, with 67, or just about 75% or those reporting, beating consensus estimates.
It is far too early to say whether the majority of companies will beat their 4Q14 consensus earnings estimates, but even if they do, it's likely that benchmark earnings will be 8-10% below the March 2013 consensus estimate. It's also a sure bet that we will hear what a great earnings season it was since most companies beat consensus estimates despite the fact that the vast majority of companies will earn less than initial consensus estimates suggested they would. In short, quarterly earnings estimates have consistently fallen over the 12-24 months prior to the end of a given quarter. Just as consistently, about two-thirds of companies have surpassed these lowered estimates and the investment community has applauded. Of course this trend has translated to a very similar pattern in calendar-year earnings estimates, which have declined right along with quarterly estimates.
That is not to say that profitability has been poor. Indeed profit margins have been far above historical norms throughout much of the recovery. However, it's important to note that despite falling earnings estimates, US equity prices have continued to climb. If benchmark earnings match consensus for the 4th quarter, they will have grown roughly 9.5% annually over the last two years. While that represents attractive earnings growth, the S&P 500 returned more than 20% annually, i.e. multiples have expanded significantly. The chart below tracks price performance and 2014 consensus earnings estimates for the S&P 500. A picture is indeed worth a 1000 words.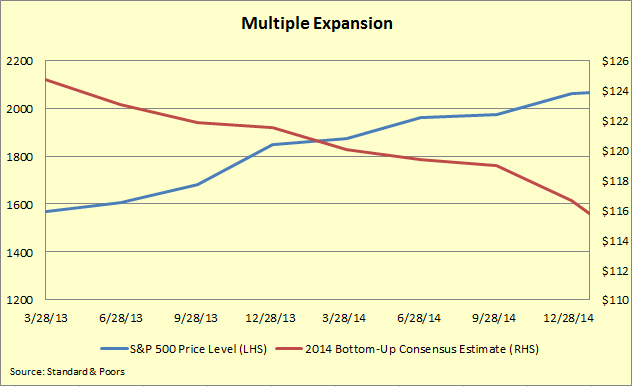 Disclosure: The author has no positions in any stocks mentioned, and no plans to initiate any positions within the next 72 hours.
The author wrote this article themselves, and it expresses their own opinions. The author is not receiving compensation for it (other than from Seeking Alpha). The author has no business relationship with any company whose stock is mentioned in this article.