Buying stocks in this current market environment is certainly not for the faint of heart. Investing when the Dow Index is plunging another 400 or 500 points would be considered foolhardy by the average investor. However, the most successful investors made an incredible amount of money by buying stocks in late 2008 and early 2009 when the market was crashing around them.
Today is no different. Although America's CEOs may be signaling a recession and many blue chip stocks like Caterpillar (NYSE:CAT), Alcoa (NYSE:AA), and Home Depot (NYSE:HD) have further to drop, there are already stocks showing up that appear to be oversold. There is no guarantee that these top stocks won't decline further, but they generally have a safety net that limits their losses in the near term.
One such stock that we like is China Digital TV (STV). The stock plunged 14 percent in mid-day trading on Monday. With no negative news on the company, that was our buy signal for this high-growth small cap stock.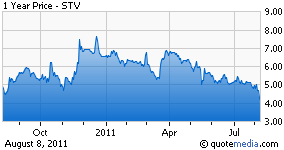 High Growth
Revenues climbed 38 percent y/y in the first quarter as China Digital TV expanded its market share to nearly 62 percent. Consumer demand continues to be strong in China which has allowed the company to keep pricing stable rather than engage in discounts to fuel growth. The growth is expected to continue for the foreseeable future, with Wall Street forecasting nearly 18 percent revenue growth in 2012.
Attractive Valuation
It's rare to see such heady growth numbers coupled with an attractive valuation. However, STV shares trade at only 5.5x consensus 2012 earnings. That's amazingly cheap, but that doesn't even tell the whole story. When you factor in their cash balances (see below), that P/E multiple falls below 1x. By way of comparison, the better-known Baidu (NASDAQ:BIDU) trades at a forward P/E multiple of 30x.
Profitability
Not only is China Digital TV growing at impressive rates, but the company is also highly profitable. In the first quarter the company generated a 45 percent operating income margin. Meanwhile, Sina Corporation (NASDAQ:SINA) generated only an 11 percent operating margin in their most recent quarter. It is also encouraging to see that STV's operating income is growing at a faster rate than revenues (57% vs. 38%).
Safety Net
That brings us to the safety net at China Digital TV. A review of its most recent balance sheet shows that the company holds $215 million in cash and no debt. Based on its current shares outstanding, that equates to $3.65 per share in net cash. China Digital TV did announce a special dividend of $.56 per share, but that won't be paid until December. Subtracting out its cash per share, that means the market is valuing STV shares at only $.40 per share. In 2011, Wall Street expects the company to earn $.65 per share.
If you're looking for a high growth stock that is trading at an adjusted P/E of less than 1x and has lots of cash and zero debt, then China Digital TV looks like it fits the bill.
Disclosure: I am long STV.