For the first time since the BP (NYSE:BP) Deepwater Horizon blowout, the Obama Administration is set to propose opening up the waters of the Atlantic Ocean from Virginia to Georgia for exploration by the energy industry, according to The New York Times. As part of the proposal, the Administration is set to limit drilling in certain waters off of the coast of Alaska. This could be seen as a positive for the industry which has been wanting to drill off of the coast of Virginia for years, although one could argue that the moves in Alaska limit the industry's access to cheap energy.
The Federal Reserve is set to announce its rate decision today, which should keep rates at 0.25%. As has been the case in recent years, today shall be less about the rate decision and more about what the Fed either says or does not say. With the recent events around the world, economic data/news and central bank moves, we expect that the Fed will once again take a dovish stance and reassure the market that they will see this recovery through.
Chart of the Day:
With the United States 10-year Treasury still yielding below 1.80%, it certainly seems that the market is telling us that the Fed's hands are tied in regards to interest rates. With the recent events, the Fed may have to delay any plans they had to raise interest rates, and if that is the case, expect the market to rally sharply.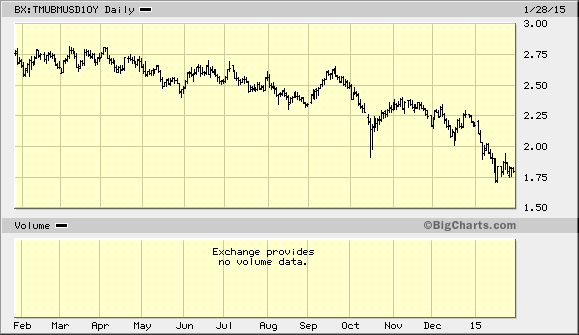 Source: BigCharts
Commodity prices are as follows (at time of submission):
Gold: $1,287.00/ounce, down by $4.70/ounce
Silver: $18.095/ounce, up by $0.011/ounce
Oil: $45.34/barrel, down by $0.89/barrel
RBOB Gas: $1.3728/gallon, up by $0.0227/gallon
Natural Gas: $2.879/MMbtu, down by $0.102/MMbtu
Copper: $2.482/pound, up by $0.0195/pound
Platinum: $1,260.00/ounce, down by $4.30/ounce
Hess Misses Estimates
Shares in Hess Corp. (NYSE:HES) are down today after reporting earnings that came in below analysts' expectations. The miss is the result of lower oil prices, which fell so much during the quarter that even increased production could not make up the difference on the EPS front. Hess actually managed to beat analysts' expectations for production volumes, which rose 18% year-over-year and forecast production growth of 10-13% for the year ahead.
One has to wonder how the company would have fared if Elliott Management had not forced the company to divest itself of its refinery and marketing business, segments that integrateds such as Exxon Mobil (NYSE:XOM) and Chevron (NYSE:CVX) like due to their ability to help limit volatility to EPS when energy markets get roiled.
Further MLP Consolidation?
It certainly seems that we are due for further consolidation within the MLP space, as partnerships look for ways to shore up their credit ratings and find ways to create both further increased distributions and free cash flow to develop new assets. One could also argue that those who run and/or control many of these MLPs could be looking for ways to simplify the structure of their entities, as displayed by the latest wave of mergers by Kinder Morgan (NYSE:KMI) and its family of MLPs as well as Monday's deal between Energy Transfer Partners (NYSE:ETP) and Regency Energy Partners (NYSE:RGP).
We have been arguing that MLP consolidation will take place, mainly focusing that argument around the E&P-type MLPs due to the effect that falling oil and natural gas prices have and will have on their distributions and ability to add new projects to their portfolios. With certain key players in the industry now looking to simplify MLP families, it does appear that we could see some opportunities emerge for gains within MLPs controlled by others.
Disclosure: The author has no positions in any stocks mentioned, and no plans to initiate any positions within the next 72 hours.
The author wrote this article themselves, and it expresses their own opinions. The author is not receiving compensation for it (other than from Seeking Alpha). The author has no business relationship with any company whose stock is mentioned in this article.