There are many components that go into being a smart investor…
From reading whatever you can get your hands on when it comes to industries and companies… to not being afraid to do the number-crunching valuation homework… or knowing when to deviate from the hype and the herd, just to name a few.
It's a full-time job - and that's just for obvious and less-than-obvious things that go into picking a stock - let alone managing a portfolio of something between one and two dozen stocks.
If you don't have a staff or several sources of solid information coming to you every week, odds are you'll miss some things.
As this week is proving, it sure seems that Wall Street has missed at least one thing - the impact of the strong dollar.
Make no mistake, there has been much talk about currencies - from the weakening of the euro, which fell apart last week following the European Central Bank's (ECB) stimulus package, to the stronger U.S. dollar.
Ahead of that meeting, I recommended to subscribers of my PowerOptions Trader service two trades that aimed to deliver on the expected ECB stimulus announcement.
And those two trades - going long the PowerShares DB US Dollar Bullish ETF (NYSEARCA:UUP) March $25 calls and the Guggenheim CurrencyShares Euro Trust (NYSEARCA:FXE) March $113 puts - did just that, and then some…
To the tune of gains of 88.46% and 90.68%, respectively, in the span of only a few days.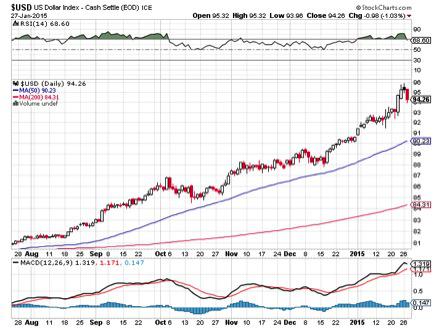 Back to what the market is only now realizing: not only are the economies outside the United States weak to sluggish, per last week's January flash PMI data, but the strong dollar has made goods and services from U.S. companies even more expensive on a relative basis. That's not good for quarterly performance for either the December quarter or the one we're currently in.
How's Wall Street waking up to this? By hearing companies from Procter & Gamble (NYSE:PG) and DuPont (DD) to Caterpillar (NYSE:CAT) and Bristol Myers (NYSE:BMY) use the strong dollar as one of the excuses, if not the reason, for missing Wall Street expectations. Odds are pretty high that we will see more companies plead the strong dollar in the coming days.
As I warned subscribers, this week is simply frenetic with earnings reports. We will hear from more than 25% and more than one-third of the S&P 500 companies and Dow Jones Industrial companies, respectively, as they report earnings.
At the Thematic Growth Portfolio that I manage for Fabian Wealth Strategies and in my PowerTrend Profits investment newsletter, we've moved to reduce our exposure to companies that have significant exposure to international markets when it comes to revenue and profit.
In the short to medium term, we're focused on companies with significant domestic exposure, like American Railcar (NASDAQ:ARII), American Water Works (NYSE:AWK) and others. You're probably wondering what I'm doing with the capital that's been returned from the sale of those positions I mentioned above.
Heading into the week, there was no doubt the valuation on the S&P 500, which was above its 5-, 10- and 15-year averages, was stretched.
Now we have more warnings of slow to no growth and the impact of the dollar to deal with. My plan is to sit on the returned cash and ride out at least the balance of the week and more likely than not keep sitting on it into next week, building my stock shopping list in the process.
Disclosure: The author has no positions in any stocks mentioned, and no plans to initiate any positions within the next 72 hours.
The author wrote this article themselves, and it expresses their own opinions. The author is not receiving compensation for it. The author has no business relationship with any company whose stock is mentioned in this article.