While we're usually focused on finding lesser known dividend growth plays, the recent market selloff has made a number of very high-quality blue chips a lot more appealing to the high yield dividend investor. Especially given the alternatives for income-oriented investors (e.g. corporate bonds or Treasuries), a lot of these blue-chip dividend paying stocks are actually a much safer bet going forward.
As of last week, there are now 22 Dow stocks that yield more than 10 year Treasuries. The following 5 are yielding 2.5% or more, are members of the Dividend Aristocrats, and derive the majority of their annual revenue from abroad. These companies have impenetrable franchises, continuously grow dividends and are able to take advantage of growing markets outside the US…and thanks to the market selloff, can now be picked up at a discount.
Procter & Gamble (NYSE:PG)
PG is a worldwide consumer products company with such well-known brands as Gillette, Crest, Pringles, Duracell & Tide. The company has paid a dividend since the 1890s (yes, you read that right) and has increased its dividend for the last 55 years. The most recent dividend increase was about 9% and its dividend payout ratio is only 55%.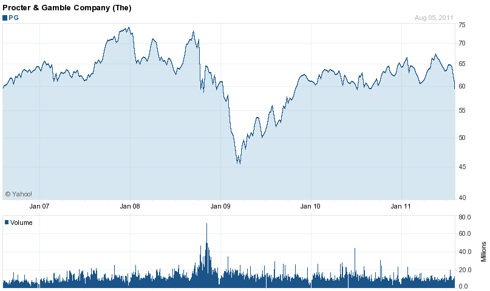 Dividend growth since 2000: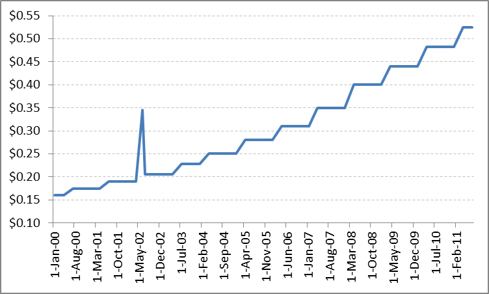 PG is an extremely strong franchise that derives almost 60% of its sales from outside N. America and, despite some macro-headwinds since 2008, has grown its revenues and earnings at a very solid clip over the last 5 years (8% and 13% respectively). This company has executed its business model very well abroad and is well poised to continue to grow revenues (and its dividend) for decades to come.
Furthermore, the company has a long history of buying back shares which further demonstrates management's commitment to growing shareholder value over time (which is crucial for dividend-growth investing) The stock was a good long-term value at $65, but now long-term investors can get it for almost 10% off. This is a great candidate for DRIP investing.
Johnson & Johnson (NYSE:JNJ)
JNJ is not the most exciting stock in the world, but it is one of the best at reliability generating cash. JNJ engages in the research and development, manufacture, and sale of various products in the health care field worldwide. The company operates in three segments: Consumer, Pharmaceutical, and Medical Devices and Diagnostics. JNJ has increased its dividend for the last 47 years, currently pays over 3.5%, has a AAA balance sheet (which is now better than the US government) and gets the majority of its revenue from outside the US. JNJ has also been repurchasing shares for the last several years (to the tune of $6BN a year):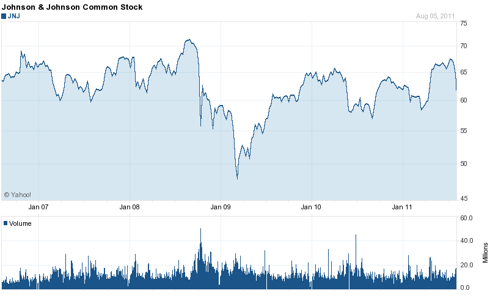 It also has impressive consistency to its dividend increases: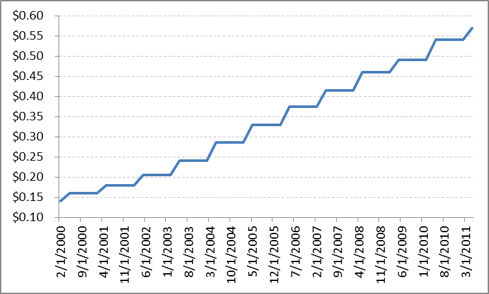 With the stock's recent pullback, this is a great time for investors to buy a quality cash-flow machine at a discount. This is another great DRIP opportunity.
Wal-Mart (NYSE:WMT)
WMT was a 'hot stock' in the 80s and 90s as it grew into the largest retailer in the world, but for the last 10 years, the stock hasn't moved much at all and currently trades for less than it did at the end of 1999. The company, however, did continue to grow over the last decade and now (especially with the market selloff last week) investors can buy into this dividend powerhouse at a discount (DRIP info here):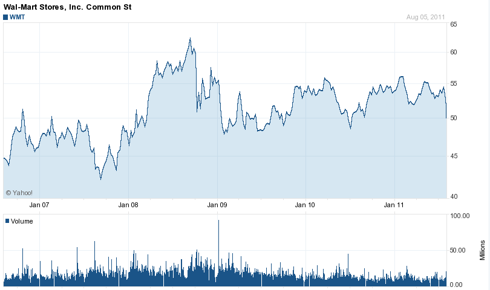 Steady stream of dividend increases: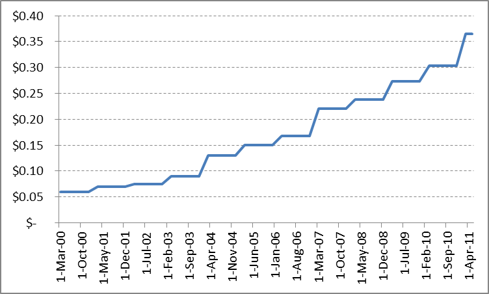 The market has become increasingly volatile as more and more investors are seeking safe investment options with a reasonable yield. With Treasuries paying almost nothing (and now being downgraded), high quality dividend paying stocks (like the 3 outlined above) that have recession-proof businesses and significant upside exposure to foreign markets are a 'must-have' component of any income-oriented portfolio.
Disclosure: I have no positions in any stocks mentioned, but may initiate a long position in PG, JNJ, WMT over the next 72 hours.