Identifying the turning point of a runaway down market is nearly impossible. It requires figuring out when emotions and shares offered for sale will peter out.
However, there are some signs that crop up when markets get ugly. August 8, was one of those days, and here is the picture.
No S&P 500 stock rose
All 500 stocks were down, from National Semiconductor's (
NSM
) "good" -0.04% decline to Bank of America's (NYSE:
BAC
) air pocket -20.32%. Below is a histogram showing the number of stocks in each percentage change group. Note the non-normal distribution, with a large grouping around the S&P 500's (NYSEARCA:
SPY
) return, trailing off to more dismal returns for selected stocks like Bank of America.
(Click charts to enlarge)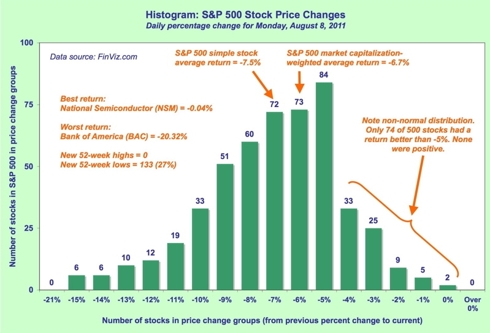 Note, too the new 52-week highs and lows. This imbalance (especially the zero highs) is often seen when a sell-off has gotten over-extended. Combined with the zero positive returns, this can be an indication of being very near the bottom.
Another indicator of panic selling is the average stock return being worse than the market-capitalization weighted one. It can mean that, rather than raising cash by selling liquid (larger) companies, investors are rushing for the exits and selling everything.
Outside the S&P 500, the picture was the same
Using Financial Visualizations' website, FinViz.com, I screened for U.S. stocks (excluding ETFs) with:
Market capitalizations of $50 million or more,
Stock prices of $5 or more, and
August 8 trading volume of 100,000 shares or more
My purpose was to remove small, low-priced and illiquid stocks. The result was 2,381 U.S. stocks. The performance numbers are similar to the S&P 500's, with the same conclusions.
New 52-week highs = 2
New 52-week lows = 623
Average return for 2,381 stocks = -8.4% (a further indication of mass selling)
Stocks with positive returns = 15
Stocks with returns better than -5% = 327
The stock market's negative catalysts

We are reading about historic drops and how they compare with today's. There is a problem with such comparisons: The game has changed. Gone are some significant safeguards that helped prevent or mute such sell-offs in the past.
Many of these safeguards were established in the 1930s as a result of both the Great Depression and the numerous financial panics that preceded it. Over the past 15 years or so, some important ones were removed.
Probably the most important at this time is the SEC's removal of the "uptick rule" on short selling. This rule prevented the equivalent of yelling "Fire!" in a theater. Without it, investors (think hedge funds, particularly) are free to drive a stock down, thereby creating even lower prices through both real-world margin calls and emotional panic.
Exacerbating the damage possible from the rule's absence are hedge fund secrecy (the 1930s regulations required registration of such funds), naked short-selling (rules used to require having to borrow shares rather than "watering" stock by simply selling), and the absence of the New York Stock Exchange's specialist system (the SEC's "circuit breakers" allowing many, competing electronic trading systems, including hidden ones, has failed to make up for the lost specialists).
Oh, and one other biggie. It used to be verboten for credit rating agencies to rate banks because a poor rating could cause a financial panic. Standard & Poor's has certainly done that concern one better.
The bottom line
We are in the middle of mass, panic selling. "Recession" is the specious reason for the drop. The real reason is fear, being fed by both pundit/media reports and freewheeling trading activity. For us individual investors, the best course is to take advantage of the low stock prices, or, if already invested, to avoid being enticed (frightened) into selling our positions at such prices.
Disclosure: Long U.S. stocks and U.S. stock funds