Back in April, I had discovered my summer living plans had changed, which forced me to back out of the internship I was committed to already and scramble to find something new in the area. In a last minute panic, I put out calls and emails to investment managers in the Greater NYC area for an opportunity. One of the many respondents replied to an email saying, "If you want an internship here, send over an investment idea that shows what you can contribute."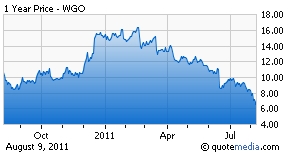 It was April 12th when I started pounding the table on the Winnebago (NYSE:WGO) short and since then I have been quite pleased with the performance. Since the start of the 2011 calendar year, WGO is down about 45% and about 32% since the day I sent my analysis over the investment manager. While the stock has already seen a significant decline, partially driven by overall weakness in the equity market, high fuel prices and looming concerns over the economy, there are several other factors that have been impacting the performance of Winnebago as a company that will continue as far into the future as any analyst, investor or person is capable of legitimately forecasting. Based on my extensive analysis and research, there seem to be three primary underlying trends that are quickly leading Winnebago Industries towards its death.
1. Social trends - Demographic changes have significantly altered the target market for RV manufacturers as people over the age of 50 and retirees are facing significantly higher costs of living than previous generations. Winnebago management used to identify their target market solely as typical middle-age consumers or retirees that would be able to get a lot of use out of the product. Recently, they have begun to change their view and start including the younger demographic segments into their target customers despite secular trends that would suggest this population segment has no interest in RVs currently and will have even less each year going forward.
There has been industry research published suggesting that the increase in the overall size of the 50+ population will benefit RV manufacturers but this fails to take into account the changes in the cost of living that seniors and Americans are currently undergoing. Despite our President's best efforts to help Americans fight against the significant costs of living, most notably through his Affordable Care Act, people are continuing to experience dramatic increases in the costs of food and healthcare. This year, it will cost $19,000 to provide a family with healthcare and that number is projected to continue upwards consistently over the next decade.
Whether or not the President's affordable healthcare plan worked, it was not aimed to benefit those individuals who have the means or financial resources that would enable them to purchase a $100,000 RV upon retirement - the Winnebago target population segment. Those that may have been considering a purchase of an RV from Winnebago will now face higher living costs including healthcare and food that will make the large single purchase far less attractive.
2. Technological trends - Priceline (NASDAQ:PCLN) and Expedia (NASDAQ:EXPE) enable consumers to travel all over the world at an affordable price and in a feasible and realistic fashion. Previously, when Winnebago emerged and prospered, consumers were limited in their ability to take vacations. People were using travel agents to book vacations and they were spending a significant amount of money to travel long distances. At that point in time, it was just as easy and comparable in price to purchase an RV and be able to take your family on vacation many times in the future. Since the turn of the century, the internet has emerged as the primary place for consumers to spot deals. The emergence of discount travel sites including Priceline and Expedia have enabled people to book vacations for the entire family at incredibly affordable prices and travel to places they have never been before.
The alternative offered by Winnebago is to take the same RV to a place that is most likely in the same climate/region that you wake up in daily and try to call it vacation - at a price that is equal to or higher than that of taking your family somewhere via airplane utilizing a discount travel site. When we bring significantly higher fuel prices into the mix, RV vacations become even less attractive as the luxury mobile homes are incredibly expensive to operate. The industry and manufacturers are failing to provide any sort of value-add to their target customer.
3. The cost of purchasing an RV from Winnebago has nearly doubled since 1995, making it no longer an affordable alternative. To continue evaluating the cost of owning and operating a Winnebago product, I have examined raw purchase price in addition to the associated costs. While times and interests of the consumers have changed substantially over the last year, five years and decade, the product offering from Winnebago has not, leaving them with a dated and unsustainable business model.
Typical Class-A or full sized Winnebago vehicles start around $100k for the cheapest and can go anywhere up to their "tour bus" style vehicle over $300k. After speaking directly with several dealerships, I was able to find that they were overly-willing to work on a price, especially on the new 2007 models that were still sitting on their lots. That said, most places informed me that if I wanted any newer models, they would probably have to order them since they were not keeping many in inventory. I had to learn this the wrong way by giving my cell phone number to one salesman – a mistake that has unfortunately filled up my voicemail box with nearly 30 minutes in messages.
In 1991, Winnebago sold a total of 5,461 units and which netted the company $222.65 million dollars. That comes out to an average selling price of approximately $40,800 per unit. This past year, the company sold 4,433 units and collected $449.48 million in revenue which comes out to just over $101,000 per unit. Since 1991, we have not seen the population size double, housing supply double, or inflation in our currency that would justify such price increases.
The products have gone from affordable for most middle-income consumers to affordable only to the rich. The price per unit across all sales has steadily increased at an average rate of 5% annually and if it continues to do so over the next few years, the products will become even less appealing than they are currently, if that is even possible.
As touched on in item 2, the ability to schedule a vacation has become much easier and less expensive over this transformative time period yet Winnebago has been unable to transform their product offering in a similar way. When individuals and families are given the choice between vacationing to new and exciting places far from their home or purchasing an RV that has distance limitations and is more expensive, it is an easy and simple decision.
The rapid growth in travel sites and overall usage of the internet has made long-distance travel much more affordable and feasible than ever before. In 2000, only 10.7% of Americans had high-speed internet access in their homes compared to 65% in 2009. Even more recent data would most likely suggest a much higher proportion not to mention those that have mobile internet access via smartphones and tablets.
The on-going economic concerns and dramatic increase in Winnebago prices will continue to prevent many consumers from even considering purchasing an RV as a feasible option. In addition, continued weakness in the housing market, a deleveraging consumer and unappealing products will continue to bring secular headwinds at the RV industry as a whole.
I mention a "secular downtrend" suggesting that it is a long-term issue that the company is facing. Before even considering valuation, there is clearly a problem facing not only Winnebago but the industry. In a presentation given by Winnebago last fall, they cited several industry growth trends including positive demographic trends and a "successful national advertising campaign."
The age group that primarily purchases these products currently ranges from 45-70 and currently accounts for approximately 81.2 million people within the United States. The Census Bureau has estimated that in 2020, this group will be approximately 83.65 million in size, growing at less than 0.5% annually over the course of the next decade. While this age group comprises just over 25% of the national population, they account for only 15% of total leisure travel annually. The lack of population growth and travel leaves very little support for the claimed "positive demographic trends."
While I am yet to see one of the company's advertisements, there is another prevailing issue with their customer base; out of pocket spending on health care is expected to grow 9.6% by 2020 which is 4% higher than expected before the recent health care bill was signed. Companies now are cutting back on contributions to employee health care plans and many firms are expected to cut their health care support entirely. The rising costs of health care, which already make up a significant portion of seniors' annual spending, will be the first thing to prevent any purchases of $100k RVs.
There was recently an article posted on Motley Fool (link) advocating getting long Winnebago right now based on the trend we have seen in inventory. The author suggested that management, who, as noted below, recently purchased shares of WGO, were seeing an increase in demand for their products that was not reflected in their stock price based on the significant increase in raw materials as a portion of their inventory. The methodology is that traditionally, a disproportionate increase in inventory compared to revenue growth is a negative sign, but in this case, since we are seeing raw materials increase (as well as all other components of inventory) we can consider this a leading indicator of improving product demand. I will let the readers take it for what they want; the company missed earnings significantly in May reporting $0.04 vs. street expectations of $0.134 consensus.
There is definitely no take-out risk in this fading company due to its simple, dated and lousy business model. Despite having no debt on its balance sheet, creditors would be unlikely to fund any sort of LBO and private equity firms would be uninterested due to the overall weakness in the industry. A potential strategic buyer does not exist; there are already few competitors in the industry and no auto companies or other manufacturers would have a vested interest in integrating Winnebago's products into their existing business lines.
Recently, the CFO purchased 1,500 shares of the stock around $8.00. Most investors would normally be alarmed by this transaction (as was I) but after some consideration, I am not surprised at all. The CFO is part of the management team that has made no adjustments to the business over the last several years despite rapid changes in the industry and market - why would I be surprised if the CFO thinks that purchasing shares is also a good idea?
Looking at financials, the street so is expecting $119 million in revenue from the company for the next quarter which is reported in October and around $0.04 in EPS. I have several different scenarios that I have modeled for but these numbers are actually more conservative than my base case scenario – yet the valuation is still significantly off. The analysts covering Winnebago have taken their estimates down but they are yet to modify their target prices to reflect the secular decline that the company is currently in. Winnebago currently trades at around 17x trailing EPS and 14.5x forward consensus EPS, which, based on the past results where analysts have been quite off, should be taken very lightly.
There are two key components to accurately projecting financials for a company like Winnebago: 1) Revenue and 2) Margins. I decided I would go back to 1990 and consider all potential factors that may relate to their performance including economic factors including population growth (among specific demographic segments as well), personal income, consumer spending, geographical trends in sales and more.
Based on what I found, I was able to detect a downward trend in top line sales for the industry by collectively making assumptions based on the above-mentioned items starting in 2004 when Winnebago sold a total of 12,516 units compared to the 4,433 units that were sold in 2010. This was at the peak of our alleged "artificial" economy which provides strong evidence that the company is facing more than just economic headwinds; they have been unable to keep up with competing industries and products over the extremely transformative first decade of the 21st century.
I did go through the traditional valuation methods to provide concrete evidence that my analysis was sound; DCF analyses (depending on case ranging from analyst to modest and optimistic) suggest an intrinsic value for WGO shares between $4-$6.50. Although there are very few comparable public companies, I compared the multiples of Winnebago to those of Thor Industries (NYSE:THO), Kabe Husvagnar, Drew Industries (DW), Polaris Industries (NYSE:PII) and Arctic Cat (NASDAQ:ACAT). Based on the public comps, we could assume a valuation ranging from the $6 range to over $10; this is before considering the fact that Polaris (the maximum multiple) has approximately 15% EBITDA margins compared to the weak 2% range of Winnebago and a proven track record of sustainable top and bottom-line growth.
When considering all aspects of the Winnebago business including its secular decline, inability to maintain margins due to unbelievably expensive products and a management team that clearly is unable to grasp the current situation, it is intuitive and easy to understand that the stock deserves nothing but the opposite of a premium multiple. Put a conservative 13x multiple on consensus (and most likely incorrectly optimistic 2012 EPS) of $0.53 and we have a price target of $6.89. Winnebago definitely should not trade at a premium to the S&P 500 – no questions asked.
There is plenty more analysis available – I hope this is clearly exhibited to readers. If not, please let me know and I have PDFs and valuation models that I am very willing to distribute. I will continue to post more detailed analysis on this failing company and look forward to the conference call in October.
Until then, short WGO.
Disclosure: I am short WGO.