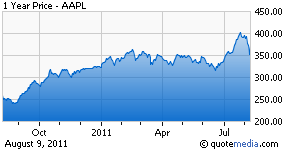 The recent market slide is difficult to stomach. The last few weeks have seen what I think of as equity deflation. When stocks that are materially undervalued continue to drop in price day after day it is hard to be a buyer. Why buy today when you can buy something cheaper tomorrow? It is the classic deflation problem and part of why until the market opened August 9th it continued to fall and could not find a bottom. Whether August 9th proves to be a bottom or just a bounce remains to be seen. But there is one action I have taken that I feel good about, and that was buying Apple (NASDAQ:AAPL) on August 8th.
In an article I wrote I on July 28 I argued that Apple was still cheap at $400 per share. Subsequently, in an August 7 article, I suggested that the sell off was an opportunity to buy Apple (and Google (NASDAQ:GOOG)).
On August 8 I started buying Apple and the rationale was simple. Put simply, the market (and Apple) had fallen far enough that I simply I did not care if Apple fell further. I decided how many shares I wanted and I bought 20% of that number. I could then sleep soundly knowing that if I woke up the next day and the market carnage continued it would be another 20%, and so on. And, if the market (and Apple) found a bottom and began to rise I would participate in the upside.
Apple is one of the only companies in which I could employ this strategy because of the quality of the company, how inexpensive the stock is, and how much cash it has on the balance sheet. It is very rare to find an investment that is simultaneously a growth investment and a value investment. Further, with multiple near and mid-term catalysts (iphone 5, iphone nano, ipad3, a holistic TV product) my largest fear was that I would only end up with 20% of the position I actually wanted. There were many other stocks that I felt were cheap and getting cheaper as the market fell, but none that I felt I could buy with confidence.
Disclosure: I am long AAPL, GOOG.