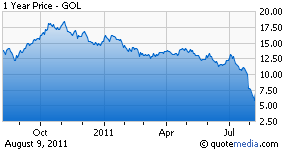 Gol Linhas Aereas Inteligentes (NYSE:GOL) will report second quarter 2011 earnings on Thursday, August 11.
The current Zacks Consensus Estimate for earnings per share (EPS) is a negative 9 cents, representing an annualized growth of 15.15%.
With respect to earnings surprises over the trailing four quarters, GOL outperformed the Zacks Consensus Estimate in two quarters and underperformed in the other two. The average earnings surprise was a negative 78.28%, which implies that the company underperformed the Zacks Consensus Estimate by the same magnitude over the last four quarters.
First Quarter Highlights
GOL Linhas Aereas reported encouraging financial results for the first quarter of fiscal year 2011. Adjusted net income in the quarter surged to R$110.5 million (U.S. $66.6 million) compared with R$23.9 million (U.S. $13.2 million) in the year-ago quarter. The year-over-year increase in net income was mainly attributable to higher gains from currency translation.
GOL Linhas reported EPS of R$0.41 per share (U.S. $0.25 per ADS) in the quarter compared with the Zacks Consensus Estimate of U.S. $0.30 per ADS.
During the first quarter, net revenue was R$1,895.7 million (U.S. $1,142 million), up 9.6% year-over-year and 1.4% sequentially. The improvement in revenue was due to escalating demand and higher ancillary revenues. The company also benefited from its competitive fare policy.
Agreement of Estimate Revisions
In the last 30 days, none of the analysts increased the company's earnings per share estimates for the second quarter, while two analysts decreased the same. For fiscal 2011, three analysts decreased their estimates while three analysts followed a similar trend for fiscal 2012, anticipating a fiercely competitive environment, rise in oil prices and rising operating cost due to insufficient airport infrastructure going forward.
Magnitude of Estimate Revisions
Estimates over the last 30 days changed from a negative 6 cents to a negative 9 cents per share for the second quarter of 2011, representing a year-over-year growth of 15.15%.
Estimate for fiscal 2011 decreased from 83 cents to 70 cents over the last 30 days while that for fiscal 2012 showed a similar trend, decreasing from $1.03 to 92 cents. These estimates represented year-over-year growth of 46.53% and 31.04% for 2011 and 2012, respectively.
Our Take
Gol Linhas is likely to post encouraging results in the second quarter based on a steady rise in passenger demand in addition to the launch of new routes and destinations. The company's fleet renewal program and its partnership/integration strategies are also encouraging for the quarters ahead.
Gol Linhas is one of the most profitable low-cost airlines in the world, connecting the cities of Brazil as well as those in Argentina, Bolivia, Chile, Paraguay, Peru and Uruguay. The company currently operates about 38% of Brazil's domestic flights and 12% of international flights. It competes directly with its peers, such as Copa Holdings SA (NYSE:CPA), LAN Airlines S.A (NYSE:LFL) and TAM S.A (NYSE:TAM).
We currently maintain a long-term Neutral recommendation on the stock. GOL has a Zacks #3 Rank, which translates into a short-term Hold rating (1-3 months).