In the first article, regarding how Federal Reserve statements are affecting the U.S. dollar, inflation and international affairs were discussed. In this article, economic growth and financial markets will be the focus. The chart below is of PowerShares DB US Dollar Index Bullish (NYSEARCA:UUP). Since July, the dollar has risen by nearly 18%.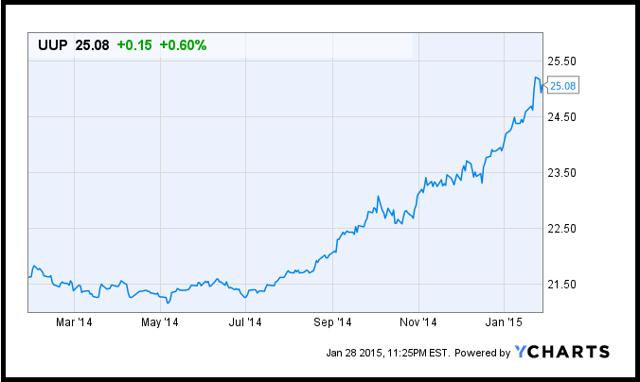 While inflation-adjusted economic growth has failed to reach "escape velocity," inflation-adjusted earnings per share of the S&P 500 moved broadly higher the last few years, pushing equities to record levels. Both economic growth and stock market earnings declined during the financial crisis, then moved broadly higher as the Federal Reserve cut interest rates to aid the recovery.
A divergence took place, however, over the last five years. While both measures slowed between 2010 and 2012, corporate earnings began to accelerate higher in 2013. This led to an acceleration in U.S. equity markets, which reached record levels. U.S. wealth grew rapidly in that time period, but economic growth, and thus U.S. laborers, have not shared in such good fortune.

Data provided by the Federal Reserve
A similar measure of U.S. wealth is the S&P 500 over real economic growth. The indicator acts as a form of valuation metric, showing how financial markets are performing relative to the overall economy. In 2014, the indicator reached a record high, previously achieved during the tech-boom in 2000. This is just another way of showing that wealth in the U.S. has broadly increased under past monetary policy choices.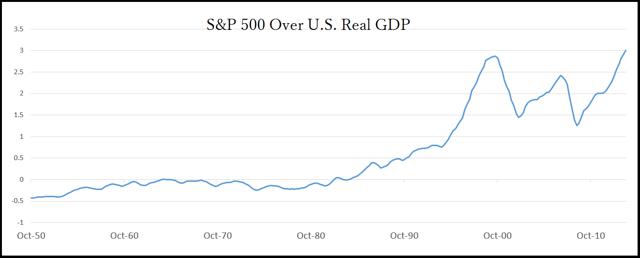 Data provided by the Federal Reserve
Laborers, however, without a stake in equity markets, have not experienced a similar recovery. In fact, while jobs have been added to the economy, real wages remain below pre-financial crisis levels. Below is a chart of real annual wage growth. In December, real wage growth came in at an annual pace of 0.62%, less than half of the near 2% levels seen in the early 2000's. With a declining labor force, alongside the high percentage of part-time jobs in the economy presently, laborers are not in a position to negotiate higher wages.
What is seen is that equity prices and corporate earnings have benefited the most from monetary stimulus enacted by the Fed during the financial crisis. For those without a stake the stock market, or those with little savings, low wage growth has been a negative effect. Low quality jobs, and those dropping out of the labor force signal structural issues that need to be corrected prior to drastically tightening monetary conditions.
With the Fed admitting it is being "patient" with raising its lending rate, the dollar may have limited upside potential in coming months. As weakness persists in Japan, the euro area, and China, the dollar will not likely decline very much, but experience more sideways, trendless movements in coming months.

Data provided by the Federal Reserve
Disclosure: The author has no positions in any stocks mentioned, and no plans to initiate any positions within the next 72 hours.
The author wrote this article themselves, and it expresses their own opinions. The author is not receiving compensation for it (other than from Seeking Alpha). The author has no business relationship with any company whose stock is mentioned in this article.