Steel stocks have essentially collapsed during this summer's severe correction. Some have retested lows going all the way back to March, 2009. The stock market is essentially placing its votes and bets on a double-dip recession, but many of these steel stocks seem so cheap that they are worth the risk to buy here. Today, August 9, AK Steel (NYSE:AKS) Chairman, President, and CEO James Wainscott must have come to a similar conclusion.
In an SEC filing, Wainscott disclosed a hefty purchase of 25,000 shares of AKS stock at $7.96/share, spending $199,000 of his own money and boosting his holdings to 567,813 shares. While this addition is small relative to his total holdings, Wainscott appears to have placed a vote of confidence in the company's shares. I added to my own holdings yesterday.
image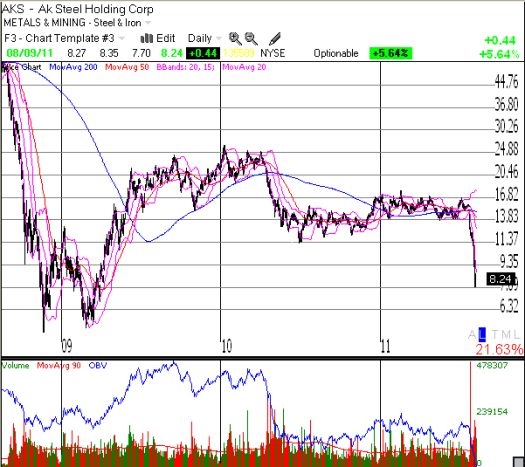 AK Steel has dropped within 25% of its March, 2009 lows and trades at a fraction of its highs since those lows
*Chart created using TeleChart
(For more on AK Steel and its last earnings report, see AK Steel Suffers Largest 1-Day Loss in 3 Years on Poor Earnings. For an archive of past AKS articles, click here.)
The entire steel complex is being auctioned off like a firesale. I could not resist nibbling on other steel names as well:
Commercial Metals (NYSE:CMC): Carl Icahn recently disclosed a 10% stake. The stock is 18% away from its March, 2009 lows.
Nucor Corp (NYSE:NUE): Yesterday, the stock traded within 5% of its March, 2009 lows.
I missed bargains like these over two years ago. I am not missing out a second time around. AKS is trading at 1.3 times book and 0.14 times sales. CMC is trading at 1.0 times book and 0.17 times sales. NUE is trading at 1.4 times book and 0.6 times book.
Be careful out there!