I consider myself a patient fellow. But I'll admit that I'm tired of waiting for the long promised production growth from Canadian light oil producer Petrobakken (PBKEF.PK). Since inception of the company in late 2009 there have been several impediments to achieving the growth we shareholders expect. These include:
A ridiculously wet 2010 in Western Canada that wiped out almost all of Q3-- a quarter which is when Western Canadian companies are usually going full speed

A corporate decision to delay fracking 14 Bakken wells as the company perfected a new fracking technique (14 unfracked Bakken wells at 150 barrels per day is a delay of more than 2,000 BOE of production delayed)

More rain in Saskatchewan in Q2 2011 than the province normally receives in a year

Facility bottlenecks at its SE Saskatchewan Mississippian property
But all of those are in the past. It is go time. Right now.
Petrobakken released its Q2 earnings Monday night and in it detailed that current production is 39,000 BOE per day. Over the remainder of the year, the company has 17 rigs going and expects to drill 124 wells with forecast exit production rates of 46,000 to 49,000 BOE.
Are the exit rates reasonable? The math isn't terribly difficult.
One hundred and twenty four new wells will likely average about 150 barrels per day over the first three months (blend of Cardium and Bakken). That is an addition of 18,600 barrels per day.
Existing production is 39,000 which likely declines at a rate of about 40% per annum, so over the last five months of the year, assume it drops by 20% down to 31,200.
In Q3 new production facilities in the conventional SE Saskatchewan property will be brought on stream, eliminating a bottleneck and add another 1,000 barrels per day of production.
The company still has 10 Bakken wells that are on production but have not been fracked as the company chose to wait for completion of its new fracking technology Cleantech. Fracking these wells should pick up another 1,000 barrels per day of production.
As such, current production-- with an exit rate of 31,200 plus the new wells added over the remainder of the year-- exiting at 18,600 plus the 2,000 barrels picked up in SE Saskatchewan and through fracking wells, equals an estimate of 51,800 barrels per day as an exit rate. That 51,800 barrels per day estimate is just above the high end of the Petrobakken guidance of 46,000 to 49,000. So at a minimum, the low end of the range appears achievable.
Second Quarter Earnings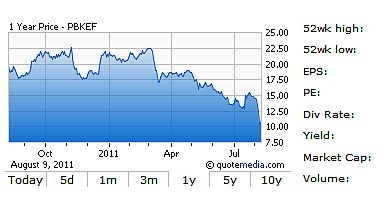 Like Q3 of 2010, when it basically never stopped raining and the ground in much of Western Canada was so wet drillers were often restricted from moving equipment around, Q2 of 2011 will go down as being off the charts challenging.
Just as Petrobakken was creating some production momentum reaching 43,000 BOE at the end of Q1 2011, that momentum was stopped by once-in-a-century flooding in Western Canada. Combined with the usual road bans that exist through spring break-up, the floods actually meant that large amounts of Petrobakken Saskatchewan production had to be shut in during the quarter. Quarterly production as a result dropped to 35,300 BOE per day. Without the shut ins that totaled 5,250 barrels per day, Q2 production would have been 40,550.
But mother nature can't keep up this pace forever. July and thus-far August have been exceptionally dry in Saskatchewan and production is already back up to 39,000 BOE per day and headed higher as there is nothing now (finally) stopping drilling, fracking and completing operations.
If Petrobakken can just hit the low end of its production guidance, that will add another 7,000 BOE per day of production. When annualized, and assuming operating netbacks of about $50 per barrel ($6 less than Q2), this will add $128 million dollars to Petrobakken's funds flow from operations. That's a 21% increase from current levels.
If Petrobakken hits the high end of production guidance, the numbers are a $182 million increase to funds flow from operations which is a 30% increase.
At 49,000 and a $50 netback annual funds flow from operations would be $895 million per year.
Bakken Property
The Bakken is where Petrobakken was heavily impacted by the flooding. For all of Q2, on average, 4,000 BOE of production per day was shut in because there was no access to company wells due to flooding and road closures.
Further, in a typical year, spring break-up (road bans due to snow melt) ends in mid-May. This year Petrobakken was able to drill exactly zero wells in Q2.
Petrobakken continues to be happy with its new fracking technology called Cleantech. The technology is designed to better control the fracking process within the desired zone and reduce water cuts. The company claims the process both reduces water cuts and increases initial oil production rates. Petrobakken also believes that Cleantech expands the boundaries of the Bakken fairway which means it has more recoverable oil than originally thought.
The Bakken is also where Petrobakken has been testing injecting natural gas as a means of Enhanced Oil Recovery. The initial pilot project last year used CO2 in place of natural gas. In the project, Petrobakken had outstanding results, with the stimulated wells tripling production over the following 14 months. Petrobakken has suggested that these EOR techniques could take Bakken reserves- which are currently on its books as having 5% of oil in place- being recoverable up to as high as 25%. Oil in place on Petrobakken's Bakken property is estimated as being 1.8 billion barrels, so this could take reserves from 5% of 1.8 billion barrels to 25%. That is an increase from 90 million barrels to 450 million barrels. Significant, to say the least.
You have to take management claims with a grain of salt. But I would mention that the other main player in the Canadian Bakken is Crescent Point Energy (CSCTF.PK) and the company is suggesting exactly the same 25% to 30% as being the amount of oil that can ultimately be recovered.
So that is exciting for shareholders: The potential for a quintupling of reserves. And if reserves don't go up five times with EOR, chances are they will at least go up significantly. I think the step changes in value that technology is going to provide for companies like Petrobakken over the next five years will shock the market. The key is getting the land with large amounts of oil in place locked down now.
Cardium Property
Interestingly, the property that investors were concerned about was the Cardium. And results in the Cardium continue to be nothing short of stellar. As a shareholder, I'm much more interested in seeing Bakken production pick up with the utilization of the new Cleantech technology.
The Cardium was actually up to 9,326 BOE per day in Q2. This was an increase from Q1, despite having 1,250 per day shut in during the quarter. There are two things that I think are important to note about the Cardium for Petrobakken:
Production results continue to meet or exceed what Petrobakken management expected when the company bought these properties. And since it bought the properties, the company has reduced cost per well by $500k by instituting slickwater fracs. The economics per well improved by almost $1M with the Alberta Government royalty reduction.

Despite drilling over 100 wells, Petrobakken has maintained its drilling inventory of 650 locations as it continues to validate the acreage it has acquired. At a presentation earlier, I heard Petrobakken's main operations suggest that the company thinks 1,000 locations is realistically what it has in the Cardium.
The entry into the Cardium was of great concern to shareholders last year. This property has delivered excellent results and should not longer be a concern. As I said above it is the Bakken where Petrobakken has something to prove, by my estimation.
A Third Major Resource Play In the Works
I bought into Petrobakken (through Petrobank (OTCPK:PBEGF)) largely because I think it has a first rate CEO in John Wright. Over the past decade, Wright has created a huge amount of shareholder value. Since I bought in during August 2010, the results have been less than satisfying. But I'm a patient guy and less than a year is not enough rope to give a good manager.
And what this good manager and his team have been doing over the past 24 months is assemble on the "down low" a large 120,000 acres in emerging oil resource plays in Alberta. We know the names of the plays (Swan Hills, Duvernay, Montney, Nordegg) we just don't know how much of each one. So given that this land has been assembled quietly over the past 24 months, I think there is very good chance that there has been some serious value created here for shareholders.
I went back and read over Petrobank's quarterly reports to see the manner in which it disclosed its move into the Bakken several years ago; a huge value event for the company. And by the time anything was announced publicly, basically the value had already been created. So I'm very encouraged that Petrobakken has another very valuable resource play(s?) already in its possession that is certainly not recognized by the stock market. With 120,000 acres assembled, the size of these new plays could be similar to both the Cardium and Bakken. This means another step change in store for the company.
Full Speed Ahead But a Lot to Prove
At the end of the earnings release Petrobakken left investors with this message:
www.petrobakken.com/wp-content/uploads/2...
The first quarter of 2011 provided us with a hint of what is to come out of PetroBakken this year as we reached 43,000 boepd in March, before unusually wet conditions caused industry wide shut‐in production during the second quarter. As we restart our field program, we are building on the momentum we experienced in Q1 and with an active second half of the year, production is expected to rise throughout Q3 and Q4 and reach exit rates of between 46,000 and 49,000 boepd.

The technical team at PetroBakken is focused on generating growth and yield for our shareholders by developing our extensive inventory of light oil drilling locations. Since 2010, our Bakken Business Unit has generated cash flow in excess of capital expenditures as our production base has developed and matured. Production in our Cardium Business Unit has grown rapidly, and we expect this growth to continue based on our current investment plans. Ultimately we expect the Cardium Business Unit to also generate significant surplus cash flow. Our conventional southeast Saskatchewan assets remain highly profitable and we continue to add to our inventory of drill‐ready locations in this area. Our team has also assembled a land position on four additional oil‐focused resource plays that are targeting future production growth and cash flow capacity similar to the Cardium and Bakken. When combined with our NE BC natural gas assets, we have an inventory of more than 2,150 net drilling locations.
I'm disappointed with my Petrobank/Petrobakken experience so far, but am excited about the next nine months. The weather has been very dry in Western Canada and the company finally has a chance to show us what it can do with a long uninterrupted drilling window.
Management thinks the current share price is ludicrous. There have been repeated open market purchases and the company was buying back shares at a price more than double the current price (stopped the buyback as cash is needed for drilling).
Here is why I'm still bullish despite a lackluster first year as a shareholder:
Clear runway drilling 124 wells will quickly ramp up production by year end to much more satisfactory levels.

EOR pilot results could show that Bakken oil recoveries will be 25% (450 million barrels) vs the 5% (90 million barrels) that are currently booked.

Further details on the four emerging light oil plays that Petrobakken has staked a position in and what that might be worth to the company.

Further clarity on the impact of Cleantech to the Bakken drilling fairway
This company has a huge inventory of wells to drill and a massive oil rich land base that could increase in value simply due to technology that is pushed forward by competitors. I'm prepared for a multi-year run as a shareholder, which will hopefully be as rewarding as it was for shareholders who bet on John Wright and Petrobank 10 years ago. I hope I've bet on the right man.

Disclosure: I am long OTCPK:PBEGF, PBKEF.PK.