Vornado Realty Trust (NYSE:VNO), a leading real estate investment trust (REIT), reported fiscal 2011 second quarter funds from operations (FFO) of $1.27 per share, which well surpassed the Zacks Consensus Estimate of $1.18. Funds from operations, a widely used metric to gauge the performance of REIT, is obtained after adding depreciation and amortization and other non-cash expenses to net income.
We cover below the results of the recent earnings announcement, as well as the subsequent analyst estimate revisions and the Zacks ratings for the short-term and long-term outlook for the stock.
Earnings Report Review
After adjusting items for comparability, FFO during the second quarter of 2011 was $235.2 million or $1.23 per share, compared with $214.8 million or $1.16 in the prior-year quarter. The recurring FFO per share during second quarter 2011 surpassed the Zacks Consensus Estimate by 5 cents.
Total revenues during the reported quarter were $730.2 million compared with $684.0 million in the year-ago period. Total revenues during the quarter were well ahead of the Zacks Consensus Estimate of $683 million.
Same-store occupancy in the company's New York City and Washington, DC office portfolio was 94.8% and 93.1%, respectively, at quarter-end. Same-store EBITDA (earnings before interest, tax, depreciation and amortization) on GAAP basis decreased 1.3% and increased 0.3% during the quarter in the New York City and DC office portfolios, respectively, compared with the year-earlier quarter.
Earnings Estimate Revisions - Overview
Fiscal 2011 earnings estimates have moved up for Vornado Realty since the earnings release, meaning that analysts are bullish about the current fiscal performance of the company. Let's dig into the earnings estimate details.
Agreement of Estimate Revisions
In the last seven days, fiscal 2011 earnings estimates were raised by three analysts out of 12 covering the stock, while none lowered the same. For fiscal 2012, three out of 13 analysts covering the stock have revised their estimates upward, while two have lowered it during the same time period. This indicates that the analysts are optimistic about the fiscal year earnings.
Magnitude of Estimate Revisions
Earnings estimates for fiscal 2011 have surged by 4 cents in the last seven days to $6.17. However, for fiscal 2012, earnings estimates have remained static during the last seven days at $5.62, which signifies that although the market fundamentals are gradually improving, they are yet to reach their optimum range to gain sufficient investor confidence over the long-term period.
Moving Forward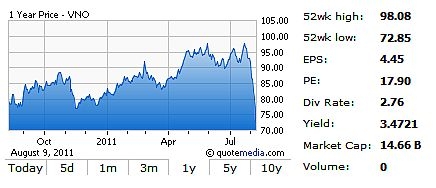 The long-term earnings estimate picture for Vornado Realty is neutral. Vornado Realty has office properties in two of the best long-term office markets in the country, New York City and Washington DC. These high-barrier markets have held up comparatively well and have enabled the company to continue increasing rents. The company also has a strong balance sheet with manageable near-term debt maturities and adequate liquidity to take advantage of distressed selling as asset values of office and retail properties continue to drop.
However, the company's retail properties and Toy 'R' Us investment has suffered in the recent past due to prolonged recession, which in turn has negatively affected earnings. Vornado Realty owns about 32.7% of Toys 'R' Us – the leading global retailer of dedicated toys and baby products. This undermines the long-term growth potential of the company.
We maintain our 'Neutral' rating on Vornado Realty, which currently has a Zacks #3 Rank that translates into a short-term 'Hold' rating, indicating that the stock is expected to perform in line with the overall U.S. equity market for the next 1–3 months. We also have a 'Neutral' recommendation and a Zacks #3 Rank for Brookfield Properties Corporation (NYSE:BPO), one of the competitors of Vornado Realty.
About Earnings Estimate Scorecard: Len Zacks, PhD in mathematics from MIT, proved over 30 years ago that earnings estimate revisions are the most powerful force impacting stock prices. He turned this ground breaking discovery into two of the most celebrating stock rating systems in use today. The Zacks Rank for stock trading in a 1 to 3 month time horizon and the Zacks Recommendation for long-term investing (6+ months). These "Earnings Estimate Scorecard" articles help analyze the important aspects of estimate revisions for each stock after their quarterly earnings announcements.