Thanks to the recent market plunge, a few classic brand names are on sale. This is a great time to check into these stocks and, if they fit your investing strategy, grab them at big discounts.
FedEx Corporation (NYSE:FDX) took an alternative to the post office and built it into a global operation with one of the most valuable and famous brands in modern history. With the post office staggering under billions of dollars in losses, FedEx feels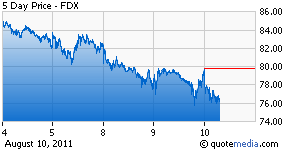 comfortable enough with its own brand that it has raised prices by almost 7%. This follows the same move of almost all the big transport companies. The truth is that FedEx can get away with this rate increase because packages still need to be there absolutely, positively overnight and there are limited brand-name options that are reliable. With competitor YRC Worldwide (NASDAQ:YRCW) struggling, and 3700 post offices now being shut down, FedEx should expect more business to come its way. Despite this, and with earnings expected to grow 16% annualized over the next five years, FedEx trades 20% below its 52-week high.
Newell RubberMaid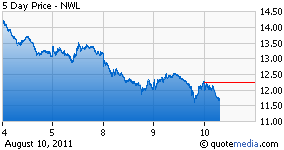 (NYSE:NWL) is the classic boring stock that nobody pays attention to, which is great when it goes on sale. The company isn't a fast growth story, but with 10% annualized growth expected, $270 million in TTM free cash flow, declining long-term debt, and a 2.4% dividend, the stock is definitely worth looking at considering it is 40% off its 52-week high.
Whole Foods Market (NASDAQ:WFM) is what I call a "21st Century Core Holding." Ever since the organic food craze began, I knew somebody would find a way to cash in big time. Although I think the organic and health food movement is nothing more than snake oil, it's proven to be resilient snake oil. The movement is perpetuated by fear that not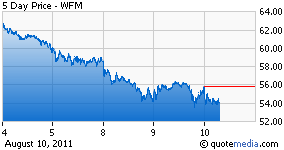 eating healthy will shorten one's life, and coupled with a huge population that believes that organic food is somehow better for one's health and better for the environment, Whole Foods has reaped the rewards. And it will not change. The company charges much higher prices than a regular store and it is reflected in its stellar financials. There is plenty of market share still to grab from conventional grocers, hence the 5-year expected annualized growth rate of 17%. The company trades at 29 times this year's estimates, so it is expensive. However, the premium is deserved as it remains a strong growth stock. The stock is 18% off its 52-week highs, and this is a great opportunity to grab this stock at a discount.

Disclosure: I have no positions in any stocks mentioned, and no plans to initiate any positions within the next 72 hours.