Broadest Economic Measure
The U.S. stock market (NYSEARCA:SPY) remains in a bullish posture, but the term vulnerable applies. Friday's GDP report will test those vulnerabilities.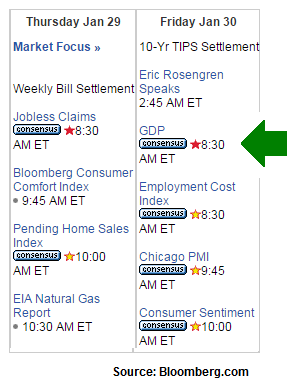 Near Consensus Could Calm Markets
The Bloomberg consensus for Friday's report is 3.2% growth, with forecasts ranging between 2.2% and 3.5% growth. With interest rates still near historically low levels and Europe on the QE train, a number that falls within the 2.2% to 3.5% range may calm jittery investors. If we look at the GDP figures since 2010 below, it is difficult to classify them in the "we are on the cusp of a recession and bear market" category. Friday could reaffirm that classification or force the market to reassess the strength of the U.S. economy.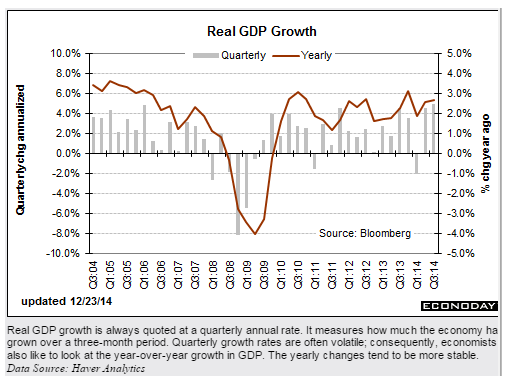 Bears Could Leverage A Big Miss
If Friday's report brings a big miss to the downside and the S&P 500 (NYSEARCA:SH) closes below 1988, the market's risk-reward profile will have deteriorated in a manner that will most likely call for another incremental reduction in our exposure to equities coupled with another incremental add to the conservative side of the equation. Despite the vulnerabilities, the S&P 500 has not made a meaningful lower low (a requirement for a bearish trend to evolve). This video clip explains the chart below and the rationale for using levels as "we can be patient until" guideposts.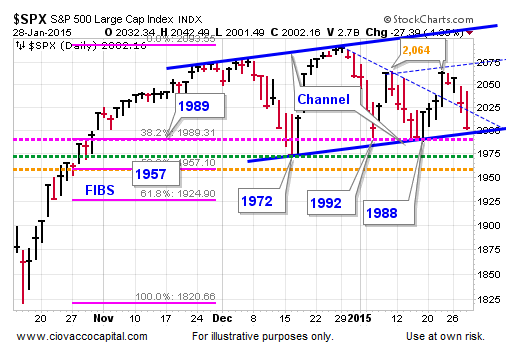 Disclosure: The author is long SPY.
The author wrote this article themselves, and it expresses their own opinions. The author is not receiving compensation for it. The author has no business relationship with any company whose stock is mentioned in this article.