The S&P 500 (NYSEARCA:SPY) rose 4.7%, and the broader Russell 3000 rose 5.1% on T
uesday, August 9th, as the F
ed came to the rescue pledging that it would keep rates on hold at least through mid-2013. This welcome news tempered the fallout from the fiscal/budget/political crisis that had the market going into a tailspin over the prior two weeks on a revival of fears for a double-dip recession. While the markets are still in a downtrend as Tuesday's surge only corrects 30% of the swoon over the prior two weeks, and it is natural to be fearful in such times, we believe that it is imperative to keep a cool head, and keep scouting for new opportunities while keeping an eye on both the price movements and news flow. Our daily and weekly coverage analyzing the top movers for top buy and sell ideas is aimed at enabling you in that effort. You can
access the rest of our daily, weekly and quarterly mover series from our author page
.
This article covers our analysis of the top gainers amid Tuesday's strong market rebound. Of the 4,600 stocks that were tracked, 24 top gainers that closed above $1 at market-close on A
ugust 9, a
nd gained at least 20% yesterday, were analyzed to determine if they would continue going up, or if they would reverse their moves going forward. The following are the some ideas based on that analysis:
Buy VirnetX Holding Corp. (NYSEMKT:VHC)
: VHC describes itself as a developer of software and technology solutions for secure real-time communications over the Internet, such as instant messaging and VoIP. In practice, however, it is more like a patent holding company. Its stock went up 24.2% on Tuesday on news that the U.S. Patent and Trademark Office (USPTO) granted VHC a new patent for an agile network protocol for secure communications with assured system availability. It is the ninth patent awarded to the company in 2011, and VHC now owns 21 U.S. patents and 18 foreign patents, and it has more than 100 patent applications pending.
The stock has been up from $4 since last April on news of a $200 million patent infringement settlement with Microsoft Corp. (NASDAQ:MSFT) last May, and potential for more settlements based on similar lawsuits filed against Apple Inc. (NASDAQ:AAPL) and Cisco Systems Inc. (NASDAQ:CSCO), Mitel Networks (NASDAQ:MITL) and Siemens (SI), among others. VHC claims that its patents are critical to the 4G LTE security specifications, and holds a bevy of patents that it is trying to enforce, mainly through litigation. If VHC's patent claims hold true, then it is on the verge of becoming a key technology licensing company, and estimates are that the patents could be worth $1 billion in recurring licensing revenue for the company every year, which would mean at current prices it's an absolute bargain. Perhaps in recognition of that potential, VHC's share price went up ten-fold from $4 in mid-2010 to $40 a year later after the $200 million settlement deal with MSFT, and since then they have given back half of those gains, most of it in the market sell-off in the last two weeks.
The stock is currently sitting at key support levels and at the 200-day moving average, which it may hold this time after breaking through it during Monday's market plunge. We would be buyers here of a very small position given the extreme risk/reward profile of this company, while keeping in mind that VHC's fortunes are decided in the courtroom and not in the marketplace.
Sell Adventrx Pharmaceuticals (ANX)
: ANX is a biopharmaceutical research and development company whose business strategy is to commercialize leading edge medical research through licensing agreements with prominent universities and research institutions. The company's current efforts focus on treatments for cancer based on the improvement of existing drugs and addressing limitations with their safety. The stock gained 21.5% on Tuesday, ahead of a scheduled FDA response after the market-close on its new drug application (NDA) for E
xelbine™ for t
he treatment of non-small lung cancer. However, the
FDA released a complete response letter (NYSE:CRL) after the market-close
and shares gave back all of their gains and then some in after-hours trading. The FDA in rejecting the NDA noted that, "based on inspections at clinical sites, the authenticity of the drug products used in the pivotal bioequivalence trial (Study 530-01) could not be verified, which placed the results of the trial into question. The letter stated that the bioequivalence trial will need to be repeated to address this deficiency.
Mako Surgical Corp. (NASDAQ:MAKO)
:
MAKO develops proprietary advanced RIO® robotic systems and RESTORIS® implants used in minimally invasive orthopedic knee procedures known as knee MAKOplasty®. The RIO® Tactile G
uidance System enables surgeons to utilize tactile-guided robotics and patient-specific visualization to prepare the knee joint for the insertion and alignment of resurfacing implants through a keyhole incision. Its shares rose 34.9% after the
company reported a good June quarter report
in the middle of a good tape. Specifically, it reported that revenue jumped 81% year over year to $18.6 million, also beating the $16.1 million estimate, while it met estimates in reporting a 24cents loss for the quarter. Furthermore, it reported that it sold twelve RIO® system worldwide, MAKOplasty procedures increased to 1,557 in the June quarter, a 96% year-over-year increase.
Radian Group Inc. (NYSE:RDN) and MGIC Investment Corp. (NYSE:MTG)
: Both companies are in the same business, offering private mortgage insurance for homeowners that put down less than 20% when purchasing their homes. RDN in addition to that through its Financial Guaranty segment also insures and reinsures municipal bonds, structured finance transactions and other credit-based risks, as well as provides credit protection on various asset classes through financial guarantees and credit default swaps. RDN was up 29.3% and MTG was down 24.3% on Tuesday, swept up in a rally among mortgage stocks after
RDN reported that July delinquency data
showed that primary delinquency inventory dropped to 110,600 from 111,400, and that it wrote $1 billion in new insurance in July.
Both RDN and MTG have incurred huge losses since 2007, due to the housing crisis and the resulting homeowner defaults, as in the case of default, they have to cover the insured value of the mortgage which generally varies from 20% to 50% and higher. In the current weak housing and macro-economic environment, it is difficult to make a bullish case for either company until we actually begin to see sustained strength in housing and a turn-around in the economy. The reduction in the delinquency inventory for RDN was a step in the right direction, but only a first step. We need to see more consistent numbers from multiple insurers pointing in that direction consistently over a period of a few months before a trend is established. Until then, we would stay on the sidelines.
Buy Neoprobe Corp. (NEOP)
: NEOP is engaged in the development and commercialization of gamma-guided surgery products for the diagnosis and treatment of cancers. It is actively developing two radiopharmaceutical agent platforms, Lymphoseek® and RIGScanTM CR, to help surgeons better identify and treat certain types of cancer. Furthermore, NEOP's subsidiary, Cira Biosciences, Inc., is also advancing a patient-specific cellular therapy technology platform called ACT. Its shares rose 33.3% on no news, probably correcting the steep 50%+ haircut the stock suffered on no news during the recent market downturn. The company plans to submit a new drug application to the Food and Drug Administration for Lymphoseek® in the next month, the prospects for which improved recently,
as we explained in a prior article
, when the FDA recently approved the use of a competing sulfur colloid product.
Istar Financial Inc. (SFI), Resource Capital Corp. (NYSE:RSO) and Newcastle Investment Corp. (NCT)
: SFI is a REIT focused on commercial real estate, and it provides structured mortgage, mezzanine and lease financing through its origination, acquisition and servicing platform. Its shares were up 25.8% on Tuesday after the company announced a $65 million share buyback in the middle of a good tape. This is a one-time stock price revaluation event, so we would not trade it based on this news. However, SFI was also up among a broad-based rally in REITs, including Resource Capital Corp. (RSO), a REIT investing primarily in commercial and residential mortgage-backed securities, up 20.3%; and Newcastle Investment Corp. (NCT), a REIT that invests in real estate securities, loans, residential mortgage loans, and other related assets, up 23.4%.



Chelsea Therapeutics Intl (NASDAQ:CHTP)

: CHTP develops drugs to treat neurogenic orthostatic hypotension, arthritis and other autoimmune and auto-inflammatory diseases. Its shares rose 20.2% on Tuesday, after the company indicated that it had reached target enrollment in phase 2 trial of Droxidopa in Fibromyalgia.
(Click chart to enlarge)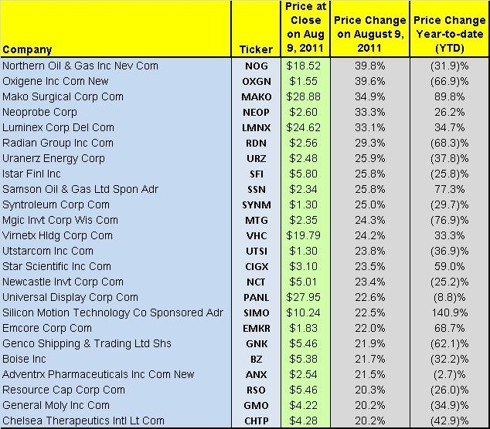 Credit: Historical fundamentals including operating metrics and stock ownership information were derived using SEC filings data, I-Metrix® by Edgar Online®, Zacks Investment Research, Thomson Reuters and Briefing.com. The information and data is believed to be accurate, but no guarantees or representations are made.
Disclosure: I have no positions in any stocks mentioned, and no plans to initiate any positions within the next 72 hours.
Disclaimer:
Material presented here is for informational purposes only. Nothing in this article should be taken as a solicitation to purchase or sell securities. Before buying or selling any stock you should do your own research and reach your own conclusion. Further, these are our 'opinions' and we may be wrong. We may have positions in securities mentioned in this article. You should take this into consideration before acting on any advice given in this article. If this makes you uncomfortable, then do not listen to our thoughts and opinions. The contents of this article do not take into consideration your individual investment objectives so consult with your own financial adviser before making an investment decision. Investing includes certain risks including loss of principal.