Commodities are lower today after some disappointing economic data that came out today. The hardest hit today are the precious metals, with gold, platinum and silver getting crushed in trading. Also of interest for some readers is the continued trend where platinum trades at a discount to gold, which even in this route is holding up. Those who wanted to play a platinum rebound in gold terms are finding this trade more difficult to navigate than they probably first imagined which could have the effect of widening the spread.
Chart of the Day:
We have been skeptical of this rally in gold, especially in US Dollar terms, and think that this might be a real pullback we are witnessing. In our opinion gold will once again test the $1,200/ounce level.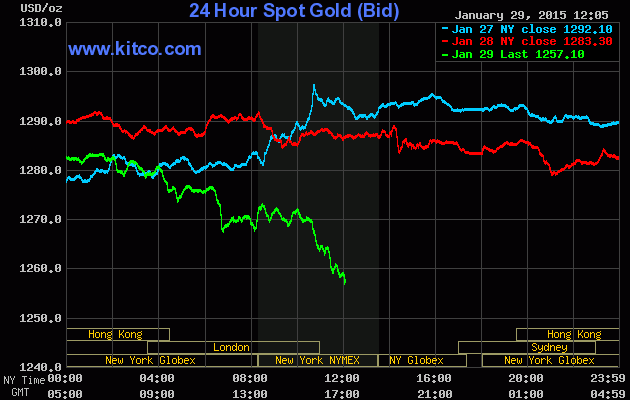 Source: Kitco
Commodity prices are as follows (at time of submission):
Gold: $1,257.00/ounce, down by $28.90/ounce
Silver: $16.92/ounce, down by $1.168/ounce
Oil: $43.89/barrel, down by $0.56/barrel
RBOB Gas: $1.335/gallon, down by $0.01/gallon
Natural Gas: $2.691/MMbtu, down by $0.151/MMbtu
Copper: $2.4415/pound, down by $0.038/pound
Platinum: $1,217.80/ounce, down by $40.70/ounce
Potash Delivers
Potash Corporation of Saskatchewan (POT) reported EPS of $0.49 which exceeded analysts' estimates of $0.47/share. The company not only delivered on bottom line results, but solidly beat the $1.67 billion revenue estimate as revenues rose to $1.9 billion for the quarter as sales volumes increased to 2.5 million tonnes, which was a quarterly record.
The company also guided its 2015 EPS and revenue figures in-line with analyst estimates and said that they expected to see strong demand from farmers even though crop prices have been falling. The current crop pricing environment, although off highs, still supports increased purchases from farmers seeking to boost yields.
Potash's board of directors also increased its quarterly dividend by $0.03/share, or about 9%, to $0.38/share. The dividend is payable May 4th to shareholders of record on April 13, 2015.
The industry outlook that the company provided should be bullish for Mosaic (NYSE:MOS) and Agrium (AGU) as well.
Dow Chemical Beats As Well Due To Ag
Another positive bit of news regarding agriculture was Dow Chemical's (DOW) quarterly results which were strong due to strong demand for new crop protection offerings. The new products helped boost ag margins for the chemical maker, even though a strong US Dollar kept sales flat.
Dow's insecticides Isoclast and Spinetoram led the surge in sales of crop protection and helped boost EBITDA at the ag division by 40% for the quarter. For the quarter, Dow earned $0.85/share which came in well above the consensus from analysts of $0.69/share.
Oil Giants Continue To Cut Exploration Budgets
The numbers three and four oil companies in the United States, ConocoPhillips (NYSE:COP) and Occidental Petroleum (NYSE:OXY), respectively, announced plans to cut their 2015 exploration budgets. The two companies join the rest of the industry in reigning in spending, with this being Conoco's second spending cut in two months.
Both companies will cut spending for onshore US shale exploration and certain large projects with Occidental also cutting spending in Bahrain. Even with the spending cuts both companies expect to see production increase for the year, with Conoco forecasting 2-3% production growth and Occidental seeing 6-10% growth.
Conoco and Occidental reported results which came in above analysts' expectations today.
Disclosure: The author has no positions in any stocks mentioned, and no plans to initiate any positions within the next 72 hours.
The author wrote this article themselves, and it expresses their own opinions. The author is not receiving compensation for it (other than from Seeking Alpha). The author has no business relationship with any company whose stock is mentioned in this article.