One of the more difficult aspects of building an income portfolio is achieving adequate diversification. The average or newer investor may think that owning one or two positions in each sector or equity space is sufficient, only to find out that they were too concentrated when an unexpected event hits.
REITs, or real estate investment trusts, have gained substantial popularity through the years since they are an easy-in, easy-out real estate solution. However, relative yield starvation and a flight to quality amongst many investors has driven REIT valuations substantially higher over the near-term.
While value may not seem to be mind-blowing here, if interest rates continue to ease lower, there may be continued gravitation to REIT shares. I don't think this is the best time to be aggressive on REITs, but for the income investor looking for a quality cash flow and potentially growth of capital, real estate continues to be a reasonable portfolio solution.
Opinions are all over the place as to what collectively happens to REITs in a secular rising rate environment. My best judgment tells me that the effect will not be uniform, and that performance will be predicated on the velocity of rate ramping. REITs with low debt/enterprise ratios that have increased debt portfolio maturities may see little impact, while highly levered REITs, those with shorter average maturities, or longer-term lease profiles could have a harder time. If rates ramp quickly, the whole space will be impacted, as it was during 2H of 2013, a rather ominous and decidedly negative prospect.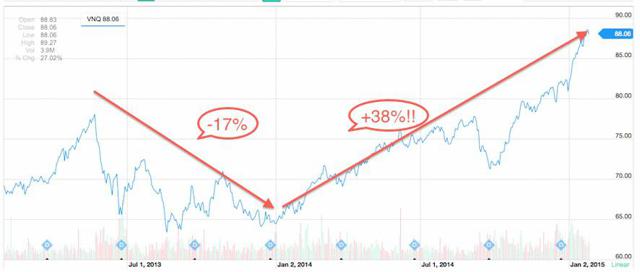 Chart: Yahoo Finance
Still, while the Fed seems to be locked and loaded on rates, I don't think this will be a rapid fire situation, if they are able to pull the trigger at all.
Diversification Strategy
General consensus would opine that a well-diversified REIT portfolio will consist of a variety of lease-type sources. Of course how well you need to be diversified may also depend on your total allocation to the space. Many income investors may have as much as 10-20% of a total equity portfolio allocated to REITs. Others may have more nominal exposure.
So, when starting or building a portfolio, if your strategy is to own say five REIT positions with 2-3% exposure each, you need to make each one really count. Unless your convictions are extremely high on one space, I think you should try to spread monies around to different real estate milieus as a risk mitigation strategy.
The five REITs I mention should be looked upon as the backbone of a conservative income-generating REIT portfolio, and not necessarily as a total return play at current valuation. The one litmus test I put on the group was a minimum yield of 3 percent, which does eliminate some solid companies.
High Five
1) Let's start in the healthcare REIT space, which offers perhaps the most diverse of offerings in the REIT universe. I recommend considering what I like to call the "Big 3," which consists of Ventas (NYSE:VTR), HCP, Inc., (NYSE:HCP), and Health Care REIT (HCN). All three are well capitalized, boasting market values of at least $20 billion, and own a diversity of health care property, including senior housing, skilled nursing facilities, life sciences, as well as medical office buildings and hospitals.
Though you can also buy health care REITs that specialize in each of aforementioned respective niches, by merit of portfolio simplicity it may not make sense to do so. Examples of niche healthcare REITs would be Senior Housing (NYSE:SNH), Omega (NYSE:OHI), Healthcare Trust (NYSE:HTA) and Medical Properties (NYSE:MPW).
If I had to pick one of the big three to buy today, it would be HCP, which is a bit cheaper and has about a 50 basis point yield advantage over the other two.
HCP's portfolio: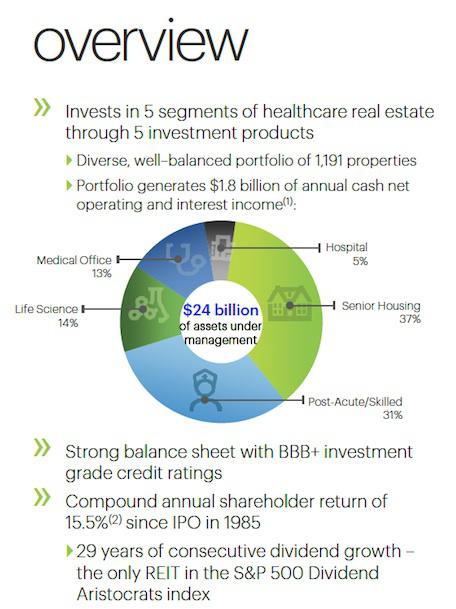 Source: HCP Investor Presentation
2) The second REIT you should consider building a portfolio with is Realty Income (NYSE:O). This is the largest capitalized triple net property owner, overseeing nearly 4,000 mostly stand alone commercial buildings. With a yield that has sunk to nearly 4% today, O's price has rallied substantially into nosebleed heaven over the past 13 months and seems to trade strongly in tandem with interest rate movement.
Still, I think in size there is relative safety and this company is solely focused on providing monthly dividend income to its shareholders, with nary a question on executive motive. Having been burned near-term by O's aggressive peer American Realty Capital Properties (ARCP), I can vouch first hand and say that there is value in transparent, investor-focused management practices. (Too bad ARCP didn't follow the same values!)
Values and Principles of Realty Income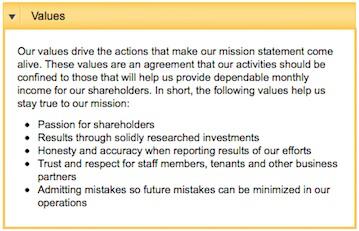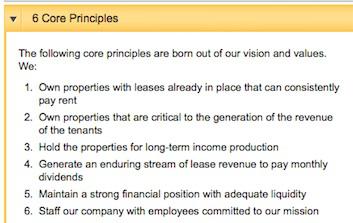 Source: RealtyIncome.com
3) The third REIT I mention is Lexington Realty Trust, ticker (LXP). I find the company an attractive core position due to its diversity and also conservative management. The company owns a mix of assets, mostly office and industrial, with a sprinkling of retail and multi-tenant properties. Lexington is a cheaper REIT than both HCP and O on an operating basis, and yields nearly 6% on last trades.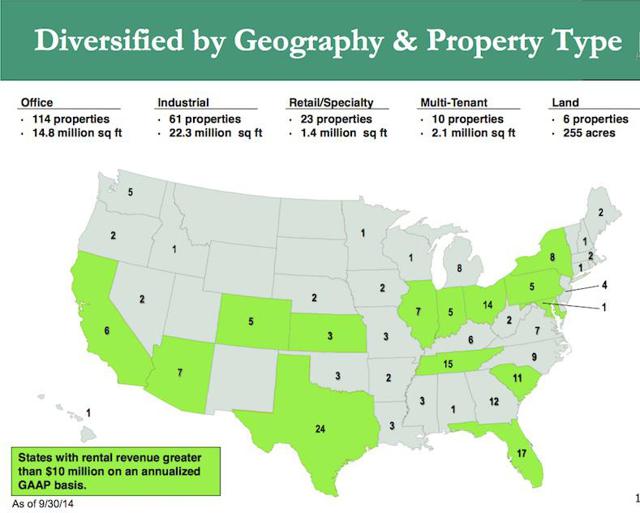 Source: LXP Presentation
Lexington also maintains a low FFO payout ratio in the 60% range, which offers room for dividend growth even in a flat FFO environment. The company has several build-to-suit projects set for completion over the next few months which should help what has been a fairly weak near-term growth needle.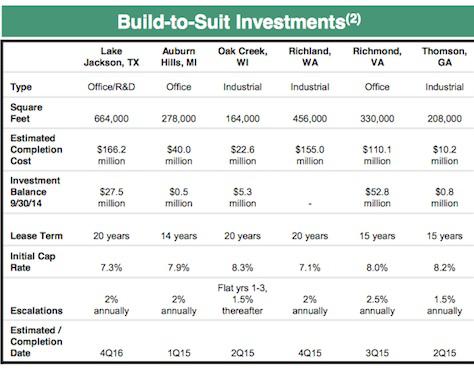 4) Number four on the list is Mid America Apartment Communities (NYSE:MAA), an apartment landlord with operations primarily in the SunBelt region. The company owns more than 80,000 units in 14 different states, with no one city accounting for more than 10% of total NOI (net operating income). The stock currently yields about 3.75 percent.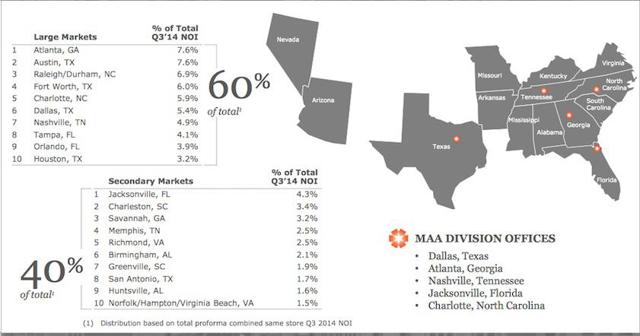 Source: MAA Presentation
Again, MAA has scale and diversity that should act as a durable cash flow stream for investors. While the rental market is somewhat predicated on what is happening in the single-family home market, supply has been tight recently. This has enabled landlords to robustly raise rates recently - a positive data point for apartment REIT shareholders.
5) The final name may seem oddball to some. It is a timber/wood products related REIT, Weyerhaeuser (NYSE:WY). A somewhat recent convert to REIT status, WY yields about three and a quarter percent at recent trades. The company generates revenue from three disparate divisions: timberland, wood products, and cellulose fibers.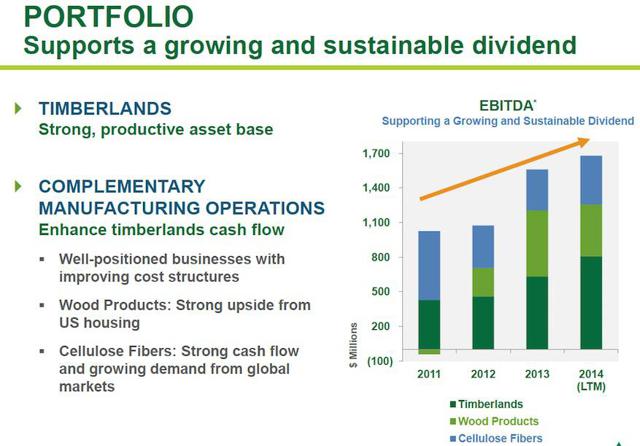 With log prices expected by many to increase in coming years, WY's timberland business, lumber mills, and engineered lumber products should see incremental benefit. And growing international fluff pulp demand should help lift WY's cellulose fibers division. Fluff pulp is a necessary ingredient for absorbency-related end products.
Since converting to a REIT, WY has shown strong dividend growth, nearly doubling its payout in 3.5 years. Though I would not expect such robust payout growth growing forward, probably more in the upper single digit range, this is a solid business that certainly flies under the radar of most REIT investors.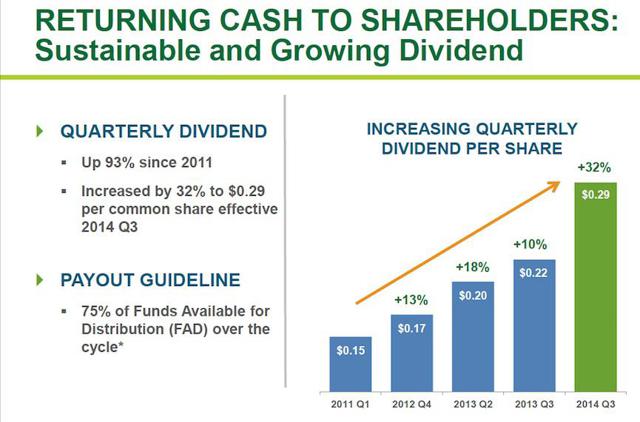 A More Aggressive Idea
For some income punch you might want to replace one of the above with the diversified assets of Northstar Realty Finance (NRF). While this is not a pure-play property REIT since it also derives a portion of its revenue from a lending arm (which might be viewed as a positive to some), the stock yields about 8.5 percent. Northstar owns nearly 500 healthcare properties, 155 hotels, 123 manufactured home communities, assorted triple net and multi-unit apartment dwellings, and most recently, an assortment of high quality European office buildings.
While some consider its lack of focus a negative, I think the company's ability to seek value where available across the real estate spectrum is a distinct positive. Still, with rapid aggregation of assets comes the possibility of a miscue, which the market seems to be factoring in - and you should consider as well.
Conclusion
Combined, the five REITs above exemplify a cross section of the real estate universe, while also independently possessing attractive diversification aspects of their own. Together, they would seem to represent a rather durable income for the conservative income investor.
However, given that the entire space has traded up substantially, basically in tandem with strength in the bond market, investors would be wise to consider the potential downside of establishing full positions at these levels. While it may not be time to raise a red flag towards collective group valuation, unfurling the yellow one as I did back in the Spring of 2013 seems appropriate once again.
Those intent on taking positions should probably ease or average into full ones over time, sit on the sidelines, and/or evaluate other sectors for better risk-adjusted yield opportunities and/or total return.
Disclaimer: The above should not be considered or construed as individualized or specific investment advice. Do your own research and consult a professional, if necessary, before making investment decisions.
Disclosure: The author is long ARCP, LXP, WY, OHI, NRF.
The author wrote this article themselves, and it expresses their own opinions. The author is not receiving compensation for it (other than from Seeking Alpha). The author has no business relationship with any company whose stock is mentioned in this article.