Gold's recent surge has now put its cost per ounce above that of platinum. Below is a chart showing the ratio of platinum to gold going back to 1986. From 1986 to 1998, the ratio remained relatively low and even ticked below one a few times. Then from 1998 to 2008, platinum often traded at more than two times the price of gold.
When the financial crisis hit in 2008, the ratio dropped significantly and got all the way down to 0.99 for one day on December 17th, 2008. Following this low, the price of platinum outperformed gold up until about the middle of the current bull market, and the ratio has been heading lower ever since.
Will today's move below one in the platinum to gold ratio mark another major pivot point, or will the ratio now make a run toward its all-time low of 0.94 in the coming weeks or months?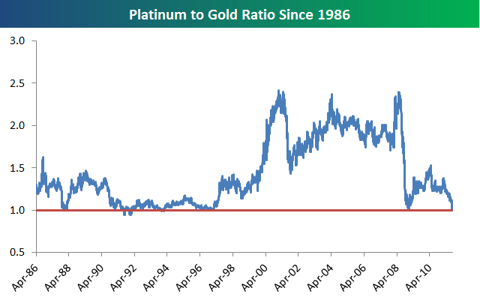 (Click chart to enlarge)