By Bryan McCormick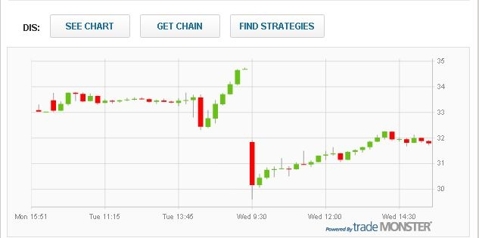 U.S. stock market futures are trading lower this morning on moderate volume. For the first time in weeks, the pace of trading and ranges of index futures appear to be stabilizing to average from the extremes we've seen since early August.
Asian markets closed higher overnight following the Federal Reserve statement yesterday and the subsequent U.S. rally. The reactions were not, however, as extreme as the U.S. response and fell substantially earlier session highs.
China posted a larger-than-expected trade surplus and allowed the yuan to strengthen as a result. Higher-than-expected inflation noted earlier this week was an additional factor in that decision.
European markets began on the upside this morning but have since pulled back, notably in Italy and France. French President Nicolas Sarkozy cut short his vacation and held a special meeting with finance ministers on concerns that France's "AAA" rating was under review for a possible downgrade. The meeting centered on achieving deficit reduction targets.
The Bank of England reduced growth forecasts and estimated that inflation would slow in 2012 but that consumer prices might continue to rise through 2011. In Germany, shares of Commerzbank rose despite earnings impaired by a $1.1 billion write-down for Greek debt. German stocks have been hit hard in recent weeks as the global stock sell-off accelerated.
In currency trading the big news of the morning came from the Swiss National Bank, which said it would boost supply of the Swiss franc in an attempt to counter its dramatic rise. The rush to francs continued to push the currency's price against the dollar and euro to fresh highs. Additional measures were under consideration, stopping short of direct intervention.
The dollar is up against the euro, U.K. pound, and Canadian dollar. It fell against the yen, Swiss franc, and Swedish krona. In aggregate the U.S. Dollar Index is trading relatively flat.
Commodity prices have rebounded, with crude trading up more than 4 percent. Bullish inventory data from the American Petroleum Institute was released after market close last night. The government's EIA data will be reported at 10:30 a.m. ET.
Agricultural commodities are higher, along with industrial metals. Gold and silver are also gaining.
In stock-specific news, shares of Disney (NYSE:DIS) are trading lower after post-market earnings results last night. The changes, which are mostly fractional, follow a rise of 5 percent in the regular session yesterday.
Motricity (MOTR) was the disaster of the day in the after-market, plummeting nearly 50 percent after missing earnings estimates by $0.05 per share. Capital One (NYSE:COF) shares are up 4 percent after the company agreed to buy the domestic credit card business of HSBC (HBC).
Today the big tech name to report results will be Cisco (NASDAQ:CSCO). Macy's (NYSE:M) and Polo Ralph Lauren (NYSE:RL) will announce earnings on the retail front.
The following S&P 500 companies will report earnings results tomorrow: DeVry (DV), Nordstrom (NYSE:JWN), Kohls (NYSE:KSS), Nvidia (NASDAQ:NVDA), Progressive (NYSE:PGR), and Sara Lee (SLE). J.C. Penney (NYSE:JCP) will be the only name reporting on Friday.