Earnings season is slowing down, and we are continuing to update price targets, buy/sell ratings, etc., for our companies that we currently cover in our EquityAnalytics department. Today, we have updated several more companies with these ratings. They include Columbia Sportswear (NASDAQ:COLM), Dean Foods (NYSE:DF), DR Horton (NYSE:DHI), Green Mountain Coffee Roasters (NASDAQ:GMCR), Meritage Homes (NYSE:MTH), Rosetta Stone (NASDAQ:ROST), Standard Pacific (SPF) and Warnaco Group (WRC).

The chart below shows new ratings, price targets, and buy/sell ranges versus old ones: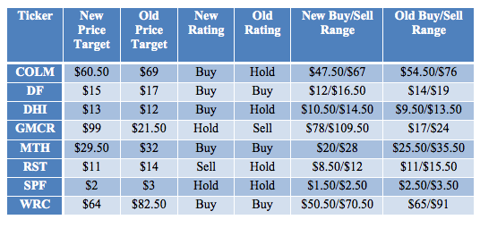 COLM - Upgrade from Hold to Buy, Drop PT from $69 to $60.50

Columbia Sportswear was hit with an unexpected loss in Q2. The company was hurt by rising costs and lowered sales, and we have adjusted some of our results based on lower than expected growth and higher costs, but we still see them as fairly undervalued from their current price. The downward movement came at the worst time as it was accelerated by weakening market fundamentals. We believe the company is heavily discounted. The company's Q3 expectations were very good, and they were better than we expected. Rising costs are here to stay however, but we believe this is a company that can rebound with the market.

DF - Maintain at Buy, Drop PT from $17 to $15

Dean Foods (DF) got everyone very excited with its Q1 results that showed a renewed interest in private label groceries that was reversed in Q2. While a majority of the issue for DF was due to legal issues rather than its business, the company did not meet our expectations for Q2 and we dropped our price target. Yet, the company was hit with the missed expectations as well as a market downturn that has ravaged the stock price. They should be a place for a lot of institution money to be put in at the $8-$9 level, and we expect them to make the move back over $10 by the end of September.

DHI - Upgrade from Hold to Buy, Up PT from $12 to $13

DR Horton (DHI) actually had a decent quarter in its Q3 report. It beat most estimates even when removing one-time gains. The company saw dropping home sales and revenue drops, but the backlog looks strong. The backlog is up over 20%+ YoY, which is showing a lot of buyers re-entering the market at these cheap prices. It is a great time to buy a house if you can at these prices. We believe DHI is also decently positioned in its mixture of home sales and acquisition of cheap land. They operate in many markets, and they are one of the best companies to gauge the health of the entire home environment. They are very cheap at these levels, and while we are cautious on the company and the entire residential construction, they have great value.

GMCR - Upgrade from Sell to Hold, Up PT from $21.50 to $99

Green Mountain Coffee Roasters (GMCR) was a company we removed coverage of for about 12 months while reconfiguring our long-term ratings system. We have re-investigated the company, and we believe they have shown a tremendous growth story that is making them very worthwhile. The company significantly outperforms its own industry, and investors are willing to pay a hefty dime for growth in this market when growth is very hard to find. They are definitely a bit risky with their accounting issues, and we are thinking their upward momentum may be slowing around these, but they are a nice holding to have on any pullbacks of significance.

MTH - Maintain at Buy, Drop PT from $32 to $29.50

Meritage Homes (MTH) had a decent quarter, but it was pretty weak overall. Most of the drop was due to dropping cash levels and somewhat reduced expectations as the company's backlog was a bit below where we thought it would come in at this quarter. MTH is still severely undervalued, and a great buy as they are profitable in this market.

RST - Downgrade from Hold to Sell, Drop PT from $14 to $11

Rosetta Stone (NYSE:RST), at the end of last quarter, was upgraded by us as we saw pretty good international sales growth. Further, we wrote off domestic sales dropping at such a significant rate due to issues with Borders, one of the large sellers of Rosetta Stone software. This quarter, the company continued to see a drop in domestic customers. While they saw a YoY increase in international customers by over 50%, it saw a drop of over 15% from Q1 to Q2 in international customers, which is supposed to be its major market for growth. Worldwide institutions dropped in Q2 as well. We are very confused by the rally. Sure the company beat estimates, but it is a company that is not growing. They are trading with a future P/E ratio at 36, which is much too high. If you are not selling at these levels, you may not see them for much longer.

SPF - Maintain at Hold, Drop PT from $3 to $2

WRC - Maintain at Buy, Drop Pt from $82.50 to $64

We were just wrong about our initial expectations for Warnaco (WRC). We overestimated the company's growth and ability to maintain margins. The company also took on more debt than we expected in the latest quarter and that hurts the equity value. On the positive side for WRC, the company has shown strength in its Calvin Klein line, and they are looking strong internationally. They are trading at a significant discount right now at a 14.5 P/E and 10 future P/E. That is undervalued for their sector, and they are growing at a decent level for their industry at 10% on average over next two years. We believe they should bounce back out of this pullback as they are well positioned in emerging Latin American and Chinese markets.
Disclosure: I am long WRC, DF.