It's no secret that commodities as a whole are doing badly. Prices dropped significantly in the last year and continue to drop. For instance, the Continuous Commodities Index has fallen by more than 15 percent over the last 12 months. Crude oil, the most important commodity of them all, is doing even worse.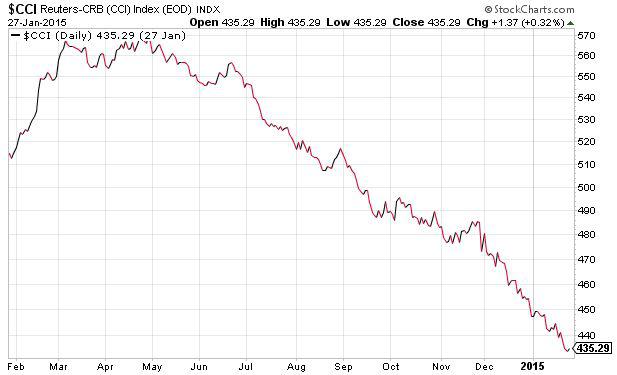 However, while the commodity sector as a whole is down, some within the sector are doing better than others. Palladium is one of the commodities that have managed to buck the trend. Unlike most commodities, palladium increased in price in 2014. While turmoil in the commodity sector did have an effect on the precious metal, palladium still ended the year up by slightly more than 10 percent.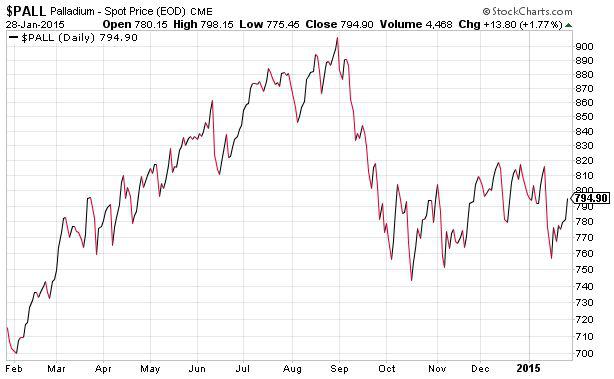 Granted, labor strikes in South Africa, one of the two main suppliers of palladium, helped boost prices. Still, the price increase of palladium in 2014 is consistent with long-term trends. In fact, palladium prices are currently in an uptrend that goes back a decade. Palladium increasing in value is therefore no surprise.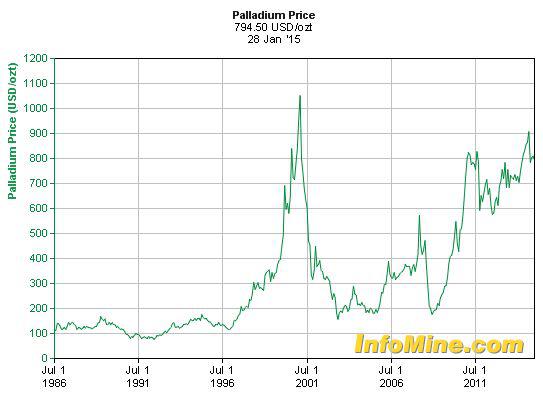 Palladium demand exceeds supply
There are a couple of factors that have contributed to palladium outperforming the commodity sector. The first can be found on the supply side. In the case of many commodities, such as crude oil, supply exceeds demand globally. This will inevitably have a negative effect on prices of commodities where this is the case.
However, in the case of palladium, there is a substantial supply deficit to be reckoned with. Not only has there been a deficit in the palladium market for several years, the supply deficit actually increased in 2014 over the previous year. That's very noteworthy considering the fact that prices for palladium rose in 2014.
At the same time, demand for palladium has gone up in 2014. Together, the supply and demand equation in 2014 was even more out of balance than in the preceding year. A price increase to help restore balance in the palladium market is not so surprising in this regard.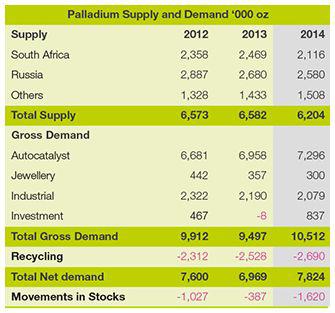 While supply is trending down, demand for palladium is trending up
Commodities are volatile and palladium is no exception. There will be annual fluctuations in supply and demand as neither moves in a straight line. Instead, both supply and demand will go up and down along the way. However, over the longer term, there are a couple of trends that can be spotted.
The first trend is that supply of palladium has gone down over the last ten years. Supplies went from 8.58 million troy ounces in 2004 to 6.43 million troy ounces in 2013. In other words, supplies of palladium has gone down by about 25 percent over the last decade.
The second trend is that while supplies are going down, demand for palladium continues to rise. Demand has increased from 7.09 million troy ounces in 2004 to 9.63 million troy ounces in 2013. That's an increase in demand of almost 36 percent.
The third trend is an increased emphasis on recycling of palladium to help close the supply deficit and meet increased demand. The total amount recycled went from 0.53 million troy ounces in 2004 to 2.46 million troy ounces in 2013. Recycling has therefore gone up by almost five times. Source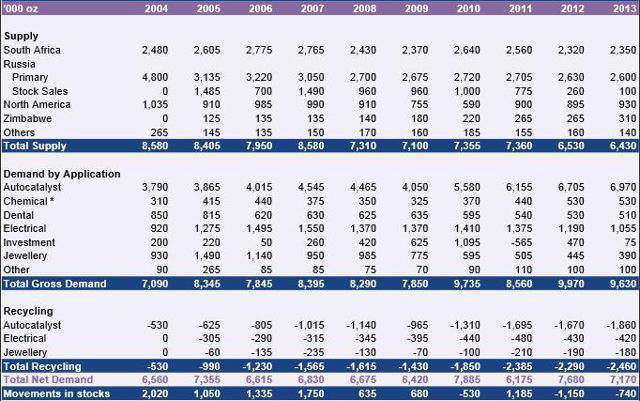 Demand for palladium is primarily driven by the automobile industry
The biggest application by far of palladium is in catalytic converters or autocatalysts to help reduce pollution coming from vehicle emissions. The specific properties of palladium ensure that it's the preferred choice for cars using gasoline, although there are alternative choices available.
Palladium use in this segment has increased in all of the four main markets from 2004 to 2013. They are North America, China, Europe and Japan. Growth in China has been especially strong. Palladium demand for autocatalysts in China went from 0.1 million troy ounces in 2004 to 1.5 million troy ounces in 2013, an increase of 1400 percent.
This growth looks set to continue in 2015. Vehicle sales in China are expected to rise to 25.1 million in 2015 from 23.5 million the previous year. Overall, sales worldwide of cars is forecast to increase by 3 million units in 2015. That's good news for palladium considering how much it relies on the automotive industry.
Long palladium could be used as a hedge to offset a short position elsewhere
With commodity prices going the way they have, shorting commodities is an option that many are looking at or already doing. To mitigate the risk involved, a hedge could be used by using a long position to offset a short position elsewhere. A relevant ETF is PALL (NYSEARCA:PALL).
Since commodity prices have fallen by as much as they have, there is a realistic chance that prices may snap back if only because of oversold conditions. If this were to happen, a hedge can reduce the impact to a certain extent. Having a few long positions together with short positions is something worth considering.
One potential way of accomplishing this is with long palladium and short commodities. Palladium makes for a good candidate as a hedge with its bullish fundamentals in terms of supply and demand. Downside risk in palladium is fairly limited, while upside is substantial. A long position is therefore something that is warranted, something that can't be said of many of its fellow commodities.
Disclosure: The author has no positions in any stocks mentioned, and no plans to initiate any positions within the next 72 hours.
The author wrote this article themselves, and it expresses their own opinions. The author is not receiving compensation for it (other than from Seeking Alpha). The author has no business relationship with any company whose stock is mentioned in this article.