Shares of leading review sites TripAdvisor (NASDAQ:TRIP) and Yelp (NYSE:YELP) were badly hammered in 2014. TripAdvisor shares finished the year 15.8% down compared to where they were a year ago while shares of Yelp tanked 16.4%. Shares of both companies year-to-date have been flat-to-slightly down.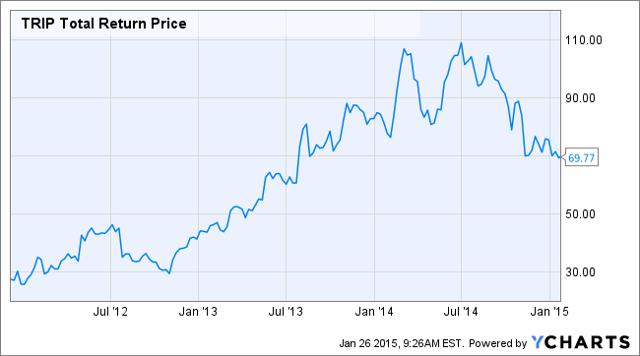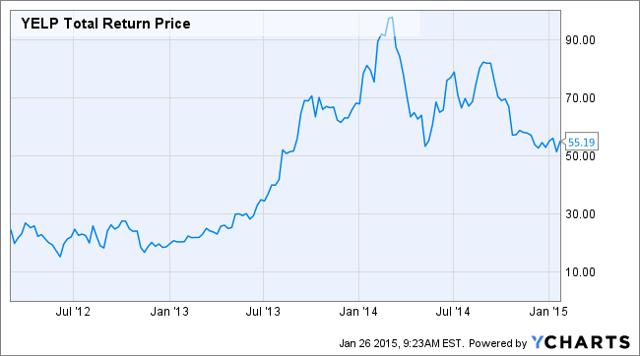 Over the last five years, shares of TripAdvisor have returned 154% vs. 125% for Yelp. The rollercoaster ride the shares of both companies went through last year can be chalked up to investor concerns about their stratospheric valuations, coupled with individual company results. The valuations of both companies had run too far after their shares rallied massively in 2013. Even after the selloffs, shares of both companies still look expensive, with Yelp's valuation seemingly unpalatable. TripAdvisor currently trades at a one-year forward PE ratio of 41.98 compared to 461.25 for Yelp. Compare those valuations with those of their contemporaries in the space: Priceline (PCLN) trades at a forward PE ratio of 20.81 while Expedia (NASDAQ:EXPE) trades at 24.36.
While Yelp's hard-to-swallow valuation is one of the reasons I consider the shares a risky gambit, there are other reasons why I simply prefer TripAdvisor to Yelp as a long-term investment.
TripAdvisor Has a Better Business Model
On the surface, the core business models of TripAdvisor and Yelp are strikingly similar, but bear significant differences that directly impact their top and bottom lines. First off, the two companies get majority of their revenue from ads.
TripAdvisor is the world's largest travel review site. The company was spun-off of Expedia in 2011. TripAdvisor has managed to maintain positive revenue growth in excess of 30% over the last four years, with all its major segments growing in double digits. During the last quarter, the company's click-based advertising, where it derives about 70% of its revenue, grew 31%; display-based advertising (10% of revenue) grew 13% while Subscription, Transaction and Other revenue grew more than 50%.
Other than a few occasional blips, TripAdvisor has mostly been solidly profitable, with a very healthy profit margin of 20%-plus.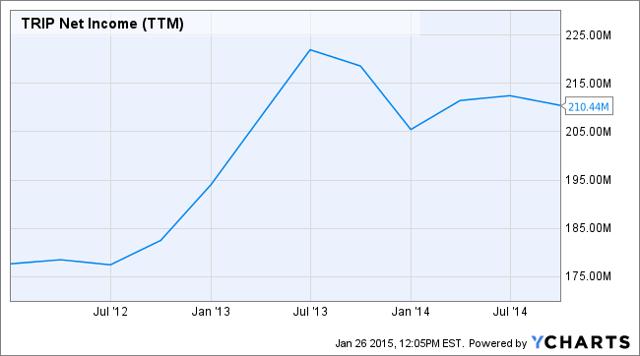 Mind you TripAdvisor became profitable in its first year of operations whereas a company like Yelp only became profitable for the first time during the last two quarters. The secret behind TripAdvisor's success lies in the way it operates. The site acts as an important facilitator for OTAs such as Priceline and Expedia. These companies use TripAdvisor's website to place their ads. When users read reviews of different properties, they can click through to the actual OTA websites where they do their booking. This modus operandi has proved to be very successful - about 10% of TripAdvisor's traffic is directed to the two OTAs. That's a lot of traffic for the two travel companies when you consider that 1.25 billion people visited the TripAdvisor website during the first half of 2014 alone. TripAdvisor therefore acts as a facilitator for the two companies, and reaps generous rewards for its trouble - about 47%-49% of the company's revenue comes from Priceline and Expedia.
At first glance, this looks like a somehow risky position since the company risks losing close to half of its revenue if the two companies decide to cut ties with it. In reality, however, the possibility of this happening is slim to none. TripAdvisor is certainly not the only travel review company in the space. It competes against the likes of VibeAgent, Trivago, Zoover, TravelPost, Google Places among others. But, it occupies a huge moat in the industry with a market share reputed to be north of 60%. It is therefore extremely unlikely that the leading OTAs would be willing to ditch it in favor of its much smaller competitors.
A big reason why TripAdvisor continues to be the most trusted review site by travelers lies in the amount of content available on its site. With more than 170 million reviews of more than 4 million places on the site, there is simply no other review site that even comes close. Users tend to trust a site with, say 40-50 reviews on a hotel instead of another with, say 5-10 reviews of a particular property. The more TripAdvisor continues accumulating reviews, the more valuable the content becomes to users. The site is also not dogged by claims of reviews being manipulated like some its rivals are. Advertising Standards Agency investigated claims of TripAdvisor failing to monitor fake reviews in 2011 but cleared the company after failing to find any evidence of such practices.
TripAdvisor recently introduced Instant Booking feature which is in essence a cross between an OTA and a metasearch website. Instant Booking has a lot of potential, considering that Digital Researchers L2 Think Tank say that 39% of millennials and 25% of baby boomers do hotel booking through a metasearch platform that does not require them to book through OTAs. This can become an important revenue source for the company in maybe 2-3 years.
Yelp's Business Model
Compared to TripAdvisor, Yelp is no slouch either. The business review site has more than 130 million reviews and receives about 208 million unique visits each month. In terms of sheer number of visitors to its site, Yelp actually matches TripAdvisor's count. Moreover, Yelp's revenue has been growing at roughly 60%-plus over the last three years, or about twice the rate of TripAdvisor's top line growth.
Yet, Yelp has consistently been unable to turn a profit, only managing to squeeze a tiny profit of $2.7 million on revenue of $88 million during the second quarter of fiscal 2014 and $3.6 million on revenue of $102 million during the third quarter.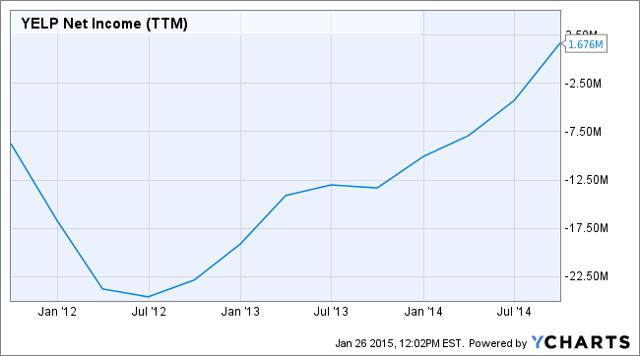 In terms of absolute numbers, the fact that Yelp's revenue is only 27% of TripAdvisor's despite enjoying just as many visits to its site strikes you as rather odd. But there is a good reason why this is the case. Yelp's revenue comes from businesses that claim their ads once they get reviewed by users on its site. Yelp has around 60 million listed businesses out of which less than 2 million have claimed their ads. Out of these, only about 70,000 advertise actively.
The problem with Yelp's business model is that the vast majority of the businesses listed on the site are tiny and can hardly afford hefty ad fees. Unlike TripAdvisor which has some deep-pocketed customers, Yelp mainly relies on SMBs that run on shoestring budgets hence its lackluster revenue.
Let's now look at why Yelp struggles to make a profit. The company's biggest line item is sales and marketing expenses, which gobble up more than half of its revenue. Business review sites such as Yelp and Angie's List (NASDAQ:ANGI) spend heavily on sales and marketing function on the presumption that is they build a huge following, the profits will naturally follow. The only problem with this model is that it has taken Yelp a good 10 years to turn a profit. Meanwhile, Angie's List has been in businesses for around two decades and has never once turned a profit.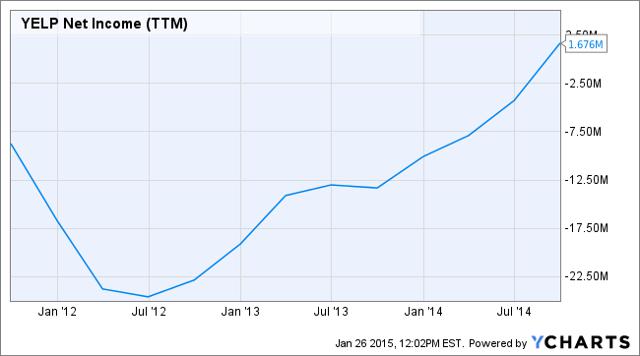 Back to Valuation Matters
It's not clear if Yelp will maintain its profit momentum going forward or will once again slip back into the red. All other factors held constant, the company's bottom line should expand gradually as its top line continues growing. What I'm not comfortable with is the projection that the company's PE ratio will still be almost four times the industry average in fiscal 2016.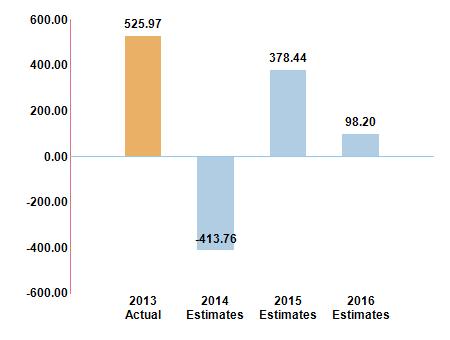 Source: NASDAQ
Meanwhile, TripAdvisor's PE is projected to fall to the industry average level in 2016.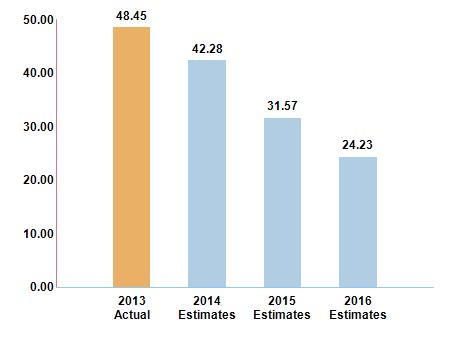 Source: NASDAQ
Yelp's unusually high valuation makes it very susceptible to massive selloffs should it slip and miss on either top or bottom line expectations over the next two years. This makes it a risky proposition for long-term investors.
I wouldn't recommend buying TripAdvisor shares at their current level either. The shares might still get another 5%-10% haircut in the near term at which point investors should initiate or add to their positions.
Disclosure: The author has no positions in any stocks mentioned, and no plans to initiate any positions within the next 72 hours.
The author wrote this article themselves, and it expresses their own opinions. The author is not receiving compensation for it (other than from Seeking Alpha). The author has no business relationship with any company whose stock is mentioned in this article.