* All data are as of the close of Wednesday, January 28, 2015. Emphasis is on company fundamentals and financial data rather than commentary.
Did you know that Virginians are the most successful at bossing people around? In the Management Services industry, for instance, of the 28 companies listed on major exchanges, the three largest are all based in the state of Virginia, they being: Towers Watson & Co. (NYSE: TW), Booz Allen Hamilton Holding Corporation (NYSE: BAH), and Corporate Executive Board Co. (NYSE: CEB).
What do these companies do besides tell people where to go and what to do when they get there? According to the simplest of definitions:
Management Services companies engage in providing services to other businesses such as leadership consulting, research and analysis on corporate strategy, operations consulting, process analysis, and related services to assist with general management issues.
So it's not so much that they go around cracking whips and barking orders. Rather, they teach companies and government agencies how to crack whips and bark orders. Here's what else the top three companies in the space provide:
Towers Watson & Co., headquartered in Arlington, Virginia, provides human capital and financial consulting services including benefits consulting, administration services, retirement solutions, actuarial and consulting services, risk management strategies, health and group benefits services, and health plan management consulting. Additionally the company offers technology and administration solutions and pension outsourcing services, international consulting services including international human capital management and related benefits, compensation advice for corporate headquarters and their overseas subsidiaries, risk consulting and financial modeling software solutions, investment strategy consulting, risk assessment, asset allocation, manager selection, and investment execution solutions.
Booz Allen Hamilton Holding Corporation, headquartered in McLean, Virginia, primarily serves the United States government and various agencies in cyber command, defense and intelligence, as well as corporations, institutions, not-for-profit organizations and commercial clients. It provides management consulting, mission operations, technology and engineering services, which include field intelligence systems, rapid response solutions, lifecycle sustainment, solutions to expand care and support for soldiers and their families, integrated strategy and technical services, mission-critical support and solutions, data collection management and analytical services. It also provides solutions for supply chain management, personnel readiness, research and development, countering weapons of mass destruction, rapid prototyping and integrated intelligence, surveillance, and reconnaissance to space and global strike operations, in addition to finance and economic development, health, justice and homeland security services. It is most active in combating global terrorism, improving cyber capabilities, transforming the healthcare system, improving efficiency and managing change within government, and environmental protection.
Corporate Executive Board Co., headquartered in Arlington, Virginia, provides data analysis, research, and advisory services to senior executives and their corporate leadership teams through Web-based resources, interactive workshops, live meetings, and published studies on such subjects as organizational structures, costs and productivity, customer experience and service quality. It also provides cloud-based talent measurement and management products including cognitive ability assessments, skills and knowledge assessments, personality questionnaires, job/role simulations, consulting and training services, survey and diagnostic tools, and executive education curriculum. The company primarily serves government and corporate departments in human resources, finance, strategy and operations, legal and compliance, sales and marketing, and technology.
While management consulting services can be rather high margin businesses, the performances of the top three companies as graphed below show that there is no prevailing trend flowing through the industry, and that success really comes down to each company's skills and quality of services.
In the almost six years since the economic recovery began in early 2009, where the broader market S&P 500 index [black] has gained 195%, TW [beige] has slightly underperformed with gains of 158%, BAH [blue] has grossly underperformed with gains of 53% (in its 4.166 years as a publicly listed company), while CEB [purple] has greatly outperformed with gains of 435%.
On an annualized basis, where the S&P has averaged 33.43%, BAH has averaged 12.72%, TW has averaged 27.09%, and CEB has averaged a leading 74.57% per year!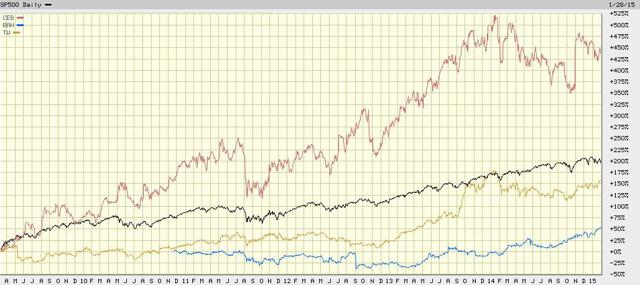 Source: BigCharts.com
Looking at future earnings growth, the Management Services industry as a whole seems to be in need of some management consulting of its own, as tabled below where green indicates outperformance while yellow denotes underperformance.
Over the current quarter, the industry's earnings are expected to shrink rather sharply by 13% over the prior year's Q4. Though Q1 of 2015 is seen bouncing back very nicely with earnings growth at some 9.16 times the broader market's average rate.
Over the longer term, the industry is expected to again flirt with anarchy with earnings shrinkage in the 2015 reporting year. But is once again seen coming back with strong growth at some 1.69 times the S&P's average annually over the next five years.

Zooming-in a little closer, the three largest companies in the space are expected to split perform reminiscent of their recent stock performances, as tabled below.
CEB is seen continuing its role as leader among leaders, beating its two competitors in earnings growth in every time period, and also beating the broader market at some 1.14 to 1.68 times its average growth rate.
TW, meanwhile, is expected to remain in second place with notable underperformance near term before outgrowing the broader market at some 1.31 to 1.42 times its rate longer term.
BAH, for its part, is projected to continue lagging behind, with significant underperformance near term that gradually improves to market-perform over the next five years.

Yet there is more than earnings growth to consider when sizing up a company as a potential investment. How do the three compare against one another in other metrics, and which makes the best investment?
Let's answer that by comparing their company fundamentals using the following format: a) financial comparisons, b) estimates and analyst recommendations, and c) rankings with accompanying data table. As we compare each metric, the best performing company will be shaded green while the worst performing will be shaded yellow, which will later be tallied for the final ranking.
A) Financial Comparisons
Market Capitalization: While company size does not necessarily imply an advantage and is thus not ranked, it is important as a denominator against which other financial data will be compared for ranking.

Growth: Since revenues and expenses can vary greatly from one season to another, growth is measured on a year-over-year quarterly basis, where Q1 of this year is compared to Q1 of the previous year, for example.
In the most recently reported quarter, CEB delivered the greatest trailing revenue growth year-over-year, where BAH delivered the least, even shrinkage.
Since CEB's trailing earnings growth is not available, the metric does not factor into the comparison, though it is worth noting that both TW and BAH suffered earnings shrinkage.

Profitability: A company's margins are important in determining how much profit the company generates from its sales. Operating margin indicates the percentage earned after operating costs, such as labor, materials, and overhead. Profit margin indicates the profit left over after operating costs plus all other costs, including debt, interest, taxes and depreciation.
Of our three contestants, TW operated with the widest profit and operating margins, where CEB and BAH split the narrowest margins between them.

Management Effectiveness: Shareholders are keenly interested in management's ability to do more with what has been given to it. Management's effectiveness is measured by the returns generated from the assets under its control, and from the equity invested into the company by shareholders.
For their managerial performance, BAH's management team delivered the greatest returns on assets and equity and by a substantial degree, while TW's team delivered the least.

Earnings Per Share: Of all the metrics measuring a company's income, earnings per share is probably the most meaningful to shareholders, as this represents the value that the company is adding to each share outstanding. Since the number of shares outstanding varies from company to company, I prefer to convert EPS into a percentage of the current stock price to better determine where an investment could gain the most value.
Of the three companies here compared, BAH provides common stock holders with the greatest diluted earnings per share gain as a percentage of its current share price, while CEB's DEPS over current stock price is lowest.

Share Price Value: Even if a company outperforms its peers on all the above metrics, however, investors may still shy away from its stock if its price is already trading too high. This is where the stock price relative to forward earnings and company book value come under scrutiny, as well as the stock price relative to earnings relative to earnings growth, known as the PEG ratio. Lower ratios indicate the stock price is currently trading at a cheaper price than its peers, and might thus be a bargain.
Among our three combatants, all three companies' stocks are cheapest relative to a different ratio. At the overpriced end of the scale, CEB's stock is the most overvalued relative to forward earnings, where BAH's is the most expensive relative to company book value and 5-year PEG.

B) Estimates and Analyst Recommendations
Of course, no matter how skilled we perceive ourselves to be at gauging a stock's prospects as an investment, we'd be wise to at least consider what professional analysts and the companies themselves are projecting - including estimated future earnings per share and the growth rate of those earnings, stock price targets, and buy/sell recommendations.
Earnings Estimates: To properly compare estimated future earnings per share across multiple companies, we would need to convert them into a percentage of their stocks' current prices.
Of our three specimens, CEB offers the highest percentage of earnings over current stock price for the current quarter, TW offers it for the next quarter, while BAH offers it the rest of the way. At the low end of the scale, BAH offers the lowest percentage for the current quarter, while CEB offers it for the remaining time periods.

Earnings Growth: For long-term investors this metric is one of the most important to consider, as it denotes the percentage by which earnings are expected to grow or shrink as compared to earnings from corresponding periods a year prior.
For earnings growth, CEB offers the greatest growth in all time periods, while TW ties with CEB in the next reporting year (2015). At the low end of the spectrum, TW offers the least growth next quarter, while BAH offers it for all remaining time periods.

Price Targets: Like earnings estimates above, a company's stock price targets must also be converted into a percentage of its current price to properly compare multiple companies.
For their high, mean and low price targets over the coming 12 months, analysts believe BAH's stock offers the least upside potential and greatest downside risk, while CEB's offers the greatest upside and TW's offers the greatest downside.
It must be noted, however, that TW's stock is already trading below its low target. While this may mean increased potential for a sharp move upward, it may warrant a reassessment of future expectations.

Buy/Sell Recommendations: After all is said and done, perhaps the one gauge that sums it all up are analyst recommendations. These have been converted into the percentage of analysts recommending each level. However, I factor only the strong buy and buy recommendations into the ranking. Hold, underperform and sell recommendations are not ranked since they are determined after determining the winners of the strong buy and buy categories, and would only be negating those winners of their duly earned titles.
Of our three contenders, TW is best recommended with 6 strong buys and 6 buys representing a combined 92.30% of its 13 analysts, followed by CEB with 3 strong buy and 3 buy ratings representing a combined 75% of its 8 analysts, and lastly by BAH with 2 strong buy and 6 buy recommendations representing 61.53% of its 13 analysts.

C) Rankings
Having crunched all the numbers and compared all the projections, the time has come to tally up the wins and losses and rank our three competitors against one another.
In the table below you will find all of the data considered above plus a few others not reviewed. Here is where using a company's market cap as a denominator comes into play, as much of the data in the table has been converted into a percentage of market cap for a fair comparison.
The first and last placed companies are shaded. We then add together each company's finishes to determine its overall ranking, with first place finishes counting as merits while last place finishes count as demerits.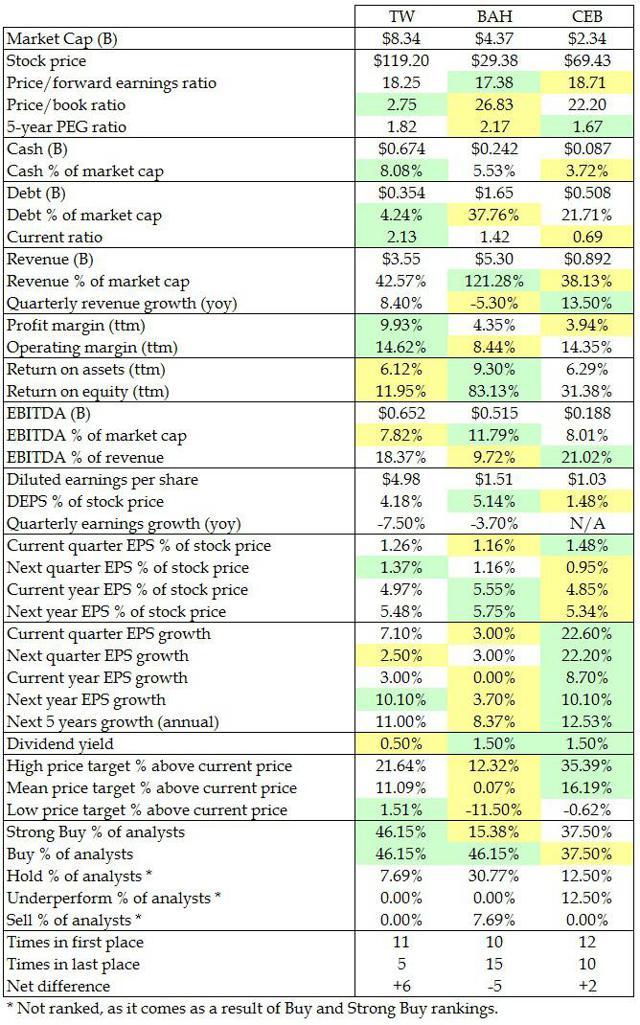 And the winner is… TW with a commanding lead, outperforming in 11 metrics and underperforming in 5 for a net score of +6, with CEB close behind, outperforming in 12 metrics and underperforming in 10 for a net score of +2, with BAH providing directions from the back seat, outperforming in 10 metrics and underperforming in 15 for a net score of -5.
Where the Management Services industry is expected to swing wildly from shrinkage to growth to shrinkage again before outperforming the broader market meaningfully over the longer term, the three largest companies in the space are expected to split perform in earnings growth - with CEB growing the most, BAH growing the least, and TW meandering somewhere in between.
Yet after taking all company fundamentals into account, Towers Watson & Co manages the most efficient finances, given its lowest stock price to company book value, highest cash and lowest debt over market cap, highest current ratio, widest profit and operating margins, highest next quarter earnings over current stock price, highest next year's earnings growth, best low price target, and most strong buy and buy analyst recommendations - decisively winning the Management Services industry competition.