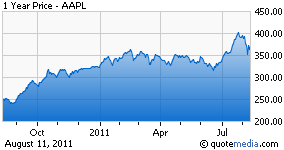 Oh look, Apple (NASDAQ:AAPL) just surpassed Exxon Mobil (NYSE:XOM) in market cap. The media seems to be enthralled with this new development. The front page headline on Yahoo Finance yesterday trumpeted with great pomp the fact that Apple is now the world's most valuable company. If the article is to be believed, this means that investors should now be scrambling to buy into Apple since it's officially the king of the hill in the stock market. So, should you bust open your piggybank and invest in Apple right away?
Well, maybe (I own the stock in my personal portfolio), but not because of this development. In the grand scheme of things, market cap means absolutely nothing. It can easily be driven up or smacked down by the market's mood swings. All that matters is a company's future cash flows. Investors would be well served to remember that Microsoft's (NASDAQ:MSFT) market cap topped $600B right before the bursting of the dotcom bubble in 2000. Cisco (NASDAQ:CSCO) traded at $550B at around the same time. Conglomerate General Electric (NYSE:GE) was once a $575B monstrosity. All these companies have track records that make Apple's claim to fame look like peanuts.
Where are they now? Well, as of yesterday, you can buy Microsoft for $200B, GE for $160B, and Cisco for a mere $75B. In the stock market, it doesn't matter where you were, it only matters where you're going to go. So excuse me for not getting too excited about Apple's new top dog status.
Apple is a great company, and there are many legitimate reasons why investors should consider adding it to their own portfolios. The way it outplayed Nokia (NYSE:NOK) and Research in Motion (RIMM) to create the most profitable smart phone business in the world is one. Its game changing release of the iPad into the mobile computing arena is another. But surpassing Exxon in market cap? I'm sorry, but that just isn't one of them. Move along, folks - there's nothing to see here.
Disclosure: I am long AAPL.