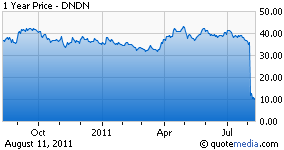 Dendreon (NASDAQ:DNDN) shares have been absolutely decimated in the past month, with shares falling almost 75% from $40 at this point last month to $10.37 as of this writing. The majority of the loss came as the market digested the company's latest disastrous earnings report, which included a huge revenue miss and a removal of the company's previous revenue guidance. Analysts punished the company with a wave of downgrades, and the stock collapsed - and as of yet - has failed to mount any recovery, falling further in subsequent trading sessions.

While Dendreon's near-term fortunes offer a potentially lucrative opportunity, wise investors should examine the bigger Dendreon story, as it has played out to be a classic Wall Street drama with enduring lessons for us today. Dendreon has long sought to commercialize its unique prostate cancer fighting drug Provenge, which uses a patients' own blood cells in combating the cancer.

Dendreon was listed with little fanfare. Its shares, with brief exceptions, traded under the $10 level from 2001 until early 2007. All that changed in April of 2007, however, when an FDA panel announced that it favored approval of Dendreon's Provenge cancer vaccine. Shares tripled on the announcement, and went even higher in coming days, soaring from less than $5 to $25 in just a few trading sessions. The bulls came out in full force, setting wildly bullish price targets of up to $400/share over the next five years.

The enthusiasm came to a quick halt, however, following the FDA's request for more information about Provenge which sent shares down more than 60%. Dendreon quickly returned to the sub-$5 range, and fell as low as $2.55 in early 2009. At this point, Dendreon faithful turned to conspiracy theories, suggesting that short sellers had tampered with the FDA's approval process, and that a great web of short sellers were manipulating the company to try to buy it out on the cheap or destroy it entirely.
As time dragged on, and Dendreon stock remained stalled under $5, Dendreon bulls continued with their conspiracy chatter. They took to labeling the FDA's actions as the "Provenge Approval Scandal" and accused the government of playing "Hide and Seek" with the facts. Best of all, Dendreon shareholders were blaming the "naked short sellers" for keeping the stock down. They claimed that hedge funds were short selling shares of Dendreon stock that didn't exist (so-called phantom shares) to drive the stock down. Despite the SEC's assurances that this wasn't a major problem, the conspiracy theorists kept up with the anti-naked short selling drumbeat.

But everything changed in early 2009 when Dendreon secured FDA approval for Provenge. Shares rebounded back into the high twenties, and would later surge to more than $50/share. Despite the alleged nefarious schemes of hedge funds betting against Denderon, the company's shareholders were still able to prosper greatly following FDA approval. The leader naked short-selling conspiracy theorist, Overstock.com (OSTK) CEO Patrick Byrne, declared victory. He had his Deepcapture website write up an absurd 15-part article series purporting to show how naked short sellers had almost killed Dendreon, and how government intervention was needed to stop further alleged market abuses that were alleged responsible for nearly destroying the entire country's financial system. (When making a conspiracy theory, one should always go big.)

The 15-chapter series (Part 1 of 15 here) claims that hedge funds intentionally tainted the FDA's approval process in an attempt to either kill Dendreon or take it over on the cheap, and also to help competitors such as Cougar Biotechnology (subsequently purchased by Johnson & Johnson (JNJ)) which would supposedly fail if Dendreon succeeded. The author of the series claims that the supposed evildoers, led by Jim Cramer and Michael Milken, were tied to the Mafia and were to some degree culpable for the deaths of 60,000 men due to prostate cancer between 2007 and 2009.

According to the naked-short sale conspiracy theorists, Dendreon just barely managed to escape defeat at the hands of a huge criminal enterprise willing to condemn cancer patients to death in exchange for mere profit. If true, these actions would amount to a stunning crime that would shake the hedge fund industry to its core.

Fortunately, the truth is much less exciting than Mr. Byrne's grand conspiracy. Like many biotech companies, Dendreon plunged after bad news - the FDA delay - however its shares continued to trade at a higher level than before the initial 2007 spike. The market correctly priced in the news of both possible success and the subsequent delay. There is no evidence that short sellers were able to misprice the company's equity. And many of the short sellers who originally shorted Dendreon turned positive and went long as FDA approval approached. That's how a normal functioning market works.

Dendreon bears had fairly good reasons to be skeptical of whether Provenge would be approved (heavy insider selling during early 2007 for example casted doubts on whether management truly believed in its product), and even if it were approved, there were still great reasons for doubt as to whether the drug would be commercially viable. Given its nearly $100,000 price tag and its extremely limited ability to length life, it was never a given that the drug would gain wide consumer acceptance. As we've seen in the past week, bears were right in questioning whether Dendreon's Provenge would ever become a profit engine.

The sad thing is that Dendreon bears were accused of everything just short of killing cancer patients when they were in fact right with much of their short thesis about the company. Investors sitting on 70% losses in Dendreon stock would have been much better served listening to the bears rather than having had them shut up by a flood of anti-short selling sentiment.

Bears raised valid concerns such as suggesting that other companies had potentially better cancer-fighting drugs than Provenge. Instead of acknowledging that other drugs might also work, Dendreon's fan club alleged that short-sellers were attempting to bankrupt Dendreon so as to help other cancer-fighting companies' stocks such as Novacea and Cougar. While Novacea's drug failed to secure FDA approval, Cougar's (now Johnson & Johnson) drug is now FDA approved and ready for patients. But by shutting their ears to the bears, Dendreon's investors missed a lucrative gain in Cougar shares and got left at the bottom part of the Dendreon roller coaster.

At the end of the day, a stock's price is driven by how well the company performs. The alleged victims of massive naked short selling have all been either tiny companies with unproven business models such as Sedona Corp (OTC:SDNA), CMKM Diamonds, and Overstock.com, or large financial firms which failed for obvious reasons (example: Bear Stearns and Lehman). Dendreon was the only example of a supposed victim of naked short selling that overcame the alleged criminal activities.

But it turns out that Dendreon simply rose and fell as the market digested news of FDA announcements and drug sales. As we've seen recently, when the company's outlook fell, no short selling assistance was needed, the stock gapped down 65% on news that the market correctly interpreted as very bad. Dendreon trades as you would expect a company to trade following news. As Gary Weiss wrote back in 2009:
So here we have a man bites dog story: a company that is a poster child of the anti-short-selling conspiracy kooks, and which has just whupped the shorts the only way they can be whupped - by producing a product that works.

That company is called Dendreon Corp. and word emerged this week that its prostate cancer drug had passed clinical trials.
Dendreon's product works sufficiently well to justify its massive price tag, the company's stock will soar again. If Provenge fails to meet expectations, the stock will sink. No conspiracy involved.

Investors in other stocks with massive fan clubs take note. For example, cheerleaders of Sirius XM Radio (SIRI) claim, with no substantial evidence, that naked short selling has kept the stock down. SA Contributor Satwaves wrote last year that:
Sirius XM shareholders are all too familiar with naked short selling, which was the topic for the documentary "Stock Shock," which I took part in. It is the primary reason that Sirius XM's share price sits where it does today. The stock continues to be cellar boxed and the SEC continues to allow such illegal activities to persist.

No, Satwaves, that's not right. It fact, it is completely bogus. Sirius was "cellar boxed" because it was a debt-ridden company with no track record of profitability. The economy improved in the later-half of 2010, the company stepped up its operating performance and began generating profits and the stock more than doubled. Now the economy has entered a tailspin and Sirius has dropped sharply, just as forecasters such as myself predicted. Blaming "naked short sellers" is like looking up at the sky and muttering whenever it starts raining, rather than looking at a weather forecast and packing an umbrella if necessary.

Investors, particularly when group psychology comes into play in widely-held stocks such as Sirius, like to make their stock into a loyalty test. If you buy the stock or write positive things about it, you get to be part of the club. If you sell your shares or predict negative things for the company, you are lumped in with the bad guys. All rationally is eliminated as speculators trade their stock on pure emotion. Just as Dendreon bulls did before, Sirius shareholders are blinding themselves to the fundamental economic headwinds that are sending their stock lower.

By claiming their losses are due to a phantom conspiracy rather than hard economic facts, a shareholder can shift the blame from their own bad judgment to mysterious outside forces. Don't fall for the trick. Whenever you hear claims that a company is being sunk by naked short selling, the truth is that poor management performance is the probable culprit.

It's laughable that Bear Stearns and Lehman were destroyed, as naked short selling conspiracy theorists claim, by short selling. Their own pathetic management teams did a fine job of sinking those firms without any outside assistance. And let's remember that Overstock.com has perpetually been a loss-making has-been online retailer that has never successfully competed with Amazon.com (AMZN). Its CEO, Patrick Byrne, is the leader of the naked short selling conspiracy camp. Perhaps he spends too much of his time trying to make his company, and others such as Dendreon and Sirius, victims of a massive conspiracy rather than managing his company's affairs? I suggest he get back to work fixing his own company's problems, as Gary Weiss said, and make a product that works. That would take care of the short sellers.

Disclosure: I have no positions in any stocks mentioned, and no plans to initiate any positions within the next 72 hours.