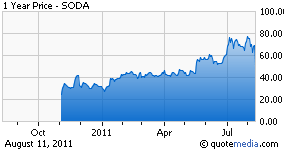 After reporting a quarter that would make most company executives proud, SodaStream International (NASDAQ:SODA) sold off in a wild and choppy market for the first half of the day. At one point, the stock was trading lower 40% from yesterday's trading. Volume was especially heavy, with almost 10 times the average number of shares trading hands. Panic was easy to sense from the unusual price movements in the price free fall.
While waiting for a technical buy signal, I reviewed the earnings report to compare the results with my own notes about what to expect. As I read the release a few things became clear to me. First and most important, I did not believe the business model had deteriorated and value was lost. Secondly, the earnings report was bullish. Perhaps not as bullish in guidance as expected, but bullish notwithstanding. Third, there is a reported large short interest. Finally, with the panic in the air from last week, it would not take much more than someone whispering "boo" to get a stock to fall. By the time I finished going over the report, I received a technical buy signal.
What a perfect set-up to buy a stock with. The technicals, fundamentals, emotional landscape and future uncertainties all on the side of the buyer. By the time I had gone over the numbers, I was comfortable trading long, or buying and holding. I believe there was little risk the company would be reporting growing revenue over 35%, EPS numbers by almost double estimates, and miss on guidance within the margin of error, and not be oversold with the current PE ratio.
SodaStream was so heavily discounted due to the panic over the price falling further, that instead of using my typical profit target, I increased it substantially further than usual. What allowed me to hold on during the ups and downs of the price as my expectation SodaStream would increase above $50 soon.
Normally, when a stock exhibits the type of price action SodaStream did today, it takes a day or two to rebuild confidence in buyers to step up and accumulate shares. Very few are willing to do so ahead of time as it can be tricky stepping in front of a moving freight train.
Here are some of the numbers from the earnings release. Take a look at see if buying SodaStream makes sense for you.
Total revenues for the second quarter of 2011 were euro 53.3 million, $77.4 million
During the second quarter of 2011, revenues of soda makers increased 36%
Gross margin for the second quarter of 2011 was 53.0%, compared to 50.7% for the same period in 2010
Adjusted EBITDA (as defined below) for the second quarter of 2011 totaled euro 7.7 million, compared to euro 3.7 million for the comparable period in 2010
Cash flow from operating activities during the second quarter of 2011 was euro 1.6 million, compared to Euro 1.3 million during the comparable quarter of 2010
Net income for the three months ended June 30, 2011, was euro 5.1 million, or 24 euro cents, $0.35 per the convenience translation
I like the earnings report, and believe that a potential slowing of growth has more than been priced in. I will be watching the next few days for price retracements to acquire shares for a longer term hold (as opposed to a day trade), and expect a significant price improvement in the near future. I will also be watching the options pricing and if the premium is as rich as it was today, I will likely be writing some put options instead of an outright buy (I wrote about doing the same with MetroPCS (PCS) and you may read about it here).
Disclosure: I am long PCS.
Additional disclosure: I may become long in SODA again within the next 72 hours