Biotechnology stocks have been on a tear in the past year. The SPDR S&P Biotech ETF (NYSEARCA:XBI) saw gains of over 50% as it rose from approximately $130 at the start of 2014 to its current position of over $200 this week. Established players have delivered strong earnings, many developing companies have announced promising clinical results, and a huge amount of cash has been flying around the sector through IPOs, M&A, collaboration deals and secondary offerings. There has been one group of biotech stocks, however, that appears to have missed out. As you will read below, I think that will change in 2015.
This group consists of three clinical-stage companies with pipelines focused on developing cancer therapies that target cancer stem cells ("CSCs"): OncoMed Pharmaceuticals, Inc. (NASDAQ:OMED), Verastem Inc. (NASDAQ:VSTM), and Stemline Therapeutics, Inc. (NASDAQ:STML).
I view this "CSC Group" as the only pure-play CSC stocks in the market. There are a few large biotech/pharma companies developing cancer treatments that target CSCs, but they obviously have much larger, diversified pipelines that will dilute any impact of success in their CSC programs.
The CSC Group, however, has a combined 11 drugs being evaluated in nearly 30 clinical trials targeting a wide range of cancers, including 4 pivotal trials that could provide the basis for accelerated approval. An additional 2 INDs are also expected to be filed this year.
Risks
While there is a potential for great reward, please be aware of the high risk involved with investing in clinical-stage biotechs. These companies do not currently have a revenue-generating product, and burn a lot of cash as they conduct clinical studies, often having to dilute investors to raise more money.
The cost and amount of time it takes to get a drug approved by the FDA is enormous, not to mention the resources it then takes to commercialize the drug and make money off of it. Sometimes, even if the science behind the drug appears promising, the drug will not succeed in actual clinical trials.
For more information on the risks of investing in biotech companies, and the specific companies mentioned in this article, please refer to the "Risk Factors" section of their 10-Ks.
Cancer Stem Cells
Cancer stem cells are a small subset of cells (less than 5%) in tumors that have the ability to self-renew and differentiate, similar to normal stem cells. These characteristics give CSCs the ability to regenerate primary tumor cells and drive tumor growth, recurrence, and metastasis. Unfortunately, CSCs are also resistant to many standard cancer treatments like chemotherapy and radiation.
While these treatments are effective at reducing "bulk" tumor cells, failing to kill the CSCs left behind may be one of the main reasons a tumor grows back. The CSC Group believes that targeting CSCs in addition to the bulk tumor cells can lower the potential for cancer recurrence and increase the chances of a durable clinical response.
What Happened?
You can see that at the beginning of 2014, these three stocks followed XBI's uptrend and even had a few instances of significant outperformance. I suspect this was largely a continuance of the excitement caused by the announcement of a huge collaboration deal between OncoMed and Celgene (NASDAQ:CELG) in December 2013.
In exchange for certain rights related to one Phase I/Ib drug and five preclinical programs, Celgene gave OncoMed an upfront cash payment of $155 million, an equity investment of $22.25 million and the potential to earn milestone and option payments of over $3 billion.
Chart of XBI, OMED, STML and VSTM from 12/31/13 to 1/28/15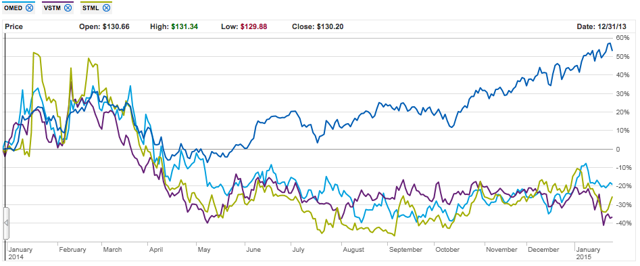 Source: Charles Schwab & Co., Inc.
After gaining almost 30% by the end of February, XBI dropped over the next 2-3 months, giving up those gains and then some. This is where the divergence of CSC stocks and XBI began.
The CSC Group not only followed suit in giving up their early 2014 gains, but ended up falling substantially lower than XBI on a percentage basis. By May 2014, the CSC Group was down 20-40% from where they started the year.
Since then, XBI has steadily risen, and is now up over 50% since May 2014. The CSC Group, however, did not enjoy the same rebound, remaining around the same depressed levels. It's hard to point to a single reason for why the CSC group was left behind, and I think there are a few nuanced reasons specific to each company.
None of the companies released data in 2014 regarding a failure of a clinical trial (something that can be catastrophic for early-stage companies), and in fact, all of them released either positive preclinical and/or clinical data, as well as initiated new trials.
The only potentially concerning news regarding ongoing trials was in June 2014 when OncoMed announced that the FDA had placed a partial clinical hold on two of its drugs (vantictumab and ipafricept). This occurred after the company voluntarily halted enrollment of trials for the two drugs following observations of mild-to-moderate bone-related adverse events.
Investors digested this news very quickly. The stock price dropped from a close of $24.90 on June 12 to a low of $18.75 on the 13th, before popping back up the following Monday (June 16) to close at $25.01, implying an expectation for the company to successfully work through the partial hold. And they did. On June 18th, OncoMed announced plans to submit amended protocols to the FDA for both programs, which would incorporate modified dosing requirements, updated risk mitigation measures, and revised enrollment criteria. Following these changes, the FDA released the partial hold on vantictumab on August 28th, and then ipafricept on September 7th, and the trials remain ongoing.
For Verastem and Stemline, I think the lull in their stock prices had to do with a lack of significant positive news, as well as the potential need to raise capital, creating an overhang on the companies as investors were wary of potential dilution.
What Now?
Going into 2015, all three companies now have strong cash balances and will report on significant clinical catalysts. As a result, I think the CSC Group will perform strongly in 2015, and even outperform XBI.
Financial Overview
Each of the CSC Group members are on solid financial footing. Verastem and Stemline raised money earlier this month, and OncoMed is still living off large partnership payouts.

Source: Current Price and Market Cap. as of January 29, 2015 as found on Yahoo! Finance.
OncoMed pre-announced a cash balance of $232 million at the end of 2014 and estimated cash expenses for $100-$110 million for 2015.
Following their share offering, Stemline projected a pro-forma cash balance of $114.5 million. In their Q3 2014 10-Q, they reported a use of $19.4 million for operating activities for the first nine months of 2014 ($25.9 million on an annualized basis).
Verastem pulled in $50.9 million in net proceeds from their offering. At the end of Q3 2014, they had a cash balance of $93.4 million. From their Q3 2014 10-Q, they reported a use of $27.2 million for the first nine months of 2014 ($36.3 million annualized). Assuming the cash burn in Q4 2014 was at the same rate, Verastem would have an end of year pro-forma cash balance of approximately $135.2 million.
Note that the cash burn rates for Verastem and Stemline are based on historical activities and will most likely be higher in 2015 as additional trials begin.
Pipeline Overview
OncoMed
OncoMed is developing drugs that target two signaling pathways important to the function of CSCs: the Notch and Wnt pathways. They have the broadest portfolio of the CSC Group with six candidates in seventeen ongoing Phase I and II trials (and plans to file an additional IND in early 2015). All six drugs are partnered with big biotech/pharma companies (Celgene, GlaxoSmithKline (NYSE:GSK) and Bayer (OTCPK:BAYRY)) with multiple option-exercise decisions (and related milestone payments) expected in 2015. OMED's drugs are mainly being evaluated as first-line therapies in major cancer markets, including pancreatic, ovarian, breast, and NSCLC.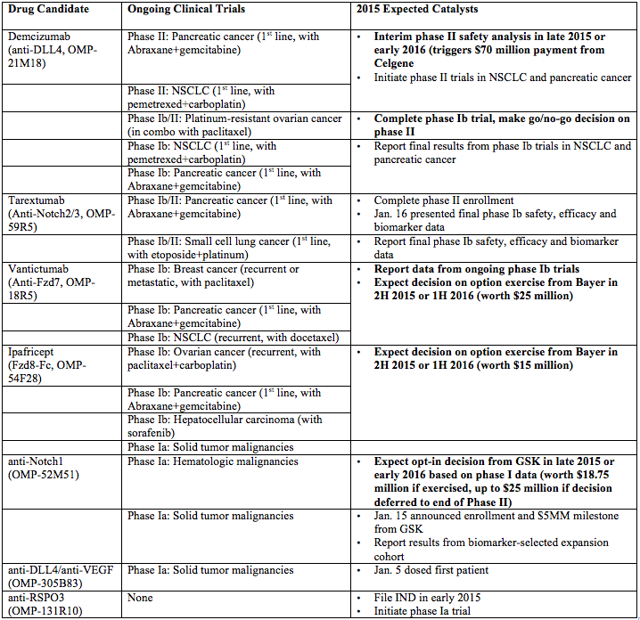 Source: Compiled from information on OMED website (including press releases, SEC filings, and investor presentations) and ClinicalTrials.gov.
Verastem
Verastem's pipeline consists of candidates targeting two other signaling pathways important to CSC function: the FAK and mTOR/PI3K pathways. The company has three drugs in eight ongoing Phase I and II trials, with an additional trial expected to start in 2015. Verastem is going after a mix of orphan indications (mesothelioma) as well as larger markets (ovarian cancer and NSCLC). While Verastem expects data from multiple trials in 2015, the main event will be a pre-specified interim analysis in Q2 2015 for a registration-directed Phase II trial evaluating VS-6063 in patients with previously treated mesothelioma.

Source: Compiled from information on VSTM website (including press releases, SEC filings, and investor presentations) and ClinicalTrials.gov.
If you're interested in more information on Verastem's pipeline, valuation and future outlook, I wrote an in-depth article on them earlier this week. My research for that article led me to the performance gap between the CSC Group and the rest of the biotech sector.
Stemline
Stemline is building a pipeline to combat orphan and ultra-orphan cancer indications. It currently has two drugs in four Phase I and II clinical trials with at least two additional trials expected to start in 2015, as well as an IND expected to be filed for a third drug. STML's two existing clinical drugs work by targeting receptors commonly found on both bulk cancer cells and CSCs and then either delivering a toxic payload or activating an immune response. While they have the least number of ongoing trials, three of them have the potential to support accelerated approval in up to six indications.

Source: Compiled from information on STML website (including press releases, SEC filings, and investor presentations) and ClinicalTrials.gov.
Please note that for Stemline's expected catalysts, the available information is not nearly as clear cut as for OncoMed and Verastem. For the three trials that have the potential for accelerated approval, I am estimating that data could be available from one or more of those trials towards the end of 2015. For the two "anticipated" trials, this is how they are labeled in investor presentations. No timeline was provided, but again, I am estimating that they are initiated this year. I have reached out to Stemline for clarification and will provide additional information in the comments section if I receive a response.
Conclusion
As you can see, there are some exciting events coming up over the next year for all three companies. While OncoMed is perhaps the furthest away from receiving its first potential drug approval, it also has the widest portfolio of candidates, the largest cash balance, and the potential for significant additional payments from its well-established partners.
Verastem and Stemline on the other hand are smaller, but have each recently reloaded their bank accounts. I think most investors are unaware of just how close these two are to having a product on the market. Each company has ongoing trials with the possibility of releasing data in 2015 that could support one or more potential accelerated approvals as early as 2016.
Rather than try to choose the best stock out of the group, I have chosen to own all three. I think this provides limited downside (if one company experiences a negative clinical event), and substantial upside. If the CSC theory continues to play out positively and the targeting of CSCs becomes an important addition to standard cancer therapies, all three companies will significantly benefit.
Based on their past clinical data, currently strong financial positions, and significant upcoming catalysts, I expect the CSC Group to reignite investor interest and enjoy big gains in 2015.
Disclosure: The author is long OMED, VSTM, STML, CELG.
The author wrote this article themselves, and it expresses their own opinions. The author is not receiving compensation for it (other than from Seeking Alpha). The author has no business relationship with any company whose stock is mentioned in this article.
Additional disclosure: Please conduct your own due diligence. Investing in biotechnology companies, especially clinical-stage ones, is especially risky. The author initiated a position in VSTM last week following the share offering, maintains holdings in OMED, STML and CELG, and may add to positions in the future.