Today's Gross Domestic Product results gave me pause for concern, as it seems much of our consumption and recent GDP gains have come from a sector that bears little fruits for the economy as a whole. Friday morning investors received their first estimate for Q4 GDP and it was disappointing at just 2.6%, and nearly 50% below the Q3 annualized number. Extrapolating the latest read on the strength of the economy, with a Q4 2014 GDP print of just 2.6%, this means that the final 2014 GDP is 2.4%. On the surface that number is better than the reading for the previous two years, but improving at a snail's pace and nowhere near breakaway speed.
It's of no mystery as to what created the drag on GDP during Q4 2014, but I wish I had valued the variable more prominently in my personal GDP forecast. GDP was dragged down mostly by imports which contributed to -1.39% of GDP, which in turn is driven by lower crude prices. It is also apparent that crude negatively manifested itself in the growth of fixed investments during the 4th quarter. Fixed Investment contributed only 0.37% to GDP in Q4, down from 1.18% in Q2. It's very clear from this component of GDP that energy companies and their reduction in Capex spending will continue to be felt in our economy. Overall, growth was pulled down by weaker business spending, a drop in federal government spending and net exports. Economists say the pattern of strong consumer spending and weak business spending should persist in the first quarter as a result of the sharp drop in oil prices.
The GDP report was not all bad, depending on how your viewpoint. Personal Consumption spending contributed 2.87% of the GDP number or more than the total print. Consumption showed growth of 4.3% Q/Q and above the 4.0% expected. This was the highest annualized quarterly consumption since Q1 2006.
The bad news: much of the consumption that economists had expected would take place in Q1 was pulled forward, and a result Q1 2014 GDP may now be revised lower.
Inflation, as measured by the Federal Reserve's preferred price index, weakened in the fourth quarter to the lowest rate in almost six years. If you are a hawkish Federal Reserve, your job just got a litter harder. The PCE index fell at a 0.5% annual rate in the October-to-December period, compared to a 1.2% gain in the third quarter. That's the biggest drop since the first quarter of 2009. The core PCE that excludes food and energy rose at a 1.1% clip, down from 1.4%.
Just to "piggy back" on the factors affecting inflation was the employment-cost index released Friday. The employment-cost index rose a seasonally adjusted 0.6% in the period from October to December, the Labor Department said Friday. Over the past 12 months, employment costs have risen 2.2%, the same rate as the third quarter. The employment-cost index typically rose 3% to 4% annually in the years before the recession. I believe many investors were watching the employment cost index report closely as a signal for Fed policy going forward. Wages are key to determining when or if the Fed will raise rates in 2015.
What concerns me most about Friday's GDP results are precisely the seemingly positive personal consumption results. Below is a graph, which highlights my concerns: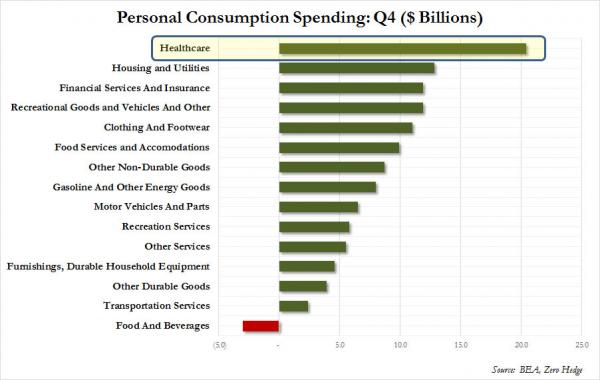 The bottom line is that in order for our economy to reach breakaway speeds of growth, consumption should be more heavily levered toward housing and discretionary goods. I'm not saying, as Americans, we aren't spending wisely but rather that what we are spending on doesn't produce "break neck" economic growth. Slow and steady growth is all we are getting and that might not be enough in the off chance our economy is faced with unforeseen stresses.
In closing and most simply put, 2.6% GDP growth in Q4 2014 is not enough. When I couple this result with exactly where consumption is more broadly taking place in the economy, I'm forced to recognize the valuation and multiple assigned to the S&P as being over extended, especially if Q1 2015 GDP is estimates are revised lower by economists. For this reason I thought it may be time to look at rebalancing my portfolio, possibly taking profits in some areas and raising cash for future capital deployment. With a positive read on shares of Facebook (NASDAQ:FB) yesterday, I did just that very thing and took profits in this name.
Disclosure: The author has no positions in any stocks mentioned, and no plans to initiate any positions within the next 72 hours.
The author wrote this article themselves, and it expresses their own opinions. The author is not receiving compensation for it (other than from Seeking Alpha). The author has no business relationship with any company whose stock is mentioned in this article.