It's a move that reeks of desperation. On Thursday evening, officials in France, Italy, Belgium, and Spain, all announced short selling in specific financial stocks would be banned starting today (August 12). Not only does the move have negative historical precedence, but it also is a signal to the markets that worse is likely yet to come.
The short-sale ban appears rushed and poorly organized. After efforts by the European Securities and Market Authority (ESMA) to put together a coordinated short-sale ban across the European Union fell through, the four countries each rolled out their own individual restrictions on the short selling of most major financial institutions. Effectively, these countries appear compelled to just get anything out there as quickly as possible to try and stem the decline in their financial shares. The resulting uncertainty and confusion alone is enough to shake investor confidence.
The bigger problem with a short-selling ban is that it simply doesn't work. The rationale for the ban is the following: if you prevent speculators from selling a stock short on the bet that a financial stock is going to go down, you eliminate a major pressure dragging down the stock price and undermining the capital position of the institution. The only problem is that it's just not this simple.
Instead, a short-sale ban ends up making the situation worse. This is due to the fact that many investors who engage in short selling are doing so not to bet that a stock price is going to go down, but instead to hedge risk in a variety of ways. And if you take away an investor's ability to hedge risk, investors will simply abandon a position altogether and allocate their investment capital elsewhere. This results in lower trading volumes and reduced liquidity, which in turn leads to increased price volatility and widening bid-ask spreads. And all of these factors ultimately lead to a stock price going down.
Let's take a look at the most recent attempt to ban short selling to see how it worked out. On September 19, 2008, a short selling ban was instituted on financial stocks in the United States. This ban remained in place until October 8, 2008. The chart below shows the price performance on the S&P 500 (NYSEARCA:SPY) Index.
(Click charts to enlarge)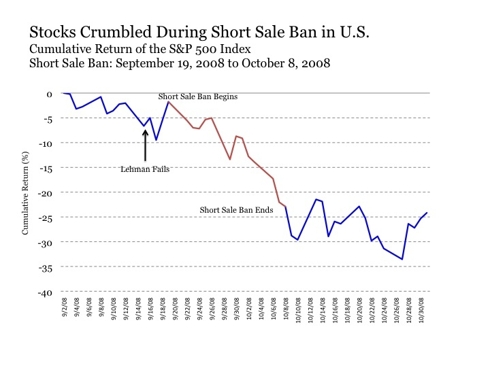 France, Italy, Belgium, and Spain, also instituted short-sale bans in 2008, roughly around the same time as the U.S. However, these countries kept their bans in place far longer than the U.S. The fact that the results were equally dismal raises the question as to why these countries are inclined to return to this option as a potential solution.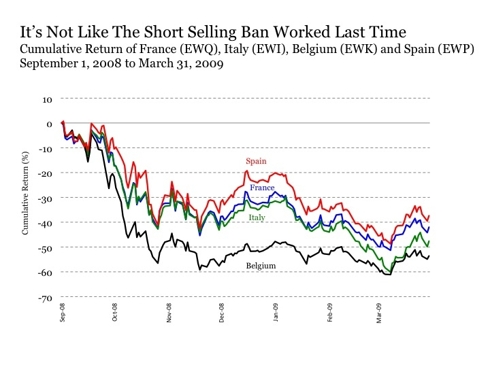 So what can we conclude from this latest short sale ban announcement? That four countries in France, Italy, Belgium, and Spain, have each decided to go ahead with a plan in banning short selling that didn't work last time and has historical evidence of causing more market harm than good in an effort to try to save their banks. Perhaps it will work this time around, but I'm skeptical. Instead, it's likely to provide another hit to already fragile confidence and may be the catalyst that ignites the next leg lower in global stocks.
Disclosure: I have no positions in any stocks mentioned, and no plans to initiate any positions within the next 72 hours.
Disclaimer: This post is for information purposes only. There are risks involved with investing including loss of principal. Gerring Wealth Management (GWM) makes no explicit or implicit guarantee with respect to performance or the outcome of any investment or projections made by GWM. There is no guarantee that the goals of the strategies discussed by GWM will be met.