Latin America has one of the most solar-friendly climates in the world, with the region placed almost squarely on the equatorial line. Despite the fact that Latin America getting more sunlight than almost any other region in the world, save for the Middle East and parts of Africa, its solar market is still severely under-penetrated. Ironically, the sunniest regions in the world also suffer from the highest levels of energy poverty. With the ever-advancing solar technologies though, Latin America is quickly reversing this trend.
Recent data shows that the solar market in Latin America grew an astonishing 370% in 2014, increasing from 133 MW installed in 2013 to 625 MW installed in 2014. In other words, Latin America almost quadrupled its entire solar market in the span of a year. Not only is this growth unprecedented for the Latin American solar market, but also in the history of solar PV. In fact, even the breakneck growth of Europe's solar market during the solar industry's infamous supply glut pales in comparison to Latin America's growth in recent years.
The Latin American markets are growing more than twice as fast as the European markets did during the solar supply glut.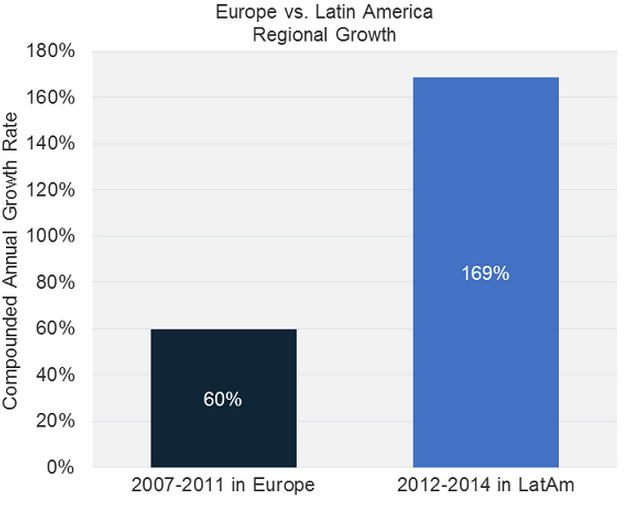 Source: GTM Research
While the relatively poor countries of Latin America had difficulty subsidizing solar in the past, the rapidly advancing solar technologies have started making subsidies irrelevant in many areas. Solar's ever-decreasing costs, in combination with Latin America's naturally solar-friendly climate, have supercharged the region's solar PV growth. Because of Latin America's historical growth potential, the solar industry is increasingly looking towards this region for future business, and is poised to gain enormously if such growth continues.
Industry Opportunities
Latin America's burgeoning solar market offers some great opportunities for global solar companies. North American solar companies, in particular, should benefit greatly due to lower shipping/travel logistics costs. In fact, U.S. solar manufacturers such as First Solar (NASDAQ:FSLR) and SunPower (NASDAQ:SPWR) are starting to ramp up investments in the budding Latin American solar market.
While the nascent Latin American solar market only accounts for a tiny 5% of global solar generation, many of the largest solar manufacturers are setting up shop in this region due to its immense potential. In 2014, for instance, SunEdison (SUNE) developed Chile's 50.7 MW San Andres solar plant, which is one of the largest solar plants in Latin America, and certainly one of the largest unsubsidized plants in the world. Just some months later, First Solar announced that it had installed panels at the 141 MW Luz Del Norte plant, which is South America's largest PV plant (also located in Chile). These types of record-breaking solar projects in Latin America are only increasing in scale, often with North American solar firms at the helm.
The Latin American market is also the rare region where even U.S.-based downstream residential solar companies could potentially profit from. Whereas the Chinese or Indian markets would be too far away for U.S. residential solar companies such as SolarCity (SCTY), or Vivint Solar (NYSE:VSLR), the Latin American markets offer a perfect expansion opportunity for these companies.
While the U.S. residential solar companies have not yet shown any international ambitions, save for SolarCity, the Latin American markets offer a great starting point for these companies regardless. Mexico, in particular, is the excellent expansion candidate for residential companies such as SolarCity. Not only is Mexico the leading solar market in Latin America, but its population and proximity make for an ideal market for U.S.-based residential companies. In fact, some have already started hypothesizing on how such an expansion could take place. SolarCity, for instance, would be extremely complementary to the Mexican solar market due to its highly capable financial capabilities, which is sorely lacking in Mexico. It is only a matter of time before leading residential solar companies start to take their ambitions abroad, and the Latin American market is the perfect fit for these companies.
Latin America's naturally solar-friendly climate represents a huge potential boon for the solar industry as a whole. The almost unbelievable solar growth rate in this region is great news for both downstream and upstream solar companies looking to expand into new markets. Although most developed solar markets are increasing at an already impressive 40-50% CAGR, Latin America's solar markets are experiencing growth on a whole other magnitude.
Potential Challenges
While Latin American is definitely one of the most promising solar markets, continued growth could be hampered for a number of reasons. The major obstacle is the region's underdeveloped and under-connected grids. While grid infrastructure varies from country to country, problems with electric grid infrastructure is a common theme throughout Latin American countries. The majority of these countries still have developing economies, with electricity consumption per capita at only a fraction compared to that of the US. Latin American countries, such as Mexico, Brazil, or Chile, will need to continuously build-out and upgrade grid infrastructure in order to accommodate additional solar capacity.
Financing represents another challenge for the Latin American markets. While all developing solar markets have had problems with financing in their early stages of development, this may be a more pronounced problem in Latin American countries. Due to the infant nature of the solar industry in Latin America, lenders in this region may have a very limited understanding of the risk and reward dynamic with solar. The problem of financing is further compounded by the higher levels of corruption plaguing Latin American governments.
Among many other things, corruption will make it easier for entrenched fossil fuel interests to negatively influence solar-friendly policies. Corruption could even impede basic processes such as solar permitting, which is an essential element of solar installations. High levels of corruption could help explain why the Latin American solar markets have lagged behind those of developed economies such as Europe and the United States, where levels of solar irradiance are clearly inferior to that of Latin America.
Conclusion
While solar adoption is growing rapidly around the world, the pace of Latin America's growth is truly staggering. With a population of around 500 million and massively growing energy demands, the Latin American solar markets will only continue to expand. Solar companies around the world, especially those in North America, are poised to gain immensely from this emergent solar market.
Companies such as First Solar, SunPower, Canadian Solar (NASDAQ:CSIQ), and even downstream player SolarCity, are ideal candidates to help drive Latin America's booming solar economy. Such companies will undoubtedly experience additional upside from Latin American's solar growth. Even companies on the other side of the globe are looking to increase participation in the Latin American market. China-based Trina Solar (NYSE:TSL) has stated that, "Latin America has long been an emerging market for solar, and we think there are countries in the region that are now primed to rapidly grow the solar market." Aside from India, there are perhaps no other regions in the world with the growth potential of the Latin American solar markets.
Disclosure: The author is long SCTY.
The author wrote this article themselves, and it expresses their own opinions. The author is not receiving compensation for it (other than from Seeking Alpha). The author has no business relationship with any company whose stock is mentioned in this article.