The Commerce Department reported(.pdf) that, after the slowest three months of spending in almost a year, Americans pulled out their wallets again in July and pushed retail sales up by 0.5 percent in broad-based gains. Paced by gasoline station sales that rose 24 percent, overall sales were up 8.5 percent in a data series adjusted for seasonal variations, but not inflation.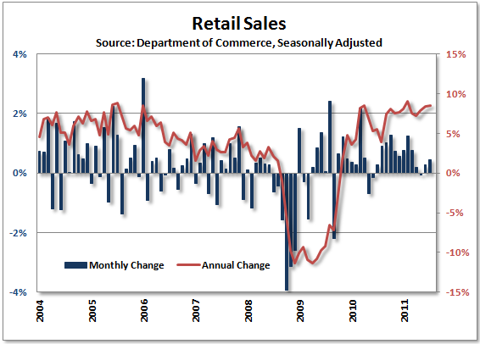 Auto sales rose 0.4 percent in July after a gain of 0.7 percent in June, continuing to rebound after supply disruptions in Japan during the spring. Excluding autos, sales were 0.5 percent higher last month after an upwardly revised gain of 0.2 percent the month before.
Despite moderating prices, gasoline sales rose 1.6 percent in July after dropping 1.7 percent in June and sales excluding both autos and gasoline rose 0.3 percent last month after a gain of 0.5 percent.