Ceragon Networks (NASDAQ:
CRNT
) announced its quarterly results, and the top line revenue is moving forward very nicely. The company has proven for several years that it knows how to grow the top line. Although it still has something to prove about generating profit, with the recent pull back in price, we view Ceragon as an undervalued speculative buy.
Ceragon Networks is an Israel-based manufacturer of infrastructure wireless products. Its typical customer is the cellular phone company that needs a way to connect towers to the outside world. Ceragon is a specialist in these devices, known as microwave backhaul equipment. When you see one of those dish-shaped antennas on a cellphone tower, that dish is probably attached to a piece of equipment like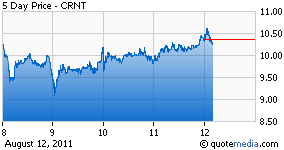 Ceragon's.
The majority of Ceragon's products sell to about 230 cellular companies such as AT&T (NYSE:
T
), Hutchinson 3 and Reliance.
Ceragon was a newcomer to this business in 1996, competing and growing successfully against large and established competitors like Aviat (NASDAQ:
AVNW
), Alcatel Lucent (ALU), Fujitsu, Ericsson (NASDAQ:
ERIC
), NEC and Nokia (NYSE:
NOK
). It acquired competitor Nera from Eltek S.A. in late 2010, for $48.5 M. In 2010, the Nera business generated approximately US $280 million in revenue, but revenue had been decreasing annually.
Market
The wireless backhaul business, although decades old, has found some new life in the past few years as cellular carrier companies are ramping up their data capacity rapidly to accommodate smartphones and iPads. At the same time, most carriers are planning to convert to HSPA+ and LTE, and while carriers are upgrading their cell towers, they tend to upgrade their backhaul at the same time.
Maravedis, a market research company that has long focused on the backhaul market reported in May 2011, that the microwave backhaul equipment market is expected to surpass US$ 12 billion by 2016. During 2010, it said, the PtP microwave backhaul market reached US$ 4.74 billion.
It also estimated that "During the next 5 years the microwave market will continuously grow, mainly driven by the need for operators to deploy new base stations to provide good quality of experience over LTE networks."
Significantly, it said "pure packet will account for 90% of annual microwave radio shipments by 2016." This is significant, because pure packet is a competitive strength for Ceragon.
Growth
In the five years ending 2010, Ceragon grew 23 percent CAGR to $249.8 M. June revenue at $110 million was up 81% from $60.9 million in the second quarter of 2010 (including acquisition effects), and up 10% from $100.3 million in the first quarter of 2011. We are interested in how Ceragon's revenue is growing organically, however the company said (in the conference call) it cannot break out revenue from the acquisition. We have assumed that the 10% growth from the March to June quarters was organic.
In the conference call the company mentioned that the book:bill ration exceeded 1 for the second quarter in a row, and that it typically takes six to nine months for bookings to translate to revenue.
Geographic Segments
Ceragon's business is becoming fairly diversified geographically. Latin America is proportionately a strong point (or weak point depending on how you look at it) for the company with 32% of the revenue. One big client in Latin America is installing links across multiple countries. That client represents a large portion of CRNT revenue, and could be a diversification risk. Revenue has shifted away from India, a shift the company blames on a restriction on imports by the Indian government.
Europe is a strong point, generating 28% of revenue. Europe is a good market because there are many carriers who can be customers.
By contrast, only 9% Ceragon's revenue comes from North America. In the US only a handful of carriers can generate significant revenue for Ceragon, and those carriers can demand high discounts.
Company Position
Ceragon has a moderately small share of the wireless backhaul business. No one manufacturer dominates the segment. CRNT has been competitive in an industry that is several decades old, and has prospered through an ability to have leading edge products, competitively priced, and through being innovative in building channel partnerships. However, the older line companies are gradually getting caught up as they produce more competitive products.
Ceragon market share is still only a small fraction of the total market. If it continues to execute well, there is much more market to be exploited. Ceragon's focused effort on this market contrasts well with the larger multi-product competitors who have relied to an extent on old relationships within the carrier industry.
Ceragon growth rates
As we mentioned in an earlier report, the one year growth rate of Ceragon will be difficult to predict until the acquisition of Nera is somewhat digested, the health of the former Nera business is assessed, and the ability of Ceragon to maintain former Nera business is established. Profitability in the next year will be particularly hard to establish as the needs of the consolidated business are sorted out, and any first year consolidation and write-offs are flushed out.
There will be a large jump in 2011 revenue due to the Nera acquisition, and we've assumed long-term revenue growth at the 12 percent rate over the next several years. Ceragon has maintained higher rates than this in the past, (23% in the last five years) but as a larger company, high growth rates may become more difficult to maintain.
We've assumed that long term after tax profit margins will be impacted for the next year, as Ceregon "digests" Nera, but grow to 7% for the long term. Perhaps Ceragon could do better than this, but management has not demonstrated that ability consistently in the past five years. In this industry a seven percent net income could be a challenge, as there is significant price pressure due to a large portion of its business coming from large (price aggressive) transactions and OEM sales.
Cost Control and Profitability
Opex costs jumped in the June 2011 quarter to 36% compared with 30% in the June 2011 quarter as the company adjusts to the Nera acquisition. Gross margins dropped from 35% in June 2010 to 21% in the June 2011, however the company is projecting that margins will reach the mid 30% level by the end of 2012.
Inventory and Receivables Control
Inventory levels seem under control, with fairly flat growth relative to revenue growth, however we would like to see a breakdown of inventory types.
Transparency
The company does not produce detailed SEC quarterly filings. The company is unable or unwilling to provide financial information about the breakdown between old Ceragon revenue and revenue coming from Nera.
Risk Assessment: Speculative
We assess Ceragon's risk level as speculative
On the positive side, the company has a history of rapid top line growth in a competitive market, in spite of competitors with entrenched relationships. It has been a positive cash flow generator.
On the negative side, the company is growing through acquisitions, with limited transparency as to how well profitability can be managed. It needs to get control of gross margins and Opex. The company is not publishing regular and timely SEC quarterly reports. A large portion of the revenue is centered in Latin American and in particular with one multi country carrier. It is surrounded by larger and hungry competitors. Lastly, although the management team has established its ability to grow revenue, management has been less successful at demonstrating consistent cost control and profit growth.
Our Proprietary Pricing Model
We assess stocks primarily based on their fundamental value. We estimate the revenue and earnings to be generated by a company over the next ten years. We look at the risk involved in the business, look at the assets and liabilities, and we discount the value of the future earnings according to risk level. For companies with medium to high risk levels, we discount the value of future earnings more aggressively. Finally, we compare the value of those future earnings with the stock price. Are the shares "on-sale" – or are they expensive?
For purposes of our model, our key assumptions are that long-term revenue growth for Ceragon will be 12% CAGR and that net income after tax will grow to 7% after tax.
Other Considerations
As Ceragon swallowed the Nera fish, Ceragon itself could be an acquisition target if one of the large competitors decides to expand its product line. With a market cap of about $350 million, it isn't too large to be acquired.
Conclusion – Speculative Buy
Ceragon is a strong competitor with solid products. The telecom market has legs for many years to come. However the company needs to show some ability to manage the bottom line as well as it has delivered the top line. Although the buy would be speculative, we believe the stock is priced to move, and would recommend a buy at any price under $14.
Disclosure:
I am long
CRNT
.