I hate to admit it, but every year that goes by I lose a little more respect for my friend Mr. Market. He looks pretty irrational with the entire stock market heaving up and down by 5% every second day. And why again is Mr. Market so volatile? Because of the European mess and the US debt downgrade? Are these things new issues? Did Mr. Market just figure out that there are debt problems around the globe? I appreciate the concern, but why the panic now?
If you think Mr. Market is acting a little silly with respect to the valuation of the entire stock market, you should be watching what he is doing to individual small cap stocks. In some instances Mr. Market has gone completely off the deep end. Consider a company that I have followed for a number of years, ATP Oil and Gas (ATPG).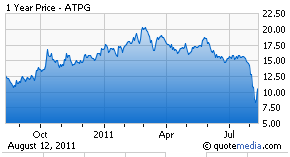 On Tuesday at roughly 3pm eastern time ATP's stock price, which started the day at $9, was in full collapse mode - falling 30% and touching a bottom of $6.28. I had read the company earnings release that day and listened to the conference call and quite honestly didn't hear anything new that would be particular concerning. Although I don't even own the stock, my heart was actually in my throat watching the stock drop that far from the $14 where it started August just a few days earlier and the $9 where it started on Tuesday. A stock price cut in half since the start of August and 30% in just a few hours.
Fast forward just two days to roughly the same time on Thursday and the stock price of ATP, which was $6.28 on Tuesday, had reached $10.58. An increase of 68% in two days with no additional news.
Mr. Market, you need to see a doctor because you have lost control of your emotions.
Watching stock prices on a minute by minute basis is not my idea of a productive use of my time, but as ATP collapsed on Tuesday I couldn't take my eyes off of it. And even though I watched in real time as it dropped 30% in what seemed like seconds, I have no idea what caused it. Was it short sellers? Computers pushing buttons? Margin calls?
Although I don't know what caused that drop I know for certain, it was not caused by rational investors making buy or sell decisions based on ATP's business prospects. And as an investor who is interested in investing based on the value of a business that underlies a stock price, I find that encouraging.
Over time I believe a stock price will match up with the intrinsic value of a business - either through a sale of the company or the market simply figuring things out. When I see the stock market change its valuation of a business by almost 70% in the space of two days on no news I know that hard work and patience will result in success for an equity investor. Yes, I think we can beat Mr. Market.
Now, with respect to ATP's actual Q2 earnings release, I'd say it was a bit of a mixed bag.
Here is the link to the full release (earnings release (.pdf)).
The Concerning
- This quarter included higher than expected operating costs because of a $17.3 million workover expense on the MC 711 #5 well at Gomez. The company explained this as being an one-time item and the normal operating expense run rate would be lower by roughly this amount. I have to be honest, I can't recall an ATP quarter that didn't have some sort of unexpected workover expense. Perhaps such workovers are simply just the nature of the business and should be factored into what is considered a normal run rate for operating expenses?
- The capital raising seemingly never ends and the reliability of capital expenditure estimates is potentially an issue. The ATP folks are very creative when it comes to funding their projects, which is great, but the balance sheet has become so complicated I can't figure out how much of their future production belongs to them and how much belongs to their NPI and ORRI partners. Here are the details from the earnings release (linked above) on capital raises this quarter:
In the second quarter 2011, ATP conveyed dollar-denominated Overrides and NPI's in the Gomez Hub and the Telemark Hub for net proceeds of $70.3 million. These Overrides and NPI's obligate ATP to deliver a percentage of the proceeds from the future sale of hydrocarbons in the specified proved properties until the purchasers achieve a specified return.

In June 2011 ATP closed a perpetual preferred equity offering that provided net proceeds of $123.3 million, net of discount, related option contract costs and issuance costs. Shares of the preferred are convertible into common shares at $22.20 per share.

During July 2011, ATP entered into a crude oil prepaid swap transaction for 274,500 barrels at a net price of $111.84 per barrel. ATP received $30.7 million at closing. A schedule summarizing ATP's outstanding oil and gas derivatives can be found near the end of this press release.
The Encouraging
- In a word…Clipper - an ATP property that I've long been aware of but hadn't paid too much attention to, thinking it was not going to be of a large enough size to make much of a difference. Here was the update on Clipper from the day prior to the earnings release (operations update (.pdf)):
ATP commenced well operations with the Diamond Ocean Victory drilling vessel at the Green Canyon ("GC") Block 300 ("Clipper") #2 ST#1 during the second quarter of 2011. In July 2011, ATP successfully completed and flow tested the well at 45.6 MMcf per day plus condensate of 4,656 Bbls per day. The well is scheduled to be placed on production in the middle of 2012 after completion of the pipeline and tie-back to existing infrastructure.
In the conference call, management spoke further about the successful test well, indicating that they believed this property could produce at 15 to 20 thousand barrels of oil equivalent per day, two thirds being oil. This is a company that produces only around 25,000 barrels of oil equivalent in total right now, so this was a big and welcome positive surprise.
- ATP's Israel venture has to be considered encouraging. Because ATP has more Deepwater drilling experience than virtually any other non-major they were approached about helping drill some wells offshore Israel. For a small up front capital outlay ATP has a significant piece of what could be a massive natural gas field (with potential for oil under the gas play). A successful strike here and ATP becomes an entirely different company over night. Just how big is the potential in Israel? Here are some details from the quarterly release:
ATP notes that Isramco Negev, its partner in Shimshon, on March 6, 2011 reported that it received an independent reservoir engineering evaluation from Lockwood & Associates estimating gross potential natural gas reserves at Shimshon. According to Isramco Negev, "Lockwood & Associates considers the calculated assessment of the total geological and geophysical exploration probability of success of 20 percent to be reasonable. Lockwood said its high estimate was for 3.4 TCF, the low estimate was 1.5 TCF and its best estimate was 2.3 TCF."

Additional information on the Daniel East and Daniel West licenses will be provided as drilling and exploration plans are approved. ATP East Med is also party to two other licenses in offshore Israel which are awaiting approval by the Israeli Ministry of National Infrastructure. ATP continues to evaluate acquiring other licenses in the Mediterranean Sea.
I don't own ATP at this point. I originally invested thinking that the company would quickly deleverage once it started ramping up production. The BP spill complicated their best laid plans and a quick deleveraging is not in the cards for now. I hope ATP gets production ramped up quickly and that the huge discount to the net asset value of its assets is reduced. For now, I need to sleep better at night and I have trouble doing that holding ATP. So I will stay on the sidelines and wish the company and its shareholders luck and high oil prices.
Disclosure: I have no positions in any stocks mentioned, and no plans to initiate any positions within the next 72 hours.