With the recent earnings beats and strong forecasts from Cisco (NASDAQ:CSCO) and Nvidia (NASDAQ:NVDA), it can be argued the technology sector is close to a breakthrough. However both companies are down 22% and 5%, respectively, year to date. Nvidia is down 43% since the stock's 2011 high. Also, it is important to note due to a lack in confidence, Cisco and Nvidia's expectations have dropped considerably. Therefore an earnings beat should have been expected. Also, with other competitors in the sector giving down forecasts, it should not be a complete surprise to see both companies present a strong forecast.
Cisco presented an earnings beat Wednesday evening as the company reported an EPS of 22 cents and net income of $1.23 billion. Also, revenue was $11.2 billion which beat expectations by $200 million. Cisco also announced revenue guidance for the current quarter that beat expectations by $300 million. In terms of EPS excluding some costs, the median value is expected to be 39.5 cents which beats the expected 39 cent value. An important part of Cisco's plan to streamline the company is to release 11,500 employees and putting an end to the Flip video camera.
Because of this, Cisco's stock price jumped about 97 cents, 7%, in after hours trading Wednesday. This was followed by continued upward momentum as the stock finished Thursday, up 2.23, 16.2% from Wednesday close. The stock held up very well along the 16 level most of the day. If the stock market can stabilize, Cisco's stock should hold above the 15.50 level as investors will seek to capitalize on the company's new structure. Cisco may become a takeover target if the company continues to streamline products and focus on a specialized market. Even though Cisco carries an over $80 billion market value, if the company disbands many of the arms from the body, a suitor may see Cisco as the perfect partner without unwanted products sapping margins.
Click to enlarge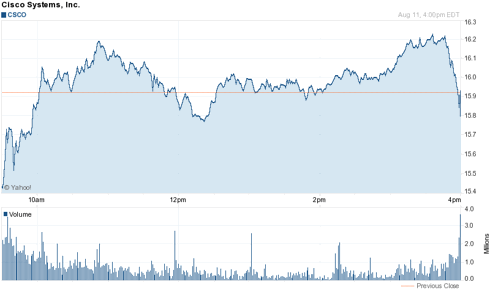 Similarly Nvidia beat analysts expectations. Nvidia reported revenue of $1.02 billion, which was in line with expectations. Nvidia also reported net income of $151.6 million with an EPS of 25 cents. In terms of earnings per share excluding some items, the company reported an EPS of 32 cents; which beat expectations by seven cents. One of the main reasons the stock continued to soar after hours was because the company expects to see revenue beat analyst expectations by about $20 million the current quarter, according to the median of the given range.
Nvidia's stock climbed 2.66 on Thursday which is 20.53%. Over half of this came during after hours trading as the share price rose 11.86% after the regular session closed. Part of Nvidia's future growth will come from Samsung (OTC:SSNLF) using Nvidia's Tegra 2 processor for the Galaxy R. Another reason Nvidia should see continued growth is the company has began to steal market share from Advanced Micro Devices (NASDAQ:AMD). Because of this I expect to see AMD continue the downward momentum we have seen prior to the stock market's slide. Nevertheless Nvidia has plenty of upside as the company expects Tegra chips to be involved in 10% of all Android devices in 2011. Therefore if this number can reach 13-15%, we should be see Nvidia's stock take off like a rocket.
Click to enlarge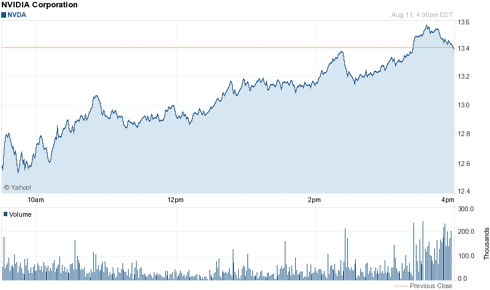 Before getting excited about Cisco and Nvidia it is important to remember, particularly for Cisco, that these stocks reached the moon before and crumbled. I expect in the long term Cisco will have a hard time maintaining a share price above the 21-22 level because the company does not have enough market share to push past that level. This means the stock will continuously bounce between 22 and 14 because as expectations grow the company will be unable to hit expectations; which will cause the stock to drop. This will then lead to much lower expectations that can easily be eclipsed, as we saw Wednesday. If this situation does occur as I expect, the best way to trade Cisco is buy around 14-15 and sell around 19-20.
Because several technology companies reported negative outlooks, this may be a sign the technology sector is beginning to separate the successful companies from the unsuccessful companies. This is inevitable in a competitive market. This also means as we move forward we will begin to see some technology stocks take off to new highs as competitors get taken out.
Disclosure: I have no positions in any stocks mentioned, and no plans to initiate any positions within the next 72 hours.