Intel (NASDAQ:INTC) is one of the bright spots in the tech industry. This year it's been adding new customers; not only is the sales per customer increasing but more importantly the price on units is increasing also. It's not had to resort to the discounting some of other companies have experienced in order to move products out the door. The recent price drop I believe is temporary and now is the time to push the buy button.
[Click to enlarge]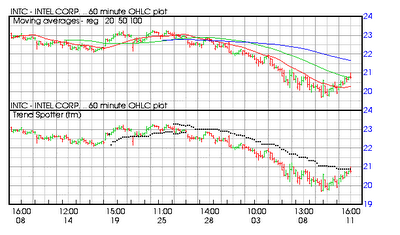 Yahoo Finance Profile:
Intel engages in the design, manufacture, and sale of integrated circuits for computing and communications industries worldwide. It offers microprocessor products used in notebooks, netbooks, desktops, servers, workstations, storage products, embedded applications, communications products, consumer electronics devices, and handhelds. The company also provides system on chip products that integrate its core processing functionalities with other system components, such as graphics, audio, and video, onto a single chip.

In addition, it offers chipset products that send data between the microprocessor and input, display, and storage devices, including keyboard, mouse, monitor, hard drive, and CD, DVD, or Blu-ray drives; motherboards designed for desktop, server, and workstation platforms, and that has connectors for attaching devices to the bus; and wired and wireless connectivity products consisting of network adapters and embedded wireless cards used to translate and transmit data across networks.

Further, the company provides NAND flash memory products primarily used in portable memory storage devices, digital camera memory cards, and solid-state drives; software products comprising operating systems, middleware, and tools used to develop, run, and manage various enterprise, consumer, embedded, and handheld devices; and software development tools that enable the creation of applications.

Additionally, it develops computing platforms, which are integrated hardware and software computing technologies designed to offer an optimized solution. The company sells its products principally to original equipment manufacturers, original design manufacturers, PC components and other products users, and other manufacturers of industrial and communications equipment. It has a strategic alliance with Scientific Conservation Inc. Intel Corporation was founded in 1968 and is based in Santa Clara, California.
Barchart technical indicators:
The 33% Barchart technical sell indicator is weakening, which may be a sign of a price turnaround.
Trend Spotter sell signal is also weakening.
The stock is trading below its 20-, 50- and 100-day moving averages but has recovered over 4.50% in the last two days.
This last month the stock experienced 11 down days and is 12.52% off its recent high.
The Relative Strength Index is 41.82% but rising.
The stock closed yesterday at 20.76, which is 4.23% below its 50-day moving average of 21.75.
Barchart computes a support level at 19.68.
This is a popular stock with Wall Street analysts; presently they have released 15 strong buy, 15 buy, 18 hold and three under perform recommendations to their clients.
They base those recommendations on a projected sales consensus of an increase of 24.20% this year followed by another 5.80% next year.
Earnings are estimated to increase by 16.10% this year, 5.00% next year and continue to increase by 11.09% annually for the next five years.
The 8.2 P/E ratio is a 58% discount to the overall market's P/E ratio.
The 4.21% dividend is less than 40% of projected earnings.
General investor sentiment:
As measured on Motley Fool, the 8,869 readers expressing an opinion are voting 94% that the stock will beat the market.
The more experienced All Stars are slightly more positive with a 96% vote for the same result.
I think this is a very opportune time to buy Intel. If the sales and earnings projections are true, dividend rates maintain their percentage of earnings and the stock returns to a more normal P/E ratio investors could see a 28-32% annual total return over the next five years.
Disclosure: I have no positions in any stocks mentioned, and no plans to initiate any positions within the next 72 hours.