Over the last week I received numerous emails regarding my last column on Seeking Alpha. Readers inquired why I was so negative on the market. Other than the macro elements that I laid out, the market had set itself up for a psychological correction.
Generally speaking, I am a firm believer in the efficient market theory. I believe most equities trade at, or near, their true market value. There is little to no money to be made when equities are fairly valued. Alpha becomes harder and harder to come by.
When markets are in a sustained uptrend, as we witnessed throughout the duration of QE2, they begin to trade with a sense of invincibility. We forget to worry or factor in risk. Riskier assets simply become conduits to greater returns. With the Bernanke 'put' in place, there was no downside risk. The only way to generate alpha was to chase greater risk. When this occurs, the efficient market theory quickly devolves into the 'castle in the air' theory, or more aptly, the 'greater fool' theory.
All equities begin to trade at multiples that are unwarranted, limiting upside while exacerbating downside risk. Who was buying Open Table (NASDAQ:OPEN), Salesforce (NYSE:CRM) and Netflix (NASDAQ:NFLX) at these multiples? I guess there is always a greater fool waiting to carry your bag, so why worry?
Eventually this over exuberance comes to end. In our recent scenario, Bernanke took off the training wheels and we had the sudden realization that the US economy was not ready to ride on its own. We careened off the edge at full speed. Selling begets selling, and the market became increasingly irrational. Risk begins to rear its ugly head and the weak retreat to the security of their bank accounts.
This is capitulation. This is purely psychological, and it's exactly the time to purchase equities. This is when real money is made.
With all that being said, how are the Best in Breed dividends stock holding up in this volatility? Some are still too pricey for my liking, others are screaming buys. What if eight months ago you put together a balanced portfolio of the Best in Breed stocks, rebalanced it quarterly, and added a small position of Gold (NYSEARCA:GLD) like I previously suggested?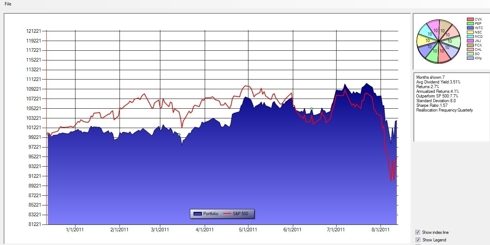 The above return was achieved by simply investing in a diversified portfolio of nine Best of Breed Stocks listed in my previous articles, with a gold position thrown in as a hedge, while rebalancing quarterly. Please note the Sharp Ratio of this portfolio, 1.57; it's safe and effective. The Best in Breed portfolio outperformed the S&P by nearly 8% during the eight month time span. The portfolio yields an impressive, and rapidly growing, 3.5%. I realize this is a small sample size, but still worth noting. One does not need to chase risk, or high growth names to outperform the market.
Let's recap the rules I used while selecting these companies:
1. Consistent Long Term Dividend Payments: For the most part, we are looking for companies that have paid a consistent dividend for over 10 years. A few good starting points for indentifying these companies are the Dividend Champions and the S&P Dividend Aristocrats. I prefer the Dividend Champion resource as it focuses on consistent dividend growth.
2. Dividend Growth: Speaking of dividend growth, we are looking for companies that consistently raise their annual dividend payments. It's easy to for investors to get stuck on current yield when doing due diligence on a stock. Although a decent current yield is important, it is your future yield on cost that will ultimately matter. The compounding returns of dividend growth stocks will outperform strictly high yield stocks in the long run. More on this later.
3. Dividend Payout Ratio: Are the company's dividends sustainable? The easiest metric to judge this criterion is Dividend Payout Ratio. The Payout Ratio is simply the Dividends Per Share divided by the Earnings per share. We are looking for DPS ratios that are between 30-50%. This allows the company capital to reinvest in the business while returning capital to its share holders.
4. Consistent Return on Equity: We are looking for companies that have an above average Return on Equity. Companies that consistently provide investors with 15% or greater ROE have a proven, sustainable competitive advantage over their competitors. The average ROE for an American company is 12%.
5. Sustainable Growth: Additionally, we are looking for companies that have long term, sustainable growth rates. Buffett used the average rate of return on equity and average retention ratio to calculate a company's sustainable growth rate. The SGR is used to calculate the book value per share in the future. Dividends paid are added to the probable future price to calculate the total gain. We are looking for companies with consistent and predictable earnings. This formula allows us to model future growth. Again we are looking for companies with a greater than 13% Sustainable Growth Rate.
6. Durable Competitive Advantage: Finally, the company must have strong brand equity. It should be the leader in its field with a highly recognizable product or service. This allows the company to adjust pricing accordingly to either better contend with competitors or adjust for inflation. We are looking for iconic, must have, brands.
The sectors and companies we have covered are:
Basic Materials: Freeport-McMoRan (NYSE:FCX)
Consumer Staples: Pepsico Inc. (NYSE:PEP)
Energy: Chevron Corporation (NYSE:CVX)
Financial: Bank of Hawaii (NYSE:BOH)
Healthcare: Johnson & Johnson (NYSE:JNJ)
Industrial: Norfolk Southern Corporation (NYSE:NSC)
Services: McDonald's Corporation (NYSE:MCD)
Technology: Intel Corporation (NASDAQ:INTC)
Telecoms: China Mobile Limited (NYSE:CHL)
Utilities: Southern Company (NYSE:SO)
High Yield: Kinder Morgan Energy (NYSE:KMP)
I cut out Financials entirely. As I stated in my earlier Best in Breed articles I don't trust the sector in general. There are too many headwinds, too many risks, and not enough rewards. The past few months have only lent credence to this argument. I will note that some of my favorite financials--JP Morgan Chase (NYSE:JPM), Bank of America (NYSE:BAC), Goldman Sachs (NYSE:GS)--are approaching value levels, but these can easily devolve into value traps in a hurry. Better to stay away until this sector gains some clarity. I replaced this sector with Gold (GLD) for the time being. I like having the hedge against the market.
Let's take a look at how these names are holding up fundamentally, and whether they have pulled back enough to initiate positions. I will look at Current Price, P/E ratio, Historic PE Divergence, Dividend Yield, Dividend Growth, and Return on Equity. Click to enlarge:


(For more detailed analysis please check my previous articles here)
I have left off Kinder Morgan Energy (KMP) from my list as the metrics I use to evaluate MLPs are much different than those used above. Needless to say, anyone who got into KMP for under $70 last week should be very pleased with themselves.
Of the names above I only listed 3, China Mobile (CHL), Intel (INTC) and Pepsico (PEP) as immediate Buys. These companies still have strong fundamentals and attractive valuations. Furthermore, they are all yielding well over 3% with great dividend growth rates.
The 'holds' on the list are for multiple reasons. For Norfolk Southern (NSC), Chevron (CVX) and McDonald's (MCD) I believe these companies are fairly valued at this level. With Freeport-McMoRan (FCX), I want to wait to make sure we are pulling out of this downswing before putting capital to work in such an economically sensitive name. Johnson & Johnson (JNJ) is intriguing and would be a buy at $60 or below.
I know that doesn't leave you with many names to start buying next week. But be patient. There is no need to put money to work in companies that are not fairly valued. All that does is limit your upside, and decrease the risk/reward of the equity. That being said, there are some fantastic names with attractive valuations that are waiting to be scooped up. We will call them Best in Breed Alternatives. But that's a different article entirely. Here is a teaser: I added positions in Boeing (NYSE:BA), Exxon Mobile (NYSE:XOM), Abbott Labs (NYSE:ABT) and Procter & Gamble (NYSE:PG) last week. I'm already up handsomely.
I look forward to your comments and emails.

Disclosure: I am long PG, INTC, GLD, BA, ABT, XOM, PEP.