I purchased SandRidge Permian Trust (NYSE:PER) recently as a new dividend idea. I own the equity based upon the belief that the early year high dividends provide short-term downside protection. The dividend provides a high return of invested capital. My capital preservation capital is focused upon receiving my invested capital back. The subsequent profits are gravy.
The parent company, SandRidge Energy (NYSE:SD), has successfully issued a prior trust. SandRidge Mississippian Trust (NYSE:SDT) has rewarded shareholders with a $1.068-dividend and upside in share price.
SandRidge Permian Trust will operate 509-producing wells in the Permian Basin, Texas. 888-wells will be developed by March 31st, 2015. The dividend growth for the early years will require parent-SD to comply with the completion of the 888-new wells by the 2015 deadline.
The oil and natural gas production will clearly focus upon oil production. Approximately 87% of production is anticipated to be oil. The remaining production will be natural gas liquids and natural gas.
Hedged Production
PER has entered into two types of hedging production. The first is establishing derivative contracts between parent-SD and third parties. Secondly, PER has direct hedge contracts in place to place a floor upon revenue prices received via oil and natural gas production proceeds.
The hedged production is strong. 73% of the production is hedged through March 31st, 2015. The oil is hedged at $101-barrel through the March 31st, 2015 time frame. Investors should realize that hedges play both ways. If oil spikes to $150-barrel, then PER will still receive $101-barrel due to the hedges. If oil drops to $50-barrel, the positive side is the $101-barrel will still be received.
Estimated Dividend Payouts
The first dividend should occur, approximately, on November 30th, 2011. This payment will encompass 2nd and 3rd quarters of 2011. The initial dividend is expected to be 66-cents. Below are the expected dividend through March 31st, 2017. The hedges, however, are only in place through March 31st, 2015.
Here are the target distributions (click to enlarge images):

If PER pays out $15.50 for quarters ending March 31st, 2017, then the investor can assume a 86.11% return of invested capital. This does not factor in the time value of the invested capital. The trust expires after the 1st quarter of 2031. Thus there is plenty of time for PER to deliver plenty of proceeds beyond the return of invested capital.
Market Capitalization and Ownership
SandRidge (SD) owns 40% of PER and has a vested interest in the success of SandRidge Permian Trust. Parent-SD will retain ownership in net production on developed wells.
Parent-SD received capital inflow from the PER offering in lieu of the transfer of the royalty trust interests. SandRidge Permian Trust's (PER) market cap is approximately $1 billion. Parent-SD successfully issued another trust in recent months. SandRidge Mississippian Trust (SDT) has been operating as proposed in the SEC prospectus and shareholders have been rewarded.
Risks
There are many risks involved in any trust. There are presented in the S-1A. Key risks to be aware of include:
Parent-SD must remain solvent and fully build out the 888-development wells.
State and U.S. Federal agencies must not issue, prolonged or permanent, development injunctions upon the proposed 888-development wells.
SandRidge Permian Trust's SEC Organizational Chart
The following chart shows the interrelationships between SandRidge Energy (SD), well production, share holders, trustee, and SandRidge Permian Trust.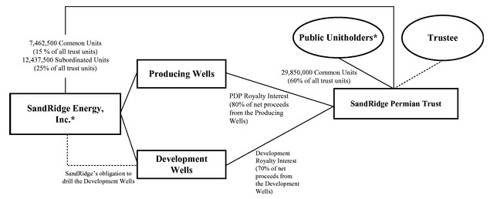 Termination Date:
PER has a termination date of March 31, 2031.
Oil and Natural Gas Trusts With High-Yield Dividends
| | | | | |
| --- | --- | --- | --- | --- |
| Company Name | Symbol | Stock Price | Annual Dividend | Annual Yield |
| BP Prudhoe Bay | BPT | $110.04 | $10.57 | 9.50% |
| MV Oil Trust | MVO | $40.92 | $2.86 | 10.30% |
| Permian Basin | PBT | $22.04 | $1.78 | 8.20% |
| SandRidge Mississippian Trust | SDT | $24.90 | $2.70 | 10.80% |
| SandRidge Permian Trust | PER | $18.02 | $2.23 | 12.39% |
| Whiting USA Trust | WHX | $17.77 | $3.30 | 18.50% |