The preliminary Michigan Consumer Sentiment reading for August came in at 54.9, which is the lowest it has been since 1980. The number is significant for a couple reasons:
It's lower than it was during the 2008 and 2009 recession

It's the first economic reading that we get for August, which doesn't bode well for the rest of the month's economic data.
Michigan consumer confidence first hit this low level in April of 1980. It's noteworthy that between that point and the end of 1980, the S&P 500 rallied 36%, from 100 to 136. The market did end up giving that rally back between 1981 and 1982 though.
The other times Michigan confidence was this low was in November of 2008 (55.3) and February/March of 2009 (56.3/57.3). Recall that the S&P 500 bottomed in the 700s in November 08 and had a 30% rally from there through the end of December before hitting a longer term bottom in March of 09 at 666.
click on image to enlarge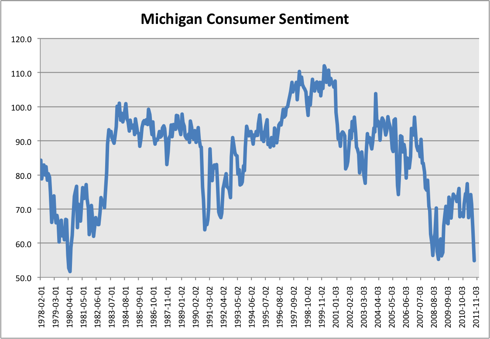 Disclosure: I have no positions in any stocks mentioned, and no plans to initiate any positions within the next 72 hours.